THINGS ARE NOT ALWAYS WHAT THEY SEEM, ON ABC'S "MODERN FAMILY" — Rerun
"Fifteen Percent" – Mitchell plants the seed in Jay's head that he thinks one of Jay's old buddies, Shorty, might be secretly gay. Jay doesn't believe it for a second… except for all the questionable signs he now keeps noticing.
Meanwhile Gloria gives Manny's date a makeover and Claire faces off with Phil's universal remote, on "Modern Family," WEDNESDAY, FEBRUARY 17 (8:00-8:30 p.m., ET), on the ABC Television Network. (Rebroadcast: OAD: 1/20/10)
Guest starring Chazz Palminteri ("The Usual Suspects," "Analyze This") as Shorty.
Happy Valentine's day!
Rob Salem has ranked the TV top 25 loving couples, and the number one couple is Cameron and Mitchell from Modern Family (although some of you complained to our Twitter @modernfamilytv – they haven't kissed on screen yet… ABC – we are waiting):
Of the three married couples depicted in the family-friendly domestic comedy, the Mutt-and-Jeff gay mates are the most popular with kids.
"I think it's a Bert and Ernie thing," suggests Jesse Tyler Ferguson, who plays the somewhat straitlaced lawyer, Mitch.
"I just like that they're being handled as a regular couple. It's not that they're gay, that's farther down on the list … but, you know, they're new parents, they're partners …
"I've been on a show where they, like, had to refer to me as the `gay' character five times, just to remind people. And I'm like, `They get it, they get it.' But with this, I think it's just Cameron and Mitchell, and that's what I really love about it. I think that itself unfortunately is unique …"
"It's slowly getting less unique," offers Eric Stonestreet, a.k.a. the "drama queen" Cam. "Just a couple of guys who live together who adopted a baby … it's an opportunity to sort of, not educate, you know, but just open peoples' minds to the idea that families come in all different shapes and sizes."
There are two Modern Family Love Polls out there:
The first on Zap2it asking who is the best couple on Modern Family
Claire and Phil's – their effort to keep things fresh despite the frustration of three teenage/pre-teen kids in their house is admirable.
Cam and Mitchell – Cam is the comedian in the Mitchell-Cameron duo and does he ever do it well, whether its a subtle "caught" look, a quick little quip or a flamboyant display of his dramatic self. And that, juxtaposed with Mitchell's dry, down-to-earth disposition often makes for magic.
Jay and Gloria – Jay is just hilarious because he's old and set in his ways and says inappropriate things while managing to always stay likable. Also, he's got a hot (and slightly less old) wife with a funny accent who knows how to deliver a good line.
Haley and Dylan – the picture of young, dumb love.
The second on People asking which Modern Family Valentine date was the funniest:
Claire and Phil decided to break from their 17-year tradition — family-style food and cannolis at Fratelli's — and meet up instead at a hotel for some risqué role-play.
Cam and Mitchell – at the local Great Shakes diner, they hilariously attempt to intervene at Manny's love life.
Jay and Gloria – spend their Valentine's Day at comedian David Brenner's stand-up show.
Love is in the air…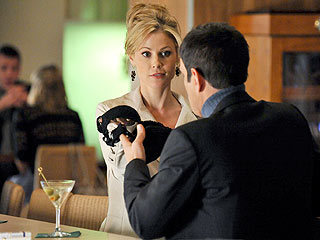 We hope you enjoyed the Romantic Valentine episode of Modern Family On ABC last night. Here are some of the reactions on the web to the episode:

For a show with lesser joke-writing skills, "My Funky Valentine" would have been dead in the water with these clichés. Characters end up exactly where they started at the end of the episode and there's not much here that we haven't seen in other shows, let alone previous episodes of Modern Family. Still, I ended up charmed by the episode despite my reservations with both the largely unliked plot-structure and the way the show repeated itself yet again. As with most recent episodes, though, it's hard not to wonder how long the show can keep showing us what we've seen before without getting old.
Stray Observations:
"I was giving her a bath last night and I saw a little bit of Martin Luther King behind her ear."
"Could you be more dramatic?" If you're asking Cam, then the answer is always yes.
-Phil's unwillingness to drop his persona during the escalator debacle is a subtle yet great joke, maybe my favorite in the episode.
The end of the year is coming closer and everyone has their top 2009 list, this time coming from Poptimal another vote to Modern Family actors:
DRAMA KING & QUEEN: Rachel Berry & Cameron Tucker
Glee is arguably the debut show of the year, and its success is in large part due to its lead and her voice. As an unknown to relatively anyone outside of the Broadway world, Lea Michele was given the opportunity to fully mold and embody Rachel, the girl with the undeniable talent who is almost impossible to ignore. And never did TV make dysfunctional families look so good than on Modern Family. Eric Stonestreet steals scenes as Cam with his hilarious flair for the dramatic and his lovable individuality. Whether focusing on his devotion to his partner Mitchell, his love for newly adopted Lily or his enthusiasm as Fizbo the Clown, Cam is always the center of attention.
The 10 best lines from last night's episode of Modern Family based on EW (in descending order):
10. "Let's tuck our pants into our socks."
9. "Yeah, you're right. I don't need it. An extension cord works pretty good."
8. "I used to have a machete, but times have changed."
7. "People are gonna stare. They're not used to seeing one clown in a car."
6. "Girlfriend's gonna get stung!"
5. "I've tried everything to get her attention. Opening doors, having a milk sent over in the cafeteria. Nothing's worked."
4. "A gift card? Who hurt you?"
3. "She can't go 10 minutes without her boyfriend's tongue in her mouth. It's like he's feeding a baby bird."
2. "Let me know if you get low on supplies. I'll make a quick run back to the 1950s for you."
1. "I am brave. Roller coasters? I love 'em. Scary movies? I've seen Ghostbusters like seven times. I regularly drive through neighborhoods that have only recently been gentrified. So yeah, I'm pretty much not afraid of anything."
And some review from Alan Sepinwall:
The highlight of "Fizbo" was, of course, Fizbo himself, and how seriously Cam/Eric Stonestreet threw himself into the part. Every time I think that the contrast of Cam's gregarious nature and Mitchell's more introverted, judgmental qualities is going to get old, we get a hysterical talking head like the one where Cameron outlined the four types of clowns, followed by Mitchell creating the marvelous assembly of words that is "weird gay clown uncle."

Rico Rodriguez continues to be wonderful as Manny. The character doesn't know how to tell the Interrupting Cow joke (or its funnier/more aggressive spin-off, Interrupting Starfish), but Rodriguez can even find a way to make Manny's sad bouncing funny. (Gloria being ogled by the dads was more predictable, but when you put Sofia Vergara on a show with a bouncy castle, some things just have to happen the way they're gonna, I suppose.)

We got a more sarcastic side of Phil than usual (I liked him offering to go on a supply run to the 1950s to get Claire some more crafts), which then nicely offset his pathological clown fear.

A very funny, very satisfying episode, and one that'll hold me until the next new one in two weeks.
Eric Stonestreet has been busy giving interviews. In the one in Fancast Stonestreet shared how he felt about portraying the very special character, how he'd like to rid the world of reality programming, and what he might say to the more conservative audiences who are concerned about seeing gay fathers on TV.
Here are some highlights from the interview:
Do you feel you're opening people's minds about gay parenting?
It's a really cool thing about doing what we do. By Jesse and I playing gay characters on TV – I'm not really looking to change people's worlds and belief systems, all we want to do is make a comedy that's funny and true and honest. But if, while doing that we can open people's minds to the idea that just because two guys are raising a baby, it's not the end of the world, that's an awesome opportunity, to help people change their minds.
What do you say to the conservative folks who may have concerns about seeing this on their TV?
I always say to conservative people who are worried about two gay guys raising a baby on TV is they should continue watching people get raped and murdered on other shows. Like on CSI the other day they had a scene where someone took a person's eyeballs out. I mean, how many ways can a person get murdered?
You have such amazing guest stars coming up.
This week we have Edward Norton (tonight). We have Minnie Driver. When these people are excited to do the show, that's really cool. I didn't work with [Ed]  specifically, my story has to do with Elizabeth Banks.
What was it like working with her?
She's hilarious. Her energy level is amazing. It's easy to see why she's the star she is. I love everything about her. She plays mine and Mitchell's good friend.
With a history of giving bad gifts, Claire is determined to surprise Phil with an amazing anniversary present – a private performance by one of their favorite musicians, Izzy LaFontaine! However, it turns out to be a surprise in more ways than one. Meanwhile, Mitchell and Cameron call up their party-girl bestie, Sal, for a long overdue night out on the town.
Will air Nov. 11th.
We know that Elizabeth Banks is coming to Modern Family on November 18, now TVaddicts brings some pictures. In the episode "Great Expectations" she will be dropping by old-friends Mitchell and Cameron's house to take them out for a long overdue night on the town. "We haven't seen Sal [Banks] in a while because we've been so busy with the baby," explained Jesse Tyler Ferguson (Mitchell) in a recent interview with theTVaddict.com, "We decide to go out for a night of drinking together and she just kind of crumbles into this heaping mess of drunken nausea."

Mitchell. (He was practically a jock, you know.)
[source: Guanabee]