Bowen explained to Boston Common that she sought out television roles in recent years in order to spend more time at home with her three young sons.
"The boys are finally at an age where I find them to be so luscious and fantastic that I don't want to be away if I don't have to be. We all love each other," she explained.
"The reality is, Claire is a mom who has older kids… I might grow into a Claire, but I'm definitely not dealing with the issues of sex and boys at school," she quipped.
Read more: Digitalspy
Related articles
According to Sofia Vergara, she uses her mother as inspiration for her role as Gloria on 'Modern Family.'Channeling her mom helps ensure the role is authentic in terms of how a Colombian woman would react to such situations, Vergara said on 'Good Morning America'(weekdays, 7AM ET on ABC).
Source: TV Squad
Related articles
"Modern Family" star Sarah Hyland is looking forward to Wednesday's (Nov. 3) episode "Chirp," when her character Haley spends quality time with her mom Claire (Julie Bowen) when they both fall sick and stay home.
"That's really cute. Me and Julie in bed all day," Hyland tells Zap2it. "It was awesome. Just laying down in bed together, which is my boyfriend's dream. Who doesn't like Julie Bowen? She's the sexiest mom alive."
Read the rest of the story on Zap2It
Related articles
On television, Julie is known as Claire Dunphy – a mom of three very different kids on "Modern Family." In real life, Julie also plays the important role of mom to three children of her own!
Kids are great but moms deserve a break once in a while and on Wednesday, October 13th, Julie will be hosting an "It's All About Me" party on Nickelodeon's ParentsConnect.com. From 10 am – 11:59 pm EST parents can join Julie throughout the day for some "me time" and take part in kick-your-feet-up fun, games and the chance to win a ton of prizes!
For more details, you can check out this link: Parents Connect
The Modern Family star and his wife, Holly, have adopted a baby girl, his rep has confirmed.
Ty Burrell said: "I guess if Phil can raise kids, so can I!"
Read more: E-Online
Some of the actors of Modern Family tried to answer this question on Fresno Bee:
Sarah Hyland, suggests that the show has attracted such a large following because viewers see similarities between characters on the show with their own relatives. "There's either that flamboyant uncle or that weird dad or the hot family member who everyone wants to be with but no one can. It's just a somewhat exaggerated version of everyone's lives," Hyland says.
Bowen says it's less complicated. "We are not curing cancer here," she says. "We're just talking about ordinary things in a funny way."
A lot of the ordinary things in the scripts come directly from the cast. That happened when Bowen talked about how her husband once wired their entire house for cameras and ended up leaving holes in the walls. She got to watch her TV husband make the same mess.
Vergara offers the her explanation for why "Modern Family" has succeeded where so many other new comedies have failed.
"It's a perfect storm. It's a combination of things like the writers, the actors and the characters," she says. "And, we are having so much fun on the set that I think you can see that."
Why do you think Modern Family is so great?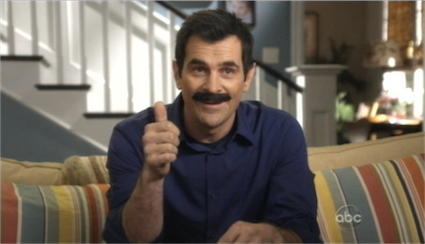 "Do people want their real estate advice from someone who leads, or someone who follows? I'm bettin' these babies (points to mustache) are coming back in a big way. Buy low, sell high. People are going to see this and say, 'That guy's high.'" – Phil
We had a great night last night, and here are some of the highlights from reviews of 'Modern Family' – 'Moon Landing':
From TVsquad:
Sometimes I wonder if I could just write up a review of 'Modern Family' by listing all of the great quotes that come out of this show. Line for line, this has to be one of the cleverest series on television today. Even the episode title, 'Moon Landing,' recalls a great moment.
From EW:
Could last night's episode of Modern Family been any funnier? I mean, I may as well have transcribed the entire episode, because every line had me practically running to my own Porta-Potty.
Highlights from CliqueClack:
Luke imaging the cool school made of recycled bottles.
"I can't imagine you working." – Luke, to his mom
"Luke, that is very offensive to women. Your mom works very hard. It's just now she works for us." – Phil
"I don't take kindly when someone Tom Selleck's my park bench." – Phil
"What's Jägermiester?"- Alex
"Well, um, you know when in a fairy tale there's always a potion that makes the princess fall asleep and then the guys start kissing her? This is like that, except you don't wake up in a castle, you wake up in a frat house with a bad reputation." – Phil
Say Anything, Dylan. And please, stop talking. You're making the generation gap even more embarrassing for Phil.
Modern Family returns with all new episodes on January 6th and Benjamin Bratt will be making a guest appearance as Manny's father.
"Up All Night" – Gloria is less than pleased with Jay's reaction to the arrival of Javier, Manny's infamously unreliable dad. Meanwhile, Phil is suffering from kidney stones and his dramatics leave Claire no other choice but to call for the hot firemen to rush him to the hospital, and Mitchell and Cameron have a harder time than Lily as they attempt to sleep train her, on "Modern Family," WEDNESDAY, JANUARY 6
Source: TV Over Mind
Another interview with Eric Stonestreet, from Modern Family, this time from Parade. Here are some of the Q&A:
Stretching his improv chops.
"We always get a couple passes where we just get to play and have fun. Inevitably some of those things make it into the shows. And then we always get to improvise a bit during the interviews with the camera. But, for the most part, it is 100% the words of our brilliant writers."
Nothing but funny business.
"The most important thing for me as an actor playing a character is to make you laugh. That's my No. 1 goal. I wouldn't be in this business and doing what I do if I didn't have the deep, deep need to make people laugh, which is what I enjoy the most."
Making a gay couple "modern."
"It's an opportunity to give people a take on what they think of as gay parents and make them understand that the love and support of a child is the first thing, and it really doesn't matter if it's two moms or two dads. Bringing up a child in a loving relationship is the most important thing. I think it's great that people are getting exposed to that and just to see the focus isn't on the fact that Mitchell and Cameron are gay, the focus is on the fact that it's hard raising a baby. It's tiresome, it's challenging and these two people happen to be funny people that will see things on the lighter side and have a good time doing it."

Eric Stonestreet has been busy giving interviews. In the one in Fancast Stonestreet shared how he felt about portraying the very special character, how he'd like to rid the world of reality programming, and what he might say to the more conservative audiences who are concerned about seeing gay fathers on TV.
Here are some highlights from the interview:
Do you feel you're opening people's minds about gay parenting?
It's a really cool thing about doing what we do. By Jesse and I playing gay characters on TV – I'm not really looking to change people's worlds and belief systems, all we want to do is make a comedy that's funny and true and honest. But if, while doing that we can open people's minds to the idea that just because two guys are raising a baby, it's not the end of the world, that's an awesome opportunity, to help people change their minds.
What do you say to the conservative folks who may have concerns about seeing this on their TV?
I always say to conservative people who are worried about two gay guys raising a baby on TV is they should continue watching people get raped and murdered on other shows. Like on CSI the other day they had a scene where someone took a person's eyeballs out. I mean, how many ways can a person get murdered?
You have such amazing guest stars coming up.
This week we have Edward Norton (tonight). We have Minnie Driver. When these people are excited to do the show, that's really cool. I didn't work with [Ed]  specifically, my story has to do with Elizabeth Banks.
What was it like working with her?
She's hilarious. Her energy level is amazing. It's easy to see why she's the star she is. I love everything about her. She plays mine and Mitchell's good friend.