Jason Mantzoukas (The League, The Dictator) will guest-star in an upcoming episode as a jeans designer who becomes a co-worker — and new boyfriend — of Haley (Sarah Hyland), EW has reported.
Wendi McLendon-Covey is going to spend some time with the Dunphys.The Bridesmaids star has booked a guest spot on ABC's Modern Family playing one-half of a lesbian couple whose son gets into a fight with Lily on the first day of kindergarten.
Read the full story on EW
The best way to start the new year is with your favorite Modern Family characters, so go ahead and order the cool Modern Family 2012 wall calendar or the 2012 Day to Day calendar, both with the best quotes from the show. Don't miss a month or a day without Phil, Gloria or Jay.
Norman Lloyd has signed up to guest star in Modern Family.
TV Guide reports that the 95-year-old actor, who starred in St. Elsewhere, will join the comedy for one episode.
Cameron (Eric Stonestreet) is said to meet Lloyd's character in a shopping mall and become friends with him.
Source: Digital Spy
The team from 'Modern Family,' led by Steve Levitan, revealed that his characters are Hawaii-bound for the show's freshman finale. "It won't be about Hawaii," Levitan explained. "It'll be about a family on vacation."
Levitan says that 'Modern Family' won't be seeing a lot of celebrity cameos. "We like our cast," he said. "We get approached more and more every week by people who want to do the show. We're so flattered, but we want to keep it on check and not do too many guest stars. Our cast can do no wrong in my eyes. Only when it's exactly right do we want to bring someone in."
Levitan made two trips to the press room during the evening. His team won for New Series and Levitan picked up a solo statue for Episodic Comedy for writing the show's pilot. (The latter award tied with an episode '30 Rock,' titled 'Apollo, Apollo.')
Source: AOL Television
Wednesday, February 10th, on a Valentine's Day-themed episode of Modern Family, "My Funky Valentine"", …
Claire and Phil go on a date;
Jay takes Gloria to see his favorite stand-up comic;
Cameron and Mitchell help Manny with his love life.
The Modern Family episode features guest star comedian David Brenner.
Preview of the episode can be found as part of our Modern Family Valentine's Quiz.
Source: TV Fanatic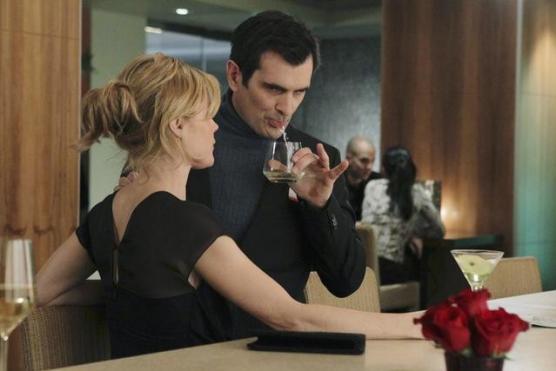 Modern Family returns on January 6 with a brand-new episode called "Up All Night."
The comedy opens 2010 with guest star Benjamin Bratt of Law & Order fame, who plays Manny's father Javier Delgado. After he arrives in town, Manny begins to stay up all night, which causes his mother Gloria much grief when she realizes what's going on.
Elsewhere, Claire is forced to get her husband Phil emergency treatment when a bout of kidney stones hits him, and Mitchell and Cameron have a difficult time training Lily to sleep.
Source: Comedy Centric
Modern Family returns with all new episodes on January 6th and Benjamin Bratt will be making a guest appearance as Manny's father.
"Up All Night" – Gloria is less than pleased with Jay's reaction to the arrival of Javier, Manny's infamously unreliable dad. Meanwhile, Phil is suffering from kidney stones and his dramatics leave Claire no other choice but to call for the hot firemen to rush him to the hospital, and Mitchell and Cameron have a harder time than Lily as they attempt to sleep train her, on "Modern Family," WEDNESDAY, JANUARY 6
Source: TV Over Mind
Eric Stonestreet has been busy giving interviews. In the one in Fancast Stonestreet shared how he felt about portraying the very special character, how he'd like to rid the world of reality programming, and what he might say to the more conservative audiences who are concerned about seeing gay fathers on TV.
Here are some highlights from the interview:
Do you feel you're opening people's minds about gay parenting?
It's a really cool thing about doing what we do. By Jesse and I playing gay characters on TV – I'm not really looking to change people's worlds and belief systems, all we want to do is make a comedy that's funny and true and honest. But if, while doing that we can open people's minds to the idea that just because two guys are raising a baby, it's not the end of the world, that's an awesome opportunity, to help people change their minds.
What do you say to the conservative folks who may have concerns about seeing this on their TV?
I always say to conservative people who are worried about two gay guys raising a baby on TV is they should continue watching people get raped and murdered on other shows. Like on CSI the other day they had a scene where someone took a person's eyeballs out. I mean, how many ways can a person get murdered?
You have such amazing guest stars coming up.
This week we have Edward Norton (tonight). We have Minnie Driver. When these people are excited to do the show, that's really cool. I didn't work with [Ed]  specifically, my story has to do with Elizabeth Banks.
What was it like working with her?
She's hilarious. Her energy level is amazing. It's easy to see why she's the star she is. I love everything about her. She plays mine and Mitchell's good friend.
EW reports that Minnie Driver will guest star in Modern Family:
The actress, whose arc as Megan Mullally's bitchy, slutty arch nemesis on Will & Grace was a scenery-chewing triumph, has booked a guest appearance on Modern Family, sources confirm to me exclusively.
In an episode slated to air in January, Driver will play a friend and former co-worker of Claire's (Julie Bowen). The two reconnect after years of being out of touch and things are not exactly how they remembered.