Sofia Vergara's Emmy gown and hair look are currently up for auction to raise money for charity.
Emmy-nominated actress Sofia Vergara of ABC's "Modern Family" teamed up with hair care brand Suave Professionals®, known for salon-quality performance, to let America choose her red carpet hairstyle for the evening. Vergara turned heads on the big night with her glamorous waves by Suave Professionals Celebrity Stylist Jenny Cho, the winning look voted for by thousands of Americans.

Checkout Clothes off our back
Related articles by Zemanta
A promise is a promise and Sofia Vergara isn't about to go back on her word.
Back in July, Modern Family took out an ad in Variety magazine claiming, "If Modern Family wins the Emmy for Outstanding Comedy, Sofia Vergarawill run naked down Sunset Blvd."
Well they won last night and a promise is a promise! So will Sofia really go through with it? She reportedly told reporters, "Listen, I'm not afraid of anything," Sofia announced. "I'm Colombian."
Read the full story on Holly Scoop
Related articles by Zemanta
Modern Family Emmy Clip.
The rookie comedy "Modern Family" won the Emmy for the best TV comedy series on Sunday, ending the three-year reign of "30 Rock."
Thanks to all the fans!
Source: Reuters
Shimmery strapless dress at Sunday night's Emmy Awards.
Source: huffingtonpost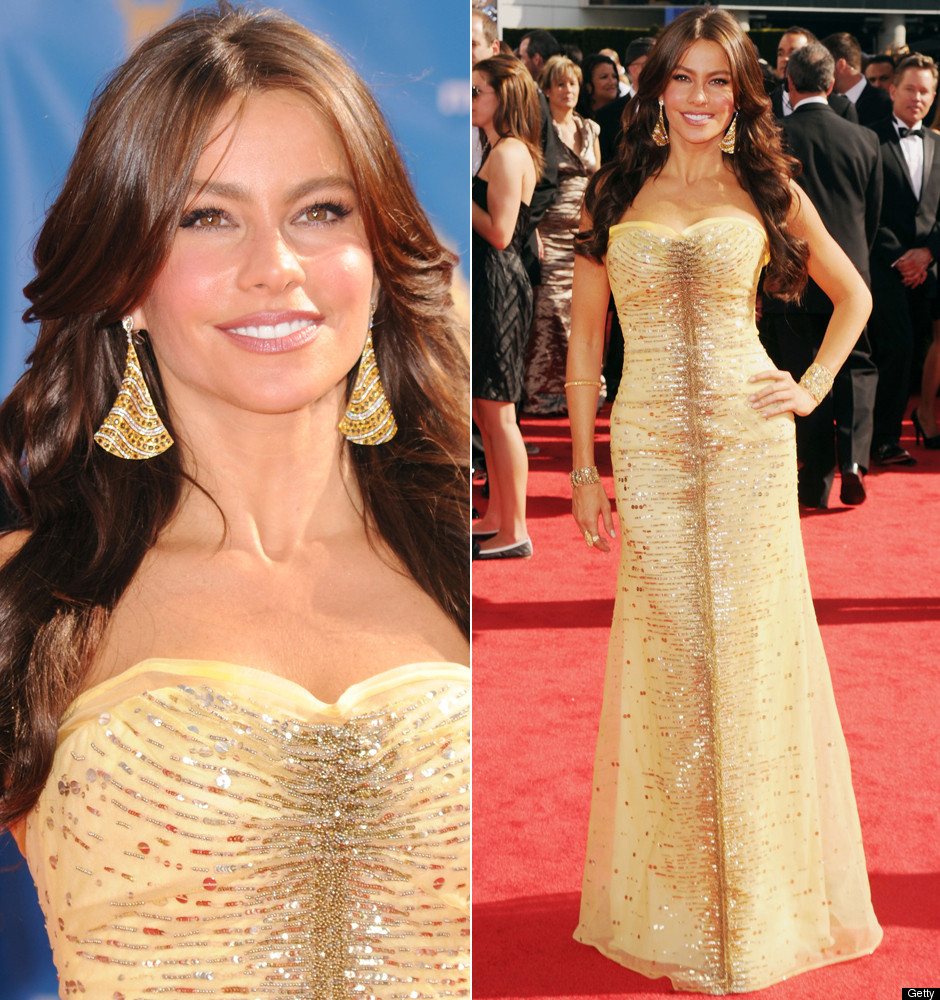 Freshmen breakouts Modern Family and Glee dominated early at the 62nd Primetime Emmy Awards Sunday as Eric Stonestreet and Jane Lynch won statuettes.
Modern Family's Steve Levitan and Christopher Lloyd also won best writing for a comedy series for the ABC hit's first episode, "Pilot."
See the full story on SeattlePI
Related articles by Zemanta
Eric Stonestreet took home the Supporting Actor Emmy for his role as the lovable Cameron on "Modern Family.
This is his first nomination and win of his career — one which appeared to make his co-star and fellow nominee Jesse Tyler Ferguson misty eyed.
Read the full story on Access Hollywood
Related articles by Zemanta
Best Actor in a Comedy
ED O'NEILL, MODERN FAMILY
Modern Family and Cougar Town are time-slot buddies in ABC's Wednesday-night lineup, so it's fitting that the former show's Ed O'Neill snagged a EWwy to serve as a bookend alongside the latter series' Courteney Cox.
Check out the rest of the winners on EW
There's nothing quite like laughing your way to a career milestone at the ripe old age of 30.
Just ask Lynchburg native Ryan Case, who has won an Emmy for Outstanding Editing for a Comedy Series for her work on the pilot episode of ABC's "Modern Family."
She's the first woman to win the category, which was created in 2003.
Case says working on the popular show — which many in the industry have credited with reviving the sitcom genre — "might be even more fun" than actually watching it.
"I laugh all day," Case, a 1998 E.C. Glass High School grad, said in a recent phone interview. "If you walk by my (editing) bay, you'd think I was crazy because I'm in this basement … and all you hear is me laughing out loud all the time.
Read the full story on News Advance
Related articles by Zemanta
When Modern Family returns to ABC on September 22 for its second season little Manny (Rico Rodriguez) will be front and center. Executive producers Christopher Lloyd and Steve Levitan tell TV Guide Magazine he'll go on his first date—his first on-screen date, that is.
"I don't think it's his first date," says Levitan, Adds Lloyd, It's his first serious girlfriend. The irst one he really feels he's falling in love with." The story line might end up being less about Manny than it is about his mother.
Read the rest of the story on TVGuide.