Not only is he still snapping pics of Sofia's derriere, but he's moved on to Jesse Tyler Ferguson's crotchshots too.
Related articles
ABC's acclaimed hit comedy, Modern Family, returns for its fifth season with a special one-hour event, WEDNESDAY, SEPTEMBER 25 (9:00-10:00 p.m., ET) on the ABC Television Network.
In the first half of the hour — "Suddenly, Last Summer" — the family is in the throes of summer activities: Phil and Claire are trying to orchestrate a kid-free week by coordinating Luke's camp with Haley's beach trip and Alex's volunteering excursion; Jay and Gloria are getting Manny ready for his first solo trip back to Colombia; and Mitch and Cam make it a summer to remember. 
In the second half-hour – "First Days" — Luke and Manny have their first day at high school, which proves to be harder for Phil and Gloria than for the boys. Elsewhere, Claire makes her big return to the workforce at Jay's closet company and is a little rusty on her first day, and Cam starts a new substituting gig at the high school, leaving Mitch to try to juggle Lily's first day in 1st grade and a very important meeting at work.
Source: ABC
At times, it's hard to tell the difference between Sofia Vergara and Gloria, the character she plays on ABC's hit comedy "Modern Family."
Both have gregarious personalities, an uproarious sense of humor, an enormous shot of sex appeal and daring fashion sense.
Now other women can be more like Vergara — or Gloria — thanks to the Colombian star's new clothing line at Kmart. The line features the kind of outfits that have made Vergara so popular on the red carpet and beyond — figure-hugging dresses, tight pants, bright colors and short skirts.
"We have a lot of very comfortable and wearable things that can be worn by a woman of every size," Vergara explained of her Sofia clothing.
Read an interview about Vergara and her new clothing line on the Washington Post.
Related articles
The bodacious Colombian beauty was spotted wearing a sexy leopard print wrap dress while hanging out on the set of Modern Family in Los Angeles earlier this week.
Source: Celeb Buzz
Related articles
Sofia Vergara, the star of "Modern Family", on Leno:
Sofía Vergara has been nominated for the Logo Channel's NewNowNext Awards under the category, Cause You're Hot. Now in its fourth year, this influential awards show will not look at the year that passed, but will instead focus on what is up-and-coming in popular culture in 2011 and beyond.
WANT TO SEE HER WIN? GET VOTES! Voting has begun and ends Friday, March 4th. VOTE HERE
You can also vote by tweeting: "Sofía Vergara is Hot #NNNAwards #HOTSofia http://bit.ly/eq5ix9"– each tweet is considered a vote (including re-tweets!) , so please tweet this.
Partaking in the many parties preceding today's big game, Sofia Vergara was front and center at the Style Icon pre-Super Bowl XLV party at the Rosewood Crescent Hotel in Dallas,Texas on Saturday night (February 5).
Source: celebrity-gossip
Related articles
The cast of Modern Family hit the press room after grabbing the SAG award for outstanding performance by an ensemble. They talked about the different reactions they've gotten from families who watch the show, and joked about their gorgeous costar Sofia Vergara.
Stonestreet, on being overwhelmed by costar Vergara's assets: "We passed that in week two. We got all the lurid comments out of the way, at least I did. I just can barely not stare at her. Am I looking now?"
Read the full story on PopSugar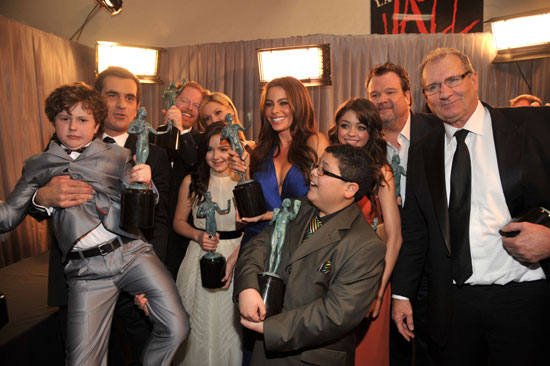 Related articles
According to Sofia Vergara, she uses her mother as inspiration for her role as Gloria on 'Modern Family.'Channeling her mom helps ensure the role is authentic in terms of how a Colombian woman would react to such situations, Vergara said on 'Good Morning America'(weekdays, 7AM ET on ABC).
Source: TV Squad
Related articles
Sofia Vergara has more than ambitious plans when it comes to her role in ABC's "Modern Family." As a matter of fact, the Emmy-nominated actress toldWENN that she would love to go after living big-screen legend Al Pacino to play the character of her father:
"In some other season, we should go to Cartagena and meet Gloria's family in Colombia. I was telling [the producers] that they need to [cast] Al Pacino [as] my father, talking like Tony Montana."
Source: Examiner
Related articles