ABC's Modern Family offered up another hilarious promo in what is becoming the show's Academy Award tradition.
Source: Gearlive
Follow @ripplejunction and like Ripple Junction on FaceBook to be eligible to win officially licensed Modern Family tee shirts. Contest starts on Thursday.
See examples of the T-Shirts below. Winners will be drawn on Monday.
Sofia Vergara, the star of "Modern Family", on Leno:
Partaking in the many parties preceding today's big game, Sofia Vergara was front and center at the Style Icon pre-Super Bowl XLV party at the Rosewood Crescent Hotel in Dallas,Texas on Saturday night (February 5).
Source: celebrity-gossip
Related articles
Wall Flower Jeans, a stylish, trendy teen denim line, has announced its LIVE FREE WITH SARAH HYLAND SWEEPSTAKES, starting Feb. 4, 2011 until March 14, 2011. This 6-week sweepstakes will select 20 runners-up, and offer one lucky winner and three guests, the chance to be flown to Los Angeles and get the star treatment. Winners will stay in a swanky hotel and get to have lunch with ABC's 'MODERN FAMILY' star Sarah Hyland, who plays the full-of-attitude eldest daughter Haley Dunphy on the hit series. 20 runners-up contestants will each receive a prize pack of 2 Wall Flower Jeans.
For entrants under 18 years old, Wall Flower Jeans is encouraging you to enter with your mom, big sis, aunt, or any other jean-loving adult, and fly free together to L.A. for a fun filled day this spring break. The sweepstakes prize must be fulfilled by April 28, 2011.
Facebook: Official Wal lFlower Jeans
Sarah Hyland Talks About Contest:
Sarah Hyland, who plays daughter Haley on Modern Family was glammed up for the Globe red carpet in a "very vintage-y" Max Axria gown, she told USA TODAY's Andrea Mandell.
She paired with a diamond and pearl Mikimoto collar — worth $600,000, she says.
Read the full story on USA Today
Modern Family stars Sarah Hyland and Ariel Winter have insisted that there is no feud between them and the cast of Glee.
Winter dismissed rumors of a feud, saying: "I have so many friends on Glee. They're so amazing – they have a great show."
Yesterday, Modern Family beat Glee to win 'Outstanding Performance By An Ensemble In A Comedy Series' at the Screen Actors Guild Awards.
Source: Digital Spy
Related articles
The cast of "Modern Family" walked through the backstage corridors of the Shrine with the breezy, loose-limbed cheer of an ensemble that truly enjoys one another's company.
Source: LA Times
The cast of Modern Family hit the press room after grabbing the SAG award for outstanding performance by an ensemble. They talked about the different reactions they've gotten from families who watch the show, and joked about their gorgeous costar Sofia Vergara.
Stonestreet, on being overwhelmed by costar Vergara's assets: "We passed that in week two. We got all the lurid comments out of the way, at least I did. I just can barely not stare at her. Am I looking now?"
Read the full story on PopSugar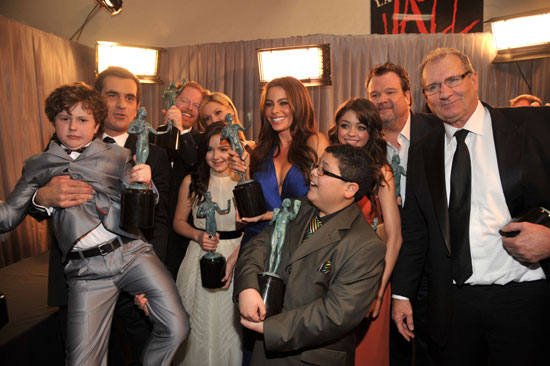 Related articles
Repeat nominees are the rule of thumb at the Screen Actors Guild Awards, where the eligibility period is the calendar year—rather than the TV season, as is the case with the Emmys. So, new shows are traditionally given short shrift, as they've had only a few months of airtime, compared with the whole 12 of the returning series. But this year may be different, considering breakout shows such as "Modern Family," "The Good Wife," and "Nurse Jackie" have emerged as contenders.
"This has been an awfully good fall," says USA Today's TV critic Robert Bianco. "And I hope the trend would be that some of the new
work from the summer and fall will be recognized this year." In addition to Bianco, Back Stage spoke with TV scribes Michael Ausiello of Entertainment Weekly; Chris Beachum, contributor to TheEnvelope.com; and Barry Garron of The Hollywood Reporter to get their picks.
Here is were "Modern Family" has potential for nominations:
Male Actor in a Comedy Series
Ed O'Neill of "Modern Family" ("So different from what he was doing on 'Married With Children' ") and Garron cites Jesse Tyler Ferguson, the gay son on "Modern Family": "He's the best of equals on that show. They're all very strong, but if I have to single out one actor who owns his part, it would be him."
Female Actor in a Comedy Series
Garron goes for Julie Bowen of "Modern Family." "She ends up reacting to a lot of characters, so she may not be the obvious choice, but she provides the glue that holds a lot of episodes together," he says.
Ausiello Sofia Vergara of "Modern Family."
Ensemble in a Comedy Series
Ausiello, Bianco, and Garron hope freshman series "Modern Family" will make the cut. "It's an incredibly strong ensemble. You look at all the characters and the actors and hope some for recognition coming to them for it," Bianco says. Ausiello agrees: "The one shakeup will be the addition of 'Modern Family.' It's too funny, too critically acclaimed to get ignored."
The SAG Awards will air Jan. 23, 2010, on TNT and TBS.

[Source: Backstage]