It's Saturday, Aug. 21 and time for the Creative Arts Emmys, held a week and a day before the Primetime Emmy Awards telecast. It's the awards event that honors the people behind the scenes who deserve recognition, but apparently didn't make the cut to be on the already overflowing live event.
Best Casting of a Comedy Series: "Modern Family"
Best Picture Editing for Comedy Series: "Modern Family"
Best Sound Mixing for Half-Hour Series (Tie): "Entourage" and "Modern Family
Source Zap2It
Related articles by Zemanta
This week we have some celeberties that love Modern Family:
Kirstie Alley (from the  Washington Examiner):
Alley said she would adore guest roles on "Glee" and "Modern Family" and knows exactly what they should be. On Fox's show about a high school glee club, Alley could see herself as an acting coach in search of singing talent for a musical. On ABC's "Modern Family," she's itching for a more maternal part.
"I want to play the gay guy's mom," she said, referring to the heavyset character of Cameron, partner to Mitchell (actors Eric Stonestreet, Jesse Tyler Ferguson). "And they've got to do it quick, while I'm still plump."
Alyssa Milano (From PB Pulse):
The top shows on her TiVo.
"I love Modern Family, House, Dexter and I love The United States of Tara."
Bret Michaels (From Access Hollywood):
"I've been spending my time in the hospital watching 'Modern Family,'" he revealed. "It is the best new comedy out there."
Alloy has an inteview with Ariel, Alex from Modern Family. Here are the highlights:
How are you like and unlike your character, Alex?
Coincidentally, Alex and I are both loyal and smart (not really tooting my own horn), cynical and funny and I have to admit, I'm a bit of a smart alec myself, if you ask my parents. We both really value education. The biggest difference is how we dress. Alex is more Urban Outfitters tomboy and I'm more of an edgy rock and roll younger version of Taylor Swift. Also, I don't wear glasses or play cello.
What's been your favorite scene to film?
Probably when Alex goes to the school dance and a boy actually wants to dance with her. Talk about awkward.
Have you had that experience?
I actually haven't been to a school dance yet but I'm really excited. I have all these dresses in my closet that I've worn to premieres that I don't really get to wear anywhere else so I'm really excited that if I go to one of these school dances, I could go to my closet and be like, "Which dress do I want to wear?!"
Who do you think is the funniest cast member on the show?
You can't decide that. Everyone is hilarious. We're SNL but for ABC.
Jesse Tyler Ferguson was mentioned on freep.com favorite redheads list:
Jesse Tyler Ferguson: The actor is earning kudos for his portrayal of Mitchell Pritchett, attorney and new parent, on ABC's witty comedy, "Modern Family," at 9 p.m. Wednesdays.
Ed O'Neill talks about Modern Family, Married With Children, how he got into comedy, his theater work and finally being accepted by his peers among other things. It's an interesting interview. Click here since the video won't embed.
Source: Live Journal
There are two Modern Family Love Polls out there:
The first on Zap2it asking who is the best couple on Modern Family
Claire and Phil's – their effort to keep things fresh despite the frustration of three teenage/pre-teen kids in their house is admirable.
Cam and Mitchell – Cam is the comedian in the Mitchell-Cameron duo and does he ever do it well, whether its a subtle "caught" look, a quick little quip or a flamboyant display of his dramatic self. And that, juxtaposed with Mitchell's dry, down-to-earth disposition often makes for magic.
Jay and Gloria – Jay is just hilarious because he's old and set in his ways and says inappropriate things while managing to always stay likable. Also, he's got a hot (and slightly less old) wife with a funny accent who knows how to deliver a good line.
Haley and Dylan – the picture of young, dumb love.
The second on People asking which Modern Family Valentine date was the funniest:
Claire and Phil decided to break from their 17-year tradition — family-style food and cannolis at Fratelli's — and meet up instead at a hotel for some risqué role-play.
Cam and Mitchell – at the local Great Shakes diner, they hilariously attempt to intervene at Manny's love life.
Jay and Gloria – spend their Valentine's Day at comedian David Brenner's stand-up show.
Love is in the air…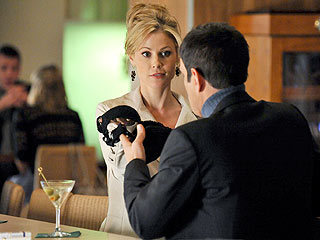 Modern Family won in the comedy category for pilot director Jason Winer at the Directors Guild Awards.
Congrats to Modern Family!
Source: TV Guide
2 new kids to the class "Glee" and "Modern Family" were the most talked about shows in the Best Series: Comedy or Musical category. It was slightly uncommon to see 2 brand new shows midway into their first season nominated but the strength of both shows were undeniable.
"Glee" had indeed won the award and an ecstatic cast led by their captain Ryan Murphy received the award with class and gratefulness.
Congrats to Glee and good luck to Modern Family next time.
Source: TV Fodder
The end of the year is coming closer and everyone has their top 2009 list, this time coming from Poptimal another vote to Modern Family actors:
DRAMA KING & QUEEN: Rachel Berry & Cameron Tucker
Glee is arguably the debut show of the year, and its success is in large part due to its lead and her voice. As an unknown to relatively anyone outside of the Broadway world, Lea Michele was given the opportunity to fully mold and embody Rachel, the girl with the undeniable talent who is almost impossible to ignore. And never did TV make dysfunctional families look so good than on Modern Family. Eric Stonestreet steals scenes as Cam with his hilarious flair for the dramatic and his lovable individuality. Whether focusing on his devotion to his partner Mitchell, his love for newly adopted Lily or his enthusiasm as Fizbo the Clown, Cam is always the center of attention.
We agree with The Guardian which said:
We were thrilled to see Modern Family get recognized in the Best Comedy category:It's the funniest new show of the season, but the ABC sitcom didn't get any love in the acting categories. Ignoring Eric Stonestreet is particularly egregious; he has mastered the delivery of lines such as, "I've wanted to be a clown ever since I found out clowns are just people wearing makeup."
What do you think?