Modern Family Love Polls
There are two Modern Family Love Polls out there:
The first on Zap2it asking who is the best couple on Modern Family
Claire and Phil's – their effort to keep things fresh despite the frustration of three teenage/pre-teen kids in their house is admirable.
Cam and Mitchell – Cam is the comedian in the Mitchell-Cameron duo and does he ever do it well, whether its a subtle "caught" look, a quick little quip or a flamboyant display of his dramatic self. And that, juxtaposed with Mitchell's dry, down-to-earth disposition often makes for magic.
Jay and Gloria – Jay is just hilarious because he's old and set in his ways and says inappropriate things while managing to always stay likable. Also, he's got a hot (and slightly less old) wife with a funny accent who knows how to deliver a good line.
Haley and Dylan – the picture of young, dumb love.
The second on People asking which Modern Family Valentine date was the funniest:
Claire and Phil decided to break from their 17-year tradition — family-style food and cannolis at Fratelli's — and meet up instead at a hotel for some risqué role-play.
Cam and Mitchell – at the local Great Shakes diner, they hilariously attempt to intervene at Manny's love life.
Jay and Gloria – spend their Valentine's Day at comedian David Brenner's stand-up show.
Love is in the air…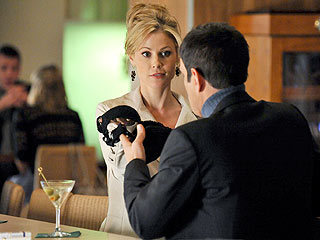 Comments