If you have read my reviews…which I hope a few actually have…you will see that I like to break them up between families.
The Dunphys are encounter problems in the house when Phil decides to meet his ex-girl friend over to the house after she reconnected with him via Facebook. The laughs started whenPhil says that he dated other women besides mom.
Haley: "Oh my God, gross, I can't even picture you with a woman."
Claire: "Thank you."
Phil: "Trust me, I had plenty of fun in my time. Then, I met your mom."
Claire is obviously liking the idea of Phil meeting up with Denise for a bite to eat.
Claire: "Women in their 30s on the internet are like ninjas. They get in their little, black outfits and try to sneak their way into your marriage."
Phil can see that so he invites her over to the house instead for drinks.
Alex and Luke are toying with each other throughout the episode. To get back for Luke earlier in the episode, Alex says that Luke was adopted and that the real reason Jay's ex-girlfriend is coming over so he can meet his real mom. Luke leaves confused and Haley asks.
Haley: "Just because he called you a dork-to-dork salesman?"
Alex: "The empire strikes back."
Once Denise arrives to the house she lays on the heavy advances toward Phil. When asking for directions to the bathroom out of earshot from Claire she asks.
Denise: "How are we going to do this?"
Phil: "I thought I'd just point at the door…,"
Denise: "Here's a key to my hotel room."
Denise then shoves the key card into his hand and leaves. Phil is left speechless and confused, classic Phil.
Claire doesn't see the advances Denise is making on Phil. Alone in the kitchen Phil talks to Claire saying she wasn't completely wrong.
Phil: "She wants me,"
Claire: "To do what?"
Phil: "It!  ME!" "She bit the air right in front of me!"
Claire thinks he is crazy and leaves the room. Denise eventually gets frustrated that her advances, etc. aren't working on Phil and leaves the house.
Jay comes into the house holding a inspirational framed poster that says "What doesn't kill us, makes us stronger." But Manny disagrees.
Manny: "Lots of stuff that doesn't kill you makes you weaker."
Jay tries to hang the frame with the saying in Manny's room but it ends up falling into the Shel Turtlesteins tank killing him. He tries to cover up what really happened saying that a raccoon broke into the house and killed the turtle. Manny leaves his room heartbroken after identifying the body. Gloria realizing something is up confronts Jay.
Gloria: "You lie. I'm Columbian, I know a fake crime scene when I see one."
Gloria says that he has to come clean and tell Manny what happened but Jay disagrees.
Jay: "It was an accident, I've been through this before. When Mitchell was nine, I was supposed to take care of his bird. It got out and flew into a fan. It was like a bloody pillow fight."
He continues, "To this day, Mitchell looks at me, I see him thinking 'that's the guy who killed Flyza Minnelli."
Gloria says that he will find out and Jay contends he won't because he covered his tracks. When realizing the name of the bird Jay wonders how he didn't realize that his son was gay.
Later that night when going to bed Gloria is still upset that Jay hasn't said anything to Manny.
Gloria: "Hard to sleep on a bed of lies, huh, Jay?"
Jay finally gives up and approaches Manny in his room. Manny is already waiting for him and knows that Jay wasn't telling truth. Manny is confused why he lied but Jay says it's because they have a good thing going between them and didn't want to mess it up.
A life change happens to Cameron and Mitchell when Mitchell realizes that he has been missing too much family time because of all the work his boss is asking him to do.
Mitchell: "He's the suckiest suck of all time."
One of the scenes that made me laugh the most was when Mitchell and Cameron were trying to reenact to see if Mitchell's boss overheard him on the phone in the car next to him.
Mitchell: "I sort of had to shout."
Cameron: "You had to what?"
Mitchell: "Shout,"
Cameron: "A little bit louder now,"
Mitchell: "Shout."
Cameron: "A little bit louder now."
Mitchell: "Shout!!"
Cameron: "Hey-hey-ay-ee-ay-ee!" – Cameron singing
Mitchell realizes that Cameron can hear him and thinks that he is screwed with his boss.
Mitchell confronts his boss at work that day and tells him can't work there anymore because he is missing too much time at home. After he arrives home and tells Cameron that he quit is job he is excited they can experience Lily and her "firsts." After they watch her intently and she doesn't do anything interesting Mitchell starts to panic thinking he will try and get his job back.
Mitchell: "I am going to do what I am trained to do. I am going to lie, grovel, debase myself until I get what I want. I am a lawyer, damn it."
Cameron helps to calm him down and says they will be ok and figure something out.
There are two Modern Family Love Polls out there:
The first on Zap2it asking who is the best couple on Modern Family
Claire and Phil's – their effort to keep things fresh despite the frustration of three teenage/pre-teen kids in their house is admirable.
Cam and Mitchell – Cam is the comedian in the Mitchell-Cameron duo and does he ever do it well, whether its a subtle "caught" look, a quick little quip or a flamboyant display of his dramatic self. And that, juxtaposed with Mitchell's dry, down-to-earth disposition often makes for magic.
Jay and Gloria – Jay is just hilarious because he's old and set in his ways and says inappropriate things while managing to always stay likable. Also, he's got a hot (and slightly less old) wife with a funny accent who knows how to deliver a good line.
Haley and Dylan – the picture of young, dumb love.
The second on People asking which Modern Family Valentine date was the funniest:
Claire and Phil decided to break from their 17-year tradition — family-style food and cannolis at Fratelli's — and meet up instead at a hotel for some risqué role-play.
Cam and Mitchell – at the local Great Shakes diner, they hilariously attempt to intervene at Manny's love life.
Jay and Gloria – spend their Valentine's Day at comedian David Brenner's stand-up show.
Love is in the air…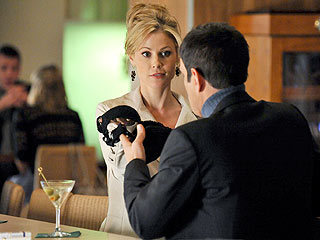 Episode recap:
When Phil and Claire discover a burn mark on the sofa, they try to get a confession out of their children. When no one confesses, Phil dramatically declares Christmas is canceled.
Jay attempts to revive the Christmas tradition with Manny, but fails to consider their different backgrounds. Manny and Gloria do not celebrate Christmas in the same manner, in fact, Manny does not believe in Santa Claus.
Cameron and Mitchell wait in line for Santa at the mall. With their daughter in tow, they demand the fat Santa instead of the skinny one and promptly gets the man fired. Meanwhile, Cameron is furious after seeing his caroling group perform after they kicked him out. Sympathetic for the man, Mitchell and Cameron invite the Santa over.
See the full recap here.
Some reviews come from:
TV Squad:
This holiday episode was lighter on the funny moments than most episodes of Modern Family, which isn't to say that it wasn't plenty funny. It substituted those with more heartfelt moments. Homeless Santa was able to forgive Cameron and Mitchell for getting him fired with their complaints that he didn't look enough like St. Nick. They didn't even have to admit they'd done it; he forgave them after seeing the kindness in their hearts — which may have had a healthy dash of guilt thrown into the mix.

I love it, though, when he punched out Cam's rival in the chorus. Even after usurping control last year and getting Cam kicked out, he still had to go to his house to rub it in his face, and then when Cameron sucked it up to be the bigger man and show true Christmas spirit, he had to keep on being a jerk. He deserved a good hit.

The best moment of the entire episode came when Jay arrived at his house toward the end of the episode and put down the law that no Colombian traditions were allowed in the house. The looks on Gloria and Manny's faces were so raw and real, it was painful to see. But when Jay popped back out with "Innocente!" embracing the Colombian tradition of pranks at Christmas, it was simply beautiful. He even had fireworks!
and AV Club:
Fred Willard? Perfect choice for Phil's dad. Great little technology joke with only the top half of his head showing up in the video chat.
Cameron, chastising Mitchell for complaining about the long Santa line, then catching sight of the New Greensleevers: "Somebody needs to get in the holiday sonofabitch!"
Phil: "I can forgive the smoking, but I can't forgive the lie." Catching Claire's eye: "Or smoking."
Scott the Homeless Santa has too many good lines to quote, but I'll try: In reference to living in his car, "It's pretty roomy since the wife moved out." Responding to the dinner invitation, "Can I bring anything? Ketchup, soy sauce, straws?" And of course, the new gay Christmas tradition of a shirtless Santa: "Who wants to try the swing?"
"Burrito, burr-eye-to."
"What happened?" "Doesn't matter! Wreath, stockings, tree, presents, go!"
I am not a stalker found Jay and Gloria's house filming location. Here is some information that they found:
Jay and Gloria's ultra-unique home is MUCH bigger in person than it appears to be on Modern Family. For some reason, the establishing shots shown on the series only feature one angle of the residence. In reality, though, the home has a whole other half which has never appeared on TV. The house is so massive, in fact, that I couldn't get all of if to fit in my camera lens, but you can sort of get an idea of its true size in the above photograph. According to Zillow, the residence boasts five bedrooms, six bathrooms, and a whopping 6,359 square feet!