Jason Mantzoukas (The League, The Dictator) will guest-star in an upcoming episode as a jeans designer who becomes a co-worker — and new boyfriend — of Haley (Sarah Hyland), EW has reported.
Some of the actors of Modern Family tried to answer this question on Fresno Bee:
Sarah Hyland, suggests that the show has attracted such a large following because viewers see similarities between characters on the show with their own relatives. "There's either that flamboyant uncle or that weird dad or the hot family member who everyone wants to be with but no one can. It's just a somewhat exaggerated version of everyone's lives," Hyland says.
Bowen says it's less complicated. "We are not curing cancer here," she says. "We're just talking about ordinary things in a funny way."
A lot of the ordinary things in the scripts come directly from the cast. That happened when Bowen talked about how her husband once wired their entire house for cameras and ended up leaving holes in the walls. She got to watch her TV husband make the same mess.
Vergara offers the her explanation for why "Modern Family" has succeeded where so many other new comedies have failed.
"It's a perfect storm. It's a combination of things like the writers, the actors and the characters," she says. "And, we are having so much fun on the set that I think you can see that."
Why do you think Modern Family is so great?
There are two Modern Family Love Polls out there:
The first on Zap2it asking who is the best couple on Modern Family
Claire and Phil's – their effort to keep things fresh despite the frustration of three teenage/pre-teen kids in their house is admirable.
Cam and Mitchell – Cam is the comedian in the Mitchell-Cameron duo and does he ever do it well, whether its a subtle "caught" look, a quick little quip or a flamboyant display of his dramatic self. And that, juxtaposed with Mitchell's dry, down-to-earth disposition often makes for magic.
Jay and Gloria – Jay is just hilarious because he's old and set in his ways and says inappropriate things while managing to always stay likable. Also, he's got a hot (and slightly less old) wife with a funny accent who knows how to deliver a good line.
Haley and Dylan – the picture of young, dumb love.
The second on People asking which Modern Family Valentine date was the funniest:
Claire and Phil decided to break from their 17-year tradition — family-style food and cannolis at Fratelli's — and meet up instead at a hotel for some risqué role-play.
Cam and Mitchell – at the local Great Shakes diner, they hilariously attempt to intervene at Manny's love life.
Jay and Gloria – spend their Valentine's Day at comedian David Brenner's stand-up show.
Love is in the air…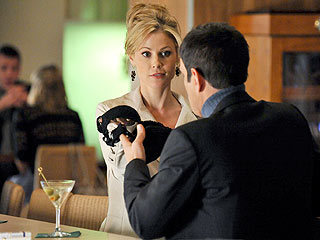 Luckily, Haley ended up not breaking with Dylan – so to celebrate, here is Dylan's song again.
You can find the words to "In The Moonlight" here.