ABC is expanding its relationship with Emmy nominee Sofia Vergara — ordering to pilot an adaptation of Argentine series Killer Women — and is adding a drama from Awake creator Kyle Killen.
ABC also has a semi-autobiographical comedy from Vergara's Modern Family co-star Ty Burrell awaiting word on its future. Burrell co-wrote the script with his brother, Duncan Burrell.
Read the full story on Hollywood Reporter
Check out Eric's page and tweet: "If @SofiaVergara is the most desirable women in the world, then @jessetyler and I win"
Related articles
Sofia Vergara is visiting "The Ellen DeGeneres" show on Monday, January 16th! Sophia has taken the world by storm with her spectacular good looks and sparkling sense of humor. She tells it like it is on her hit show, "Modern Family," and on Monday she's teaming up with Ellen for some CoverGirl magic!
The cast of Modern Family hit the press room after grabbing the SAG award for outstanding performance by an ensemble. They talked about the different reactions they've gotten from families who watch the show, and joked about their gorgeous costar Sofia Vergara.
Stonestreet, on being overwhelmed by costar Vergara's assets: "We passed that in week two. We got all the lurid comments out of the way, at least I did. I just can barely not stare at her. Am I looking now?"
Read the full story on PopSugar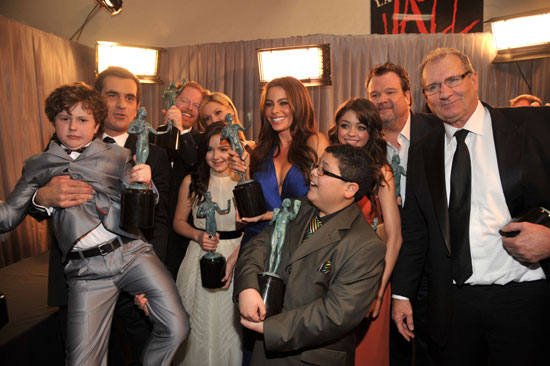 Related articles
Crave Online has an interview with Sofia Vergara, here are some of the hightlights:
CraveOnline: You look amazing. Is there anything you don't look good in?
Sofia Vergara: Well, I don't look that good in bathing suits anymore.
CraveOnline: But I'm sure it's still awesome.
Sofia Vergara: Everything is still up there a little bit. Yeah, I would have to say it's still awesome.
CraveOnline: How important is it for you to be portraying a mixed-race couple on TV?
Sofia Vergara: It's fantastic. I hope that this new season of TV shows for all the networks, maybe they'll try to have another Gloria in their cast or that some Latin actress got a job. That would be fantastic. It's very difficult. Now, it's less difficult than ever but it's still, you cannot get as many roles as a normal American person. So for a black actor I'm sure it's the same.
CraveOnline: I hear you are going to be in the Smurfs movie. Are you a Smurf?
Sofia Vergara: No, no. I'm an executive, a makeup executive. We filmed already in New York during the spring and it's coming out next summer. Hank Azaria is Gargamel. He looks unbelievable.
CraveOnline: What do you get to do with the Smurfs?
Sofia Vergara: Nothing really. All my scenes are with Gargamel and Neil Patrick Harris. There are Smurfs out there but I don't see them so I never really have to talk to them which takes hours, those filming with animation.
Related articles by Zemanta
People Magazine released their anual "World's Most Beautiful People" and our beautiful Sofia Vergara made it in.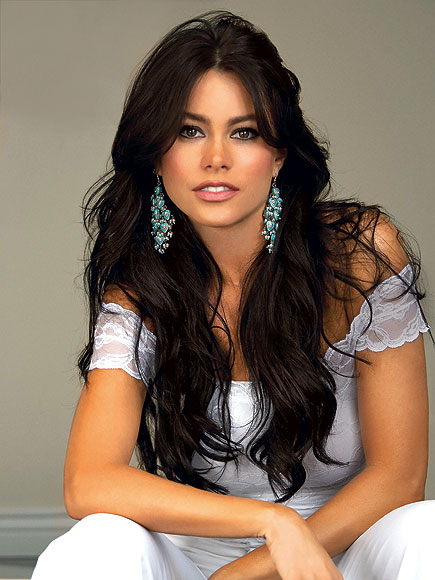 It has just been announced that "Modern Family" season finale will be on May 19.
What would we do all summer?
Source: Zap2It
Don't forget to checkout the "Modern Family" Forums. the "Modern Family" Forums is your place to chat with fellow Modern Family fans, review episodes, and post opinions about the characters.
Modern Family's Sofia Vergara has been cast in the upcoming animated/live-action The Smurfs. She will play Odile, a "powerful executive at a high-end French cosmetics company" married to Neil Patrick Harris' character. The film, which also stars Jayma Mays (Glee) and Hank Azaria, will begin filming in New York next week. With each awesome actor that gets added to this cast, our frustration that this movie is about blue cartoon Smurfs mounts.
Read more: Industry Roundup: Sofia Vergara Joins Smurfs, Fox Signs Foxx Pilot — Vulture http://nymag.com/daily/entertainment/2010/03/industry_roundup_sofia_vergara.html#ixzz0jYqpJvT7