O'Neill, who plays Mitchell and Claire's father, Jay, addressed the controversy in an interview with PopEater. Calling from his Los Angeles home, he said he finds the complaint "half amusing, half annoying." He noted that we haven't seen Jay and his sexy young wife, Gloria (Sofia Vergara) kiss either. And, after 20 years of appearances in controversial comedies, O'Neill said that he sees such protests as just another form of show business, not to be taken seriously.
What do you think of the protests over Cameron and Mitchell's muted displays of affection?
Oh, that's so stupid. Who cares? When I hear that, it's half amusing, half annoying. First of all, they're the most conservative family of the three. Mitchell is a lawyer, and Cameron is a stay-at-home mom with a baby.
Stonestreet, who called the Facebook group "wasted energy," also added: "We're a show that obviously is forward- and progressive-thinking," the star told us. "To adopt a baby on prime-time television is way more taboo than a kiss, and obviously Mitchell and Cameron are going to experience everything in their relationship. Unfortunately, I've been tweeted and sent messages saying that because I'm straight, I don't get to have an opinion on that, which really disappoints me. I play the character and I think I get to have an opinion on it."
Source: NY Mag
Back Stage visited Stonestreet on set, where he was filming an episode, and spoke with him about landing the job of a lifetime. Here are some of the highlights of their visit:
Stonestreet reveals that he originally read the pilot for "Modern Family" when a friend asked for help running lines.
"He had an audition for Cameron, and as I read with him, I was really bummed I wasn't getting to go in for it," Stonestreet recalls. "It just hadn't come my direction as far as the physical type yet." Although he hadn't seen a description of the character's appearance, he knew that Ferguson was already cast as Mitchell and the network was looking for someone who matched him. "You just never know," Stonestreet says. "I've been a character actor and a big guy my whole career, and my goal has always been to change people's mind and do justice to the part so that they look past what I look like and see just an actor, rather than a 'big' or a 'heavyset' actor."
Stonestreet's representation persisted, and the show still couldn't find a Cameron. The search began to widen, and eventually Stonestreet was allowed to audition. "I don't remember the exact breakdown, but it was something like 'Passionate, the more dramatic of the two, flamboyant but grounded,'" the actor says. "It was a tricky character to audition for, because you read the script and there's that 'Lion King' moment. So you have to build a character who's not too flamboyant — yet, on Page 27, he's capable of this."
Though Stonestreet is straight, he had no qualms about accepting the role, and he takes it as a compliment that many viewers find him so convincing that they assume he's gay in real life. "I love it!" he says. "I love the fans that I have. They're so cool. I'm a guy who's been working as an actor for a long time, and my main goal was always to get a job. Not to get a job on a great show, not to get a job on a great show with a great character, but just to get a job. So for me to be on this show with this cast and this audience support is more than I could have ever imagined. I will take my fans in any shape, size, gender, sexual orientation they come in. I'm just happy to have fans!"
As for his family's reaction, Stonestreet points to the year before he landed "Modern Family," when he played murderers on "The Mentalist," "Pushing Daisies," and "NCIS," as well as an inmate on death row for raping and murdering a girl on a recent episode of "Nip/Tuck." "People will ask me, 'Are your parents okay with you playing a gay character on TV?' And I'm like, 'My mom was more upset that I killed three people on TV last year!'"
Eric Stonestreet, star of abc's breakout comedy 'Modern Family,' on the popularity of his character Cameron and what to expect in the final episodes of the first season.
LOST fans will notice a familiar face on the April 14 new episode of Modern Family. Eric Lange, who played Radsinsky on the show will be appearing as a basketball coach on the episode.
A FAMILY IS LIKE A SPORTS TEAM… SOME MEMBERS ARE FIRST-STRINGERS AND OTHERS GET BENCHED, ON ABC'S "MODERN FAMILY"
"Benched" – When Luke and Manny's hot-tempered basketball coach quits in the middle of a game, Jay and Phil both jockey to fill the position. Claire and Gloria each struggle with the realization that they might not be number one in their children's lives anymore, and Mitchell takes Cameron along to meet a prospective employer, but Cameron's big personality doesn't necessarily help to make a good impression, on "Modern Family," WEDNESDAY, APRIL 14 (9:00-9:30 p.m., ET), on the ABC Television Network.
"Modern Family" stars Ed O'Neill as Jay Pritchett, Julie Bowen as Claire Dunphy, Ty Burrell as Phil Dunphy, Sof'a Vergara as Gloria Delgado-Pritchett, Jesse Tyler Ferguson as Mitchell Pritchett, Eric Stonestreet as Cameron, Sarah Hyland as Haley Dunphy, Nolan Gould as Luke Dunphy, Ariel Winter as Alex Dunphy and Rico Rodriguez as Manny Delgado.
Guest cast include Justin Kirk as Charlie Bingham, Eric Lange as Coach Stupak and Stoney Jackson as Ref.
Source: TV Over Mind
Pop Eater has an article on TV's best couple Cam and Mitch. Here is some of what they have to say:
In fact, we're willing to argue that the lovable gay duo, played by Eric Stonestreet and Jesse Tyler Ferguson, is the very best on the small screen right now.
Like all good couples, Cameron and Mitchell love and support one another. They may not make sense on paper — Cameron is flamboyant and outrageous, while Mitchell is more of a straight man (no pun intended) — but they've found a working balance between one another that gets them through even the most dire and embarrassing situations — like, you know, when Cameron decides that he wants to dress up like a clown, or when Mitchell wants to quit his job. As shown in the clip below, it all evens out eventually.
So, here's to Cameron and Mitchell, the best — not to mention funniest — couple on television, who every Wednesday night make us more than happy to be part of their family.
CNN has an article about gay characters on prime time TV, and of course they talked to our favorite gay couple from Modern Family. Here are some of the things Jesse Tyler Ferguson and Eric Stonestreet had to say:
"The opportunity to play not only a well developed gay character, but a dad, a son and brother was really appealing to me. … I chose to play him very close to myself and I think that truthfulness was appealing to the creators," Ferguson told CNN.
"As a gay man and as someone who is an advocate for equality, truthfulness and fairness, I want to see more gay roles go to gay actors," Ferguson said in an e-mail. "But then on the flip side, as an actor, I want to still be given the opportunity to play roles that are straight."
"Jesse and I … get so many compliments from gay couples and lesbian couples that want to introduce us to their kids and thank us for representing them on TV for the first time," Stonestreet told Behar, from CNN.
But still, "Modern Family" isn't hitting viewers over the head with Cameron and Mitchell's physical intimacy.
"We're the perfect show to just build it in naturally, not draw a bunch of attention to it," Stonestreet said.
For Ferguson, it's a non-issue.
"I want the viewers to know Mitchell and Cameron's sex and love life is just fine," Ferguson wrote. "They also have regular bowel movements, but that is something you don't see either."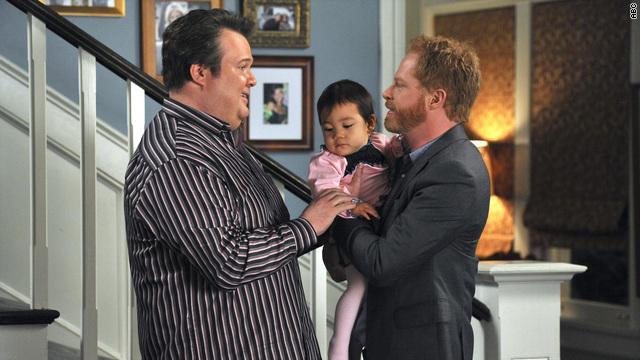 Here's a sneak peek at Joy's interview tonight with Eric Stonestreet, who plays Cameron on ABC's breakout hit, "Modern Family."
We know that you can't wait for a new episode of Modern Family, well you only have to wait till next week. Next week's episode has Mitchell off bonding with Jay and Manny on a camping trip, while Cameron plans a night out to bond with Gloria. From the looks of things, neither venture goes well.
Source: After Elton