There's a rumor buzzing around the Internet that Delta Burke will guest on 'Modern Family' as Cameron's mother. TV Guide had something in the print edition, but the real culprit behind the tale is actor Eric Stonestreet who plays Cam. He said he would love Delta Burke to play his mama … and it's a great idea.
Would you want to see Delta Burke as Cam's mother or do you have better suggestions?
Source: TV Squad
Related articles by Zemanta
If you have read my reviews…which I hope a few actually have…you will see that I like to break them up between families.
The Dunphys are encounter problems in the house when Phil decides to meet his ex-girl friend over to the house after she reconnected with him via Facebook. The laughs started whenPhil says that he dated other women besides mom.
Haley: "Oh my God, gross, I can't even picture you with a woman."
Claire: "Thank you."
Phil: "Trust me, I had plenty of fun in my time. Then, I met your mom."
Claire is obviously liking the idea of Phil meeting up with Denise for a bite to eat.
Claire: "Women in their 30s on the internet are like ninjas. They get in their little, black outfits and try to sneak their way into your marriage."
Phil can see that so he invites her over to the house instead for drinks.
Alex and Luke are toying with each other throughout the episode. To get back for Luke earlier in the episode, Alex says that Luke was adopted and that the real reason Jay's ex-girlfriend is coming over so he can meet his real mom. Luke leaves confused and Haley asks.
Haley: "Just because he called you a dork-to-dork salesman?"
Alex: "The empire strikes back."
Once Denise arrives to the house she lays on the heavy advances toward Phil. When asking for directions to the bathroom out of earshot from Claire she asks.
Denise: "How are we going to do this?"
Phil: "I thought I'd just point at the door…,"
Denise: "Here's a key to my hotel room."
Denise then shoves the key card into his hand and leaves. Phil is left speechless and confused, classic Phil.
Claire doesn't see the advances Denise is making on Phil. Alone in the kitchen Phil talks to Claire saying she wasn't completely wrong.
Phil: "She wants me,"
Claire: "To do what?"
Phil: "It!  ME!" "She bit the air right in front of me!"
Claire thinks he is crazy and leaves the room. Denise eventually gets frustrated that her advances, etc. aren't working on Phil and leaves the house.
Jay comes into the house holding a inspirational framed poster that says "What doesn't kill us, makes us stronger." But Manny disagrees.
Manny: "Lots of stuff that doesn't kill you makes you weaker."
Jay tries to hang the frame with the saying in Manny's room but it ends up falling into the Shel Turtlesteins tank killing him. He tries to cover up what really happened saying that a raccoon broke into the house and killed the turtle. Manny leaves his room heartbroken after identifying the body. Gloria realizing something is up confronts Jay.
Gloria: "You lie. I'm Columbian, I know a fake crime scene when I see one."
Gloria says that he has to come clean and tell Manny what happened but Jay disagrees.
Jay: "It was an accident, I've been through this before. When Mitchell was nine, I was supposed to take care of his bird. It got out and flew into a fan. It was like a bloody pillow fight."
He continues, "To this day, Mitchell looks at me, I see him thinking 'that's the guy who killed Flyza Minnelli."
Gloria says that he will find out and Jay contends he won't because he covered his tracks. When realizing the name of the bird Jay wonders how he didn't realize that his son was gay.
Later that night when going to bed Gloria is still upset that Jay hasn't said anything to Manny.
Gloria: "Hard to sleep on a bed of lies, huh, Jay?"
Jay finally gives up and approaches Manny in his room. Manny is already waiting for him and knows that Jay wasn't telling truth. Manny is confused why he lied but Jay says it's because they have a good thing going between them and didn't want to mess it up.
A life change happens to Cameron and Mitchell when Mitchell realizes that he has been missing too much family time because of all the work his boss is asking him to do.
Mitchell: "He's the suckiest suck of all time."
One of the scenes that made me laugh the most was when Mitchell and Cameron were trying to reenact to see if Mitchell's boss overheard him on the phone in the car next to him.
Mitchell: "I sort of had to shout."
Cameron: "You had to what?"
Mitchell: "Shout,"
Cameron: "A little bit louder now,"
Mitchell: "Shout."
Cameron: "A little bit louder now."
Mitchell: "Shout!!"
Cameron: "Hey-hey-ay-ee-ay-ee!" – Cameron singing
Mitchell realizes that Cameron can hear him and thinks that he is screwed with his boss.
Mitchell confronts his boss at work that day and tells him can't work there anymore because he is missing too much time at home. After he arrives home and tells Cameron that he quit is job he is excited they can experience Lily and her "firsts." After they watch her intently and she doesn't do anything interesting Mitchell starts to panic thinking he will try and get his job back.
Mitchell: "I am going to do what I am trained to do. I am going to lie, grovel, debase myself until I get what I want. I am a lawyer, damn it."
Cameron helps to calm him down and says they will be ok and figure something out.
Modern Family is going for a vacation until March 24th. Here is some info about the March 24th episode:
FAMILY BONDING CAN TAKE ON MANY DIFFERENT FORMS ON ABC'S "MODERN FAMILY"
"Starry Night" – Phil and Claire each tackle one of their kids' school projects; Jay and Mitchell set out on their traditional father-son outing to see the meteor showers, but Mitchell is surprised to see Manny will be joining them; and with the boys gone, Gloria and Cameron go out for some quality bonding time, but not without a few mishaps, on "Modern Family," WEDNESDAY, MARCH 24 (9:00-9:30 p.m., ET), on the ABC Television Network.
"Modern Family" stars Ed O'Neill as Jay Pritchett, Julie Bowen as Claire Dunphy, Ty Burrell as Phil Dunphy, Sof'a Vergara as Gloria Delgado-Pritchett, Jesse Tyler Ferguson as Mitchell Pritchett, Eric Stonestreet as Cameron, Sarah Hyland as Haley Dunphy, Nolan Gould as Luke Dunphy, Ariel Winter as Alex Dunphy and Rico Rodriguez as Manny Delgado.
Guest cast includes Lombardo Boyar as Jose.
Source: TV over Mind
Some news about upcoming Modern Family episodes come to us from IGN:
Stonestreet noted that they were actually shooting the season finale already, out of order from the rest of the season, while among the episodes already shot, "There's a story where I join Dylan's rock band, because their drummer goes missing. I play the drums, so I sit in for a night."
Sofia Vergara ("Gloria Delgado-Pritchett") mentioned one storyline in which, "[Cameron] takes me out to dinner to make up for something that he says." Stonestreet elaborated, "I try to make up to her something kind of offensive that I accidentally said in front of her, so I take her out for an evening on the town, which goes horribly, horribly wrong."
Ferguson also revealed some more specifics on upcoming episodes. "I get stuck in the apartment with a stray pigeon that I'm terrified of," said the actor, adding, "There's that! Hilarity ensues with a broom. My dad teaches me karate and accidentally knocks me out. That's pretty funny. The writers are amazing. I couldn't even begin to name all the hilarious moments that you have yet to see."
Happy Valentine's day!
Rob Salem has ranked the TV top 25 loving couples, and the number one couple is Cameron and Mitchell from Modern Family (although some of you complained to our Twitter @modernfamilytv – they haven't kissed on screen yet… ABC – we are waiting):
Of the three married couples depicted in the family-friendly domestic comedy, the Mutt-and-Jeff gay mates are the most popular with kids.
"I think it's a Bert and Ernie thing," suggests Jesse Tyler Ferguson, who plays the somewhat straitlaced lawyer, Mitch.
"I just like that they're being handled as a regular couple. It's not that they're gay, that's farther down on the list … but, you know, they're new parents, they're partners …
"I've been on a show where they, like, had to refer to me as the `gay' character five times, just to remind people. And I'm like, `They get it, they get it.' But with this, I think it's just Cameron and Mitchell, and that's what I really love about it. I think that itself unfortunately is unique …"
"It's slowly getting less unique," offers Eric Stonestreet, a.k.a. the "drama queen" Cam. "Just a couple of guys who live together who adopted a baby … it's an opportunity to sort of, not educate, you know, but just open peoples' minds to the idea that families come in all different shapes and sizes."
We hope you enjoyed the Romantic Valentine episode of Modern Family On ABC last night. Here are some of the reactions on the web to the episode:

For a show with lesser joke-writing skills, "My Funky Valentine" would have been dead in the water with these clichés. Characters end up exactly where they started at the end of the episode and there's not much here that we haven't seen in other shows, let alone previous episodes of Modern Family. Still, I ended up charmed by the episode despite my reservations with both the largely unliked plot-structure and the way the show repeated itself yet again. As with most recent episodes, though, it's hard not to wonder how long the show can keep showing us what we've seen before without getting old.
Stray Observations:
"I was giving her a bath last night and I saw a little bit of Martin Luther King behind her ear."
"Could you be more dramatic?" If you're asking Cam, then the answer is always yes.
-Phil's unwillingness to drop his persona during the escalator debacle is a subtle yet great joke, maybe my favorite in the episode.
Advocate.com has an interview with the man who introducing the term "moon landing" to popular culture Eric Stonestreet. Here is the highlights from the interview:
Advocate.com: First of all, thanks for introducing the term "moon landing" to popular culture. What was it like to touch bare butt cheeks with Ed O'Neill?
Eric Stonestreet: [Laughs] I tweeted the day that episode aired that if you set goals, work hard, and always believe in yourself, you too can touch butts with a TV icon someday. It was blurred out on TV, but we really did touch butts. He was like, "You fine with this?" I was like, "I'm fine with it. Are you fine with it?" And he was like, "Yeah, let's do this!" So we touched butts, and it was great.
Twitter obviously makes you easily accessible to fans. What kind of feedback have you gotten from gay viewers about Modern Family?
The response has been overwhelmingly positive. I had prepared myself that people might think Cameron was too flamboyant, too broad, or too stereotypical, but we've always felt we take it to that line but then twist it a bit. Gay couples have approached me at the Grove in Los Angeles just to say "thank you." At Starbucks I was approached by two women pushing a stroller who said, "We'd like to introduce you to our baby." I've been blown away, because I was expecting a little bit more blowback, if you will, than what we've received from the gay community and even from people who are opposed to gay rights.
Have you learned anything about gay people by playing Cameron?
Well, I've been surrounded by gay people my whole life — I grew up with a gay cousin, I went to Kansas State University and knew a lot of gay people in the theater department — so it's not like I'm all of a sudden immersed in the gay community for the first time. But in this particular case, what I'm learning is being learned off-set with the great feedback I'm getting. I'm seeing how prideful and appreciative the gay community has been of the fact that we're playing these characters honestly and without sensationalizing them. Cameron's a dramatic, passionate person, but there's a truth to the character. I look to myself for the character because I'm a dramatic, passionate person too, and that has nothing to do with my sexuality.
Was it a conscious decision not to show any physical affection between Cameron and Mitchell so as to make a gay relationship more palatable for more conservative viewers?
People always ask me why there's not more affection on the show, but these guys are elbow-deep in raising a baby, so affection gets shoved down the list. That happens in straight relationships too. Talk to any guy with a newborn baby, ask him how often he's getting some action, and he'll fill you in.
Glee stole some of Modern Family's thunder at those award shows.
Yeah, we were "whatever" with the Golden Globes, but we did want to win the SAG Award. Good for Glee, but hopefully we'll go at it again next year. But, you know, this year I was disappointedModern Family didn't get a SAG Award, and exactly one year ago this week I was pissed because I couldn't get an audition for Modern Family, so my year has been great.
Modern Family is airing a Valentine's Day episode on February 10.
VALENTINE'S DAY GETS CELEBRATED IN UNCONVENTIONAL WAYS, ON ABC'S "MODERN FAMILY"
Comedian David Brenner Makes a Cameo Appearance as Himself
"My Funky Valentine" – Phil and Claire break from their traditional Valentine's Day dinner date and plan a little "role play" excursion. Meanwhile, Jay and Gloria's ideas of romance clash when he takes her to a comedy show, and Mitchell and Cameron play cupid for Manny, on "Modern Family," WEDNESDAY, FBERUARY 10 (9:00-9:30 p.m., ET), on the ABC Television Network.
"Modern Family" stars Ed O'Neill as Jay Pritchett, Julie Bowen as Claire Dunphy, Ty Burrell as Phil Dunphy, Sof'a Vergara as Gloria Delgado-Pritchett, Jesse Tyler Ferguson as Mitchell Pritchett, Eric Stonestreet as Cameron, Sarah Hyland as Haley Dunphy, Nolan Gould as Luke Dunphy, Ariel Winter as Alex Dunphy and Rico Rodriguez as Manny Delgado.
Guest cast include David Brenner as himself, Reid Ewing as Dylan, Andrew Borba as Principal Balaban, Ariane Price as Pamela, Bruno Oliver as Tom Mickleson, Mieko Hillman as waitress, Rylee Fansler as Fiona and Jackson Odell as Ted Durkas.
Source: TV Over Mind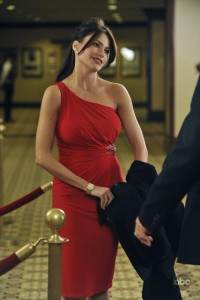 JAY AND CLAIRE ARE EACH THROWN OFF THEIR GAME BY SOME UNEXPECTED ENCOUNTERS, ON ABC'S "MODERN FAMILY"
Guest Starring Oscar-nominated Minnie Driver ("Good Will Hunting," "The Riches") as Valerie.
"Moon Landing" – Claire feels slightly inadequate when her old friend, Valerie (guest star Minnie Driver), visits and is nothing like Claire remembered. Meanwhile Jay has an unsettling locker room moment when he and Cameron go play racquetball, and Mitchell tries to help Gloria with some legal problems, on "Modern Family," WEDNESDAY, JANUARY 27 (9:00-9:30 p.m., ET), on the ABC Television Network.
"Modern Family" stars Ed O'Neill as Jay Pritchett, Julie Bowen as Claire Dunphy, Ty Burrell as Phil Dunphy, Sof'a Vergara as Gloria Delgado-Pritchett, Jesse Tyler Ferguson as Mitchell Pritchett, Eric Stonestreet as Cameron, Sarah Hyland as Haley Dunphy, Nolan Gould as Luke Dunphy, Ariel Winter as Alex Dunphy and Rico Rodriguez as Manny Delgado.
Guest cast include Minnie Driver as Sue, Reid Ewing as Dylan, Brian Oerly as gym member, Blake Gibbons as construction worker and Andrew Harlander as creepy diner.
Source: TV Over Mind
NPR has an interview with Eric Stonestreet And Jesse Tyler Ferguson. Here are some of the highlights:
On creating chemistry as a couple
Stonestreet: I just think chemistry comes from an openness of a performer, and Jesse is an actor that's willing to put himself out there, and I consider myself sort of the same way, and I really feel that's where chemistry comes from, is a sense of vulnerability for each other. It works for our relationship on the show, but it works for us as actors.
On giving Cameron a higher voice than he has naturally
Stonestreet: I feel like Cameron — and I don't like it when actors talk about stuff like this, but — I feel like Cameron is a comfortable, comforting, nurturing sort of person that just … his idea and his intention is to soothe. And Cameron's voice comes from that quality that I want him to have. … And it comes from my mom. I've said in lots of interviews that my mom gestures a lot, and the whole thing started with just watching her and observing and mimicking her and how she reacts in situations.
On the puzzling nature of viewer perceptions
Stonestreet: The best example I can give about this — and Jesse was standing right there, so he can be my witness — a gentleman came up to me at a party, and he literally said this to me: "OH MY GAWD, YOU ARE TEEEW MUCH." And I said, "What?" And he said, "SERIOUSLY, A KIMONO? I MEAN, A KI-MO-NO? PUHHH-LEEZE. YOU ARE TEEEW MUCH. AND YOU'RE STRAAAIGHT?" And I go, "Yeah, I am." And he goes, "Oh, please you can't tell me you're not questioning soooomething, come on!" He walks away, and I'm like, "Jesse, I am so glad hedelivered me the message that I am too much."
On retaining couplehood
Ferguson: I think sometimes, since we aren't a real couple in real life, as some people don't realize, we forget that there is moments of tenderness and affection, and we try and find places to fuse that as much as possible. And there's some great moments of that in the Valentine's Day episode.
On stereotypes
Ferguson: We're not traditional gay characters as seen on TV in recent history. We have different body types, and I think that's also, in itself, unique.
Stonestreet: I felt like that going in, as far as my physicality goes, was — it added jokes to the character. That was sort of my pitch as far as why I should get the audition in the beginning. "Put a well-built dude in there and you're cliche and you can be stereotypical and mean. Put me there and you open a world of jokes."