E!Online has an interview with Ty Burrell, otherwise known as ultracool, hipster dad Phil on ABC's new hit "Modern Family".
Ty on Phil: "Phil is a dog who can talk. He's this well-intentioned guy, superearnest. His tail is always wagging when anyone comes home as if he thought they were never going to come back. And yet at the same time, that tail is knocking crap off the tables, you know?"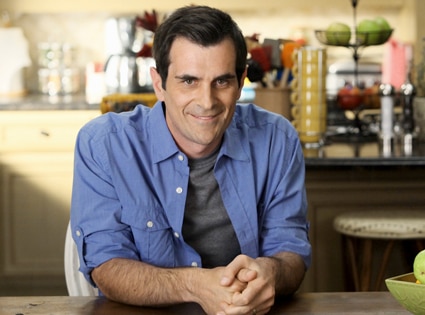 Related articles by Zemanta
It was a great 2nd episode for "Modern Family", with a superhero theme: a joke about Superman and Batman.
We also loved the quote — "90% of being a dad is just showing up".
What was your favorite moment?
Episode synopsis [from TV.com]: As Phil helps his son in showing Claire that he can be trusted with a brand new bike, Phil turns out to be the irresponsible one when he notices a hot neighbor. Meanwhile, Mitchell and Cameron bring Lily to their Mommy & Me class while Manny and Jay uncomfortably spend some father and son time together.
From ABC's press release:

Wednesday:
ABC finished in a virtual tie with CBS for No. 1 on the opening Wednesday of the '09-10 TV Season in Adults 18-49, pacing within one-tenth of a rating point and tied in audience share (3.5/10 vs. 3.6/10). In fact the openers of ABC's "Cougar Town" and "Modern Family" registered as TV's highest-rated non-spinoff comedy debuts in nearly 2 years in the key young adult sales demo – since 10/15/07.
Versus ABC's Wednesday night roll-out last year (on 10/1/08), the Net was up by 4.7 million viewers (11.9 million vs. 7.2 million) and by 35% in Adults 18-49 (3.5/10 vs. 2.6/7). ABC generated its most-watched Wednesday night in 10 months – since 11/12/08.
"Dancing with the Stars Results" (8:00-9:00 p.m.)
On the third evening of its 3-night premiere event, ABC's "Dancing with the Stars" dominated the 8 o'clock hour in Total Viewers (15.4 million) and Adults 18-49 (3.3/10), topping second-place Fox's "So You Think You Can Dance" by 32% in the key sales demo (2.5/8). In a double-elimination, Macy Gray and Ashley Hamilton were the first two celebrity dancers to be eliminated from the contest this season.
"Modern Family" (9:00-9:30 p.m.)
Surging 27% from its Adult 18-49 lead-in at 9:00 p.m. and becoming the first-ever comedy to build on "DWTS," the series premiere of "Modern Family" ranked No. 1 in its half-hour among Adults 18-49 (4.2/11-tie).
"Modern Family" greatly improved the half-hour year to year for ABC, pacing ahead of the "Private Practice" (3.2/8) opener last season by 31% in Adults 18-49.
Ed O'Neill, who used to play Al Bundy, now plays Jay Pritchett. Ed's IMDb page can be found here.
Here are some memories for you:

And here is he now:

How do you think Al Bundy would deal with a gay son?
Introducing Phil Dunphy from Modern Family
Ty Burrell, who plays Phil Dunphy, has an interview in California Chronicle.
TV Over Mind has the scoop on the next episode of Modern Family:
"The Bicycle Thief" – Phil is determined to help Luke prove to mom that he is responsible enough to have the brand new bike they just got him. However Phil ends up being the irresponsible one when a hot neighbor clouds his judgment. Meanwhile Mitchell and Cameron take Lily to their first Mommy & Me class, and Jay and Manny have some awkward father and son time, on "Modern Family," WEDNESDAY, SEPTEMBER 30 (9:00-9:30 p.m., ET), on the ABC Television Network.
This is the clip from Modern Family episode 1 (Pilot) where Cameron introduces baby Lily to her new family:
In the mean time Gay Agenda wrote an article about gay couple raising kids in response to an article by Colleen Raezler.
The ratings for the first episode of Modern Family are in and Modern Family is off to a great start:
CBS: "Criminal Minds" season premiere (15.4 million, 9.4/15)
ABC: "Modern Family" series premiere (12.7 million, 8.0/13)/"Cougar Town" series premiere (11.4 million, 7.2/11)
NBC: "Law & Order: SVU" season premiere (8.4 million, 5.5/9)
FOX: "Glee" (6.6 million, 4.1/7)
The CW: "The Beautiful Life" (1.1 million, 0.8/1)
18-49 leader: "Modern Family" and "Cougar Town" tied at 4.3
[ratings are from Zap2it]