After the holidays, you're probably sick of your family. Now it's time to spend a little extended time with ours. Watch extended scenes of Modern Family only on ABC.com. For the full family experience, visit the Modern Family Memory Book which features never before seen videos, photos and scrapbook type content for fans to get a glimpse of life with the families outside of what is seen on-air.
How's the new Lily fitting in around set?
"She's very sweet," Ferguson told E! at Audi and David Yurman's Pre-Emmy party at Cecconi's in West Hollywood. "It's definitely going from 0 to 100 because our last little girls, Ella and Jaden, the adorable Hiller twins, were a bit catatonic, which is kind of what made them charming. And Aubrey is the exact opposite. She's a talker. She jumps into anyone's arms…I think people will really fall in love with her and she'll be quite the scene stealer."
Read more: on E!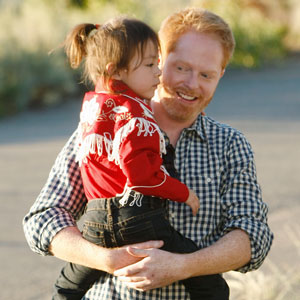 As TV kids grow up, they sometimes need to be replaced. That's the case with the role of Lily, the pint-size daughter in the ABC hit series "Modern Family," as it begins its third season. Welcome the new Lily: Aubrey Anderson-Emmons, 4, who replaces the original twins who played the child as a baby and toddler.
Read about Aubrey's family in the Star Tribune
Related articles
Can't wait for the Modern Family to come back to your living room? well the families will be back on Wed., September 21 9-10PM with a special one-hour premiere.
In the meantime enjoy the summer and the keep check our Modern Family fansite.
TV's Funniest Family Encourages Parents to Help Build Strong Families by "Pourenting."
The Dunphys may be America's funniest "Modern Family," but Claire and Phil take their role as parents very seriously. The comedic couple knows the importance of pouring one more serving of milk a day.  Their goal is to build a strong modern family of their own and help fill the nation's nutrient gap. That's why Claire, Phil and family are the newest stars in their own Milk Mustache ad.
As mom to Haley, Alex and Luke, Claire wants to remind moms that they are role models for their families' food choices, and encourage them to set a positive example by pouring one more glass of lowfat milk for herself, as well as for each member of her family every day. Pouring everyone one more serving of milk when the family is together is a simple way to ensure no one misses out on milk's nine essential nutrients.
The ad copy reads, "Peerenting. Acting like a parent but talking like a peer might be Phil's philosophy, but when it comes to helping my kids get out of the nutrient gap, I need to be the grown up. So I pour one more serving of milk a day. It's something Phil likes to call 'pourenting'."
See exclusive behind-the-scenes photos and videos from the Dunphys' Milk Mustache ad shoot at WhyMilk.com.
About the National Milk Mustache "got milk?®" Campaign
The Milk Processor Education Program (MilkPEP), Washington, D.C., is funded by the nation's milk processors, who are committed to increasing fluid milk consumption. The National Fluid Milk Processor Promotion Board, through MilkPEP, runs the National Milk Mustache "got milk?®" Campaign, a multi-faceted campaign designed to educate consumers about the health benefits of milk.  For more information, go to www.whymilk.com.  Deutsch, A Lowe and Partners Company, is the creative agency for the National Milk Mustache "got milk?®" Campaign.

"Modern Family" star Sarah Hyland is looking forward to Wednesday's (Nov. 3) episode "Chirp," when her character Haley spends quality time with her mom Claire (Julie Bowen) when they both fall sick and stay home.
"That's really cute. Me and Julie in bed all day," Hyland tells Zap2it. "It was awesome. Just laying down in bed together, which is my boyfriend's dream. Who doesn't like Julie Bowen? She's the sexiest mom alive."
Read the rest of the story on Zap2It
Related articles
On television, Julie is known as Claire Dunphy – a mom of three very different kids on "Modern Family." In real life, Julie also plays the important role of mom to three children of her own!
Kids are great but moms deserve a break once in a while and on Wednesday, October 13th, Julie will be hosting an "It's All About Me" party on Nickelodeon's ParentsConnect.com. From 10 am – 11:59 pm EST parents can join Julie throughout the day for some "me time" and take part in kick-your-feet-up fun, games and the chance to win a ton of prizes!
For more details, you can check out this link: Parents Connect
O'Neill, who plays Mitchell and Claire's father, Jay, addressed the controversy in an interview with PopEater. Calling from his Los Angeles home, he said he finds the complaint "half amusing, half annoying." He noted that we haven't seen Jay and his sexy young wife, Gloria (Sofia Vergara) kiss either. And, after 20 years of appearances in controversial comedies, O'Neill said that he sees such protests as just another form of show business, not to be taken seriously.
What do you think of the protests over Cameron and Mitchell's muted displays of affection?
Oh, that's so stupid. Who cares? When I hear that, it's half amusing, half annoying. First of all, they're the most conservative family of the three. Mitchell is a lawyer, and Cameron is a stay-at-home mom with a baby.
Paste magazine selected the 10 best sitcoms on TV right now , and of course one of them is Modern Family. Here is what Paste had to say about the show:
The funniest debut season of a sitcom in a long while belongs to Modern Family on ABC. The story of three inter-related families works because its characters seem familiar to life but fresh to the screen. Not that the show is above archetypes: There's the rebellious teen seduced by popularity, the beautiful Colombian second wife, the trying-too-hard-to-be-cool dad, the patriarch who doesn't like to show affection, the flamboyantly gay boyfriend. But it's not taken long for TV veterans Christopher Lloyd and Steven Levitan to let each character's uniqueness flourish through the myriad relationships within the family.
It's these relationships that make even a completely messed-up family a valuable thing. No matter how bad things get in this Modern Family, it always beats the alternative of not having each other. They're flawed individuals, offering only broken bits of love to one another, but that's more than enough to cling to. As Dylan, the boyfriend of Claire's oldest daughter so sweetly an wisely said—before breaking into a song about Haley with the lyrics, "I just want to do you, do you" in front of the family—"You're reaching out, trying to hold on to something awesome… Haley's got the kind of confidence that you get from having a family like this that's passionate and accepting of hot foreigners and gay dudes and nutty people—you know, family that actually loves each other."
The Modern Family star and his wife, Holly, have adopted a baby girl, his rep has confirmed.
Ty Burrell said: "I guess if Phil can raise kids, so can I!"
Read more: E-Online