If Jesse Tyler Ferguson has his way, Gabourey Sidibe will be headed to the Pritchett/Tucker household. In a new interview with NYPost.com's PopWrap, the "Modern Family" star reveals that he's actively approached the Oscar nominee about playing Lily's nanny in an upcoming episode!
"The one person I actually have gone after — because she'd be so brilliant — is Gabourey Sidibe. I think she would be fantastic as a nanny we hire. She's just so bubbly and sweet and a fan of the show. I think this would be a seamless fit for her," Jesse tells PopWrap.
And that's not all Jesse spilled — from Fred Williard's return to an upcoming bird attack plotline — spoilers were abundant!
Read the story at
NY Post
'Modern Family' co-stars Ed O'Neill, Julie Bowen, Ty Burrell, Eric Stonestreet, Jesse Tyler Ferguson and Sofia Vergara stop by Outside the Box to trade parenting styles, secrets to successful shows and why no one sees Sofia as "motherly."
Source: Sohood
Sorry for the late results, but we now have a winner for the "family's best holiday tradition.".
The winner of the giveaway is Cheryl W, who's family tradition is in the spirit of "Modern Family" – "Find the Pickle" :
One of my favorite Christmas family traditions is "Find the Pickle". We have a huge tree and before we decorate Granny hides the pickle ornament somewhere within the Christmas tree branches. All the kids (Adult) start in a line and then make a mad dash for the Christmas tree to find the prized pickle ornament. Who ever finds it, win $100! This is the most hilarious thing ever to watch. We are family, so any pushing or prodding is intensified x10. So much fun. Then we re-hide the pickle ornament and let the next group (the grandkids) do a run, and the winner gets $50. By the end the tree is nearly demolished, but salvageable to decorate. So much fun, we will carry it on forever.
Cheryl wins a DVD of her choice from either Married with Children – The Complete First Season
or  The Office – Season One
This giveaway was sponsored by:
Modern Family returns with all new episodes on January 6th and Benjamin Bratt will be making a guest appearance as Manny's father.
"Up All Night" – Gloria is less than pleased with Jay's reaction to the arrival of Javier, Manny's infamously unreliable dad. Meanwhile, Phil is suffering from kidney stones and his dramatics leave Claire no other choice but to call for the hot firemen to rush him to the hospital, and Mitchell and Cameron have a harder time than Lily as they attempt to sleep train her, on "Modern Family," WEDNESDAY, JANUARY 6
Source: TV Over Mind
Meet the twins! Julie Bowen was spotted on an afternoon stroll with her 6-month-old twin boys John and Gus in Los Angeles on Saturday (December 5). This is our first glimpse of Julie's adorable twins who were born in May.
Julie and her husband Scott Phillips are also parents to 2 1/2-year-old son Oliver.
Another interview with Eric Stonestreet, from Modern Family, this time from Parade. Here are some of the Q&A:
Stretching his improv chops.
"We always get a couple passes where we just get to play and have fun. Inevitably some of those things make it into the shows. And then we always get to improvise a bit during the interviews with the camera. But, for the most part, it is 100% the words of our brilliant writers."
Nothing but funny business.
"The most important thing for me as an actor playing a character is to make you laugh. That's my No. 1 goal. I wouldn't be in this business and doing what I do if I didn't have the deep, deep need to make people laugh, which is what I enjoy the most."
Making a gay couple "modern."
"It's an opportunity to give people a take on what they think of as gay parents and make them understand that the love and support of a child is the first thing, and it really doesn't matter if it's two moms or two dads. Bringing up a child in a loving relationship is the most important thing. I think it's great that people are getting exposed to that and just to see the focus isn't on the fact that Mitchell and Cameron are gay, the focus is on the fact that it's hard raising a baby. It's tiresome, it's challenging and these two people happen to be funny people that will see things on the lighter side and have a good time doing it."

Freelance writer Lewis Beale caught up with the 63-year-old star during a break in series production, you can read the full interview at Newsday, but here are the highlights:
"Modern Family" was a hit from the day it debuted. What was it you liked about the project?
I liked the fact there were no jokes, that it was story-driven. I liked the interconnectedness, yet the separateness of the three families, and I thought there was a lot of room for comedic situations. I liked that it was so ensemble. That's my theater background.
Your character is an older, successful guy married to Gloria, a Colombian hottie (Sofia Vergara) with a precocious, 10-year-old son, Manny (Rico Rodriguez). One of the things that makes Jay endearing is he's really trying to be a father to Manny.
The fact he wasn't the greatest dad the first time around, I think a regret is there. Now that he's got another chance, even though I think Manny was not part of the bargain originally, now that he's got him, he's enjoying it. He's basically a good guy, anyway.
Given that it's football season, and the Steelers are defending Super Bowl champs, are you still a Steelers fan?
Of course. I'm born and raised in that area. When I was trying to make that team, what I recall the most was the graciousness of the Rooney family; they treated the players great. I was a rookie [during coach] Chuck Noll's first year – we beat Detroit in the opener and lost every other game. This should give you a clue. If I couldn't make that team. . . .
Somehow, Haley managed to get a learner's permit. Despite hitting her dad with the car… and not pulling over for the cops… and driving through the park and…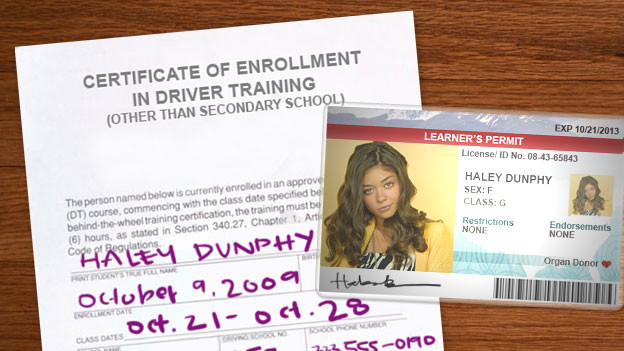 [source: ABC]
You may recognize Ty Burrell's face from any number of his movie credits — The Incredible Hulk, Dawn of the Dead, National Treasure: Book of Secrets — but he's really caught our eye as the bumbling Phil Dunphy on ABC's hysterical new comedy Modern Family. Ty took some time off the set to chat with TV.com about his character and the show.
TV.com: Break down your character, Phil Dunphy, for us.
Ty Burrell: Luckily he doesn't require a lot of psychological complexity. The easiest description of Phil is he's a dog that can talk. He's just this incredibly well-intentioned guy and he means so well, he's so eager to please, and he's so loyal, but he has no idea [what's going on] — the level of obliviousness is so much fun to play.
What is it about Modern Family that has made the show so easy for the audience to connect to?
Primarily it has to do with a warmth that the creators have built into it. They wrote a smart, sophisticated single-camera show that manages to bring people [in]. A lot of single-camera shows have been very smart and I've loved them, but they've kept a certain part of the audience at arm's length because it's hard to get past the irony and snarkiness. The genius of [creators Christopher Lloyd and Steven Levitan] is that they have built these three families that really love each other even though they're constantly teetering on the brink of catastrophe.
I think the child actors do a splendid job on the show, which is part of what makes Modern Family work so well. Kids can make or break a family sitcom.
It's totally true. It's an under-appreciated aspect of all sitcoms, but I hope these guys get the attention they deserve because they're uniformly great actors and really fun to be around. I would argue they are the funniest people on the show. It's been really eye-opening for me, because I haven't worked with kids this much. To be honest, they're much more experienced in the profession. They're all telling me union rules. I basically just know where to stand and talk.
There were rumors that your pal Ed Norton is making a guest appearance.
He is going to be on the show, we filmed it two weeks ago. He plays this former bassist for Spandau Ballet, but he tours by himself to make money, and all he does is play the bassline and sing background vocals.
Ed O'Neill is fantastic on the show. Is this his comeback role?
The thing about Ed is that what [Married with Children] did for him was gave him opportunity to turn down other work. We see a lot of people take work because we need to pay bills. If we haven't seen Ed much, it's because he doesn't have to take anything he doesn't want. He's done the stuff he has been doing, the David Milch and David Mamet stuff, it's really stellar work. He's such a good actor. On the show, I love the relationship with Phil and Jay. He's the perfect patriarch for this family because he's so grounded and his performance is so grounded. It's a great thing because there's a range of personalities in the families, from bigger personalities to more demure personalities, and I think he grounds the show perfectly.
Can you sum up the difference between Phil and his wife Claire's parenting styles?
Claire has a parenting style. That's the difference.
[source: TV.com]

Dad, you're really close to ruining gay for me
Do you ? Do you?

Why does she look like the hamburglar

I mean I'm no Erik Estrada…