Sorry for the late results, but we now have a winner for the "family's best holiday tradition.".
The winner of the giveaway is Cheryl W, who's family tradition is in the spirit of "Modern Family" – "Find the Pickle" :
One of my favorite Christmas family traditions is "Find the Pickle". We have a huge tree and before we decorate Granny hides the pickle ornament somewhere within the Christmas tree branches. All the kids (Adult) start in a line and then make a mad dash for the Christmas tree to find the prized pickle ornament. Who ever finds it, win $100! This is the most hilarious thing ever to watch. We are family, so any pushing or prodding is intensified x10. So much fun. Then we re-hide the pickle ornament and let the next group (the grandkids) do a run, and the winner gets $50. By the end the tree is nearly demolished, but salvageable to decorate. So much fun, we will carry it on forever.
Cheryl wins a DVD of her choice from either Married with Children – The Complete First Season
or  The Office – Season One
This giveaway was sponsored by:
"Modern Family" got a "Cheers" from TV Guide for an early Christmas present: the spot-on guest casting of Fred Willard as Phil's father. Though he was only (mostly half-)seen on a computer screen as he admired via video-conferencing the corny Christmas sweaters he'd sent as gifts, Willard fit right in with Family's heartwarmingly oddball tone. He's played endearing dorks in everything from the groundbreaking talk-show spoof Fernwood 2-Night to the pet satire Best in Show. It doens't take a DNA test to figure out he's the comic forefather of his super-dufus TV son, Ty Burrell (who also costarred with Willard in the short-lived Fox sitcom Back to You). We just hope Phil's dad comes for a visit—maybe in time for Feburary sweeps?
The funniest new sitcom of the season will then take a week off and return on December 9 with a new installment. On that episode, "Modern Family" episode 10, Fred Willard comes aboard as Phil's dad, as the Dunphy kids face the possibility of no Christmas this year.
TV Fanatic uncovered a photo of Willard in the role: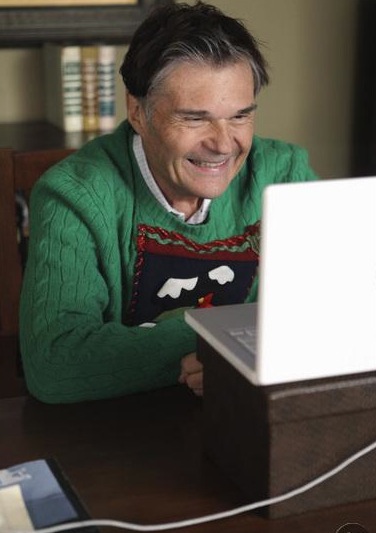 CHRISTMAS CHEER IS A LITTLE MIXED AS EACH HOUSEHOLD GETS READY FOR THE HOLIDAYS, ON ABC'S "MODERN FAMILY"
Guest starring Fred Willard ("Best in Show," "Waiting for Guffman") as Phil's dad.
"Undeck the Halls" – Christmas is in full swing at the Dunphy house until the kids get in some trouble and Phil and Claire threaten to take away Christmas until one of them fesses up. Meanwhile, Jay struggles with wanting to stick to his holiday traditions while Gloria and Manny want to incorporate some of their Colombian practices, and Mitchell and Cameron take Lily to the mall for her first picture with Santa — but end up with a disgruntled mall Santa on their hands — on "Modern Family," WEDNESDAY, DECEMBER 9 (9:00-9:30 p.m., ET), on the ABC Television Network.
"Modern Family" stars Ed O'Neill as Jay Pritchett, Julie Bowen as Claire Dunphy, Ty Burrell as Phil Dunphy, Sofía Vergara as Gloria Delgado-Pritchett, Jesse Tyler Ferguson as Mitchell Pritchett, Eric Stonestreet as Cameron, Sarah Hyland as Haley Dunphy, Nolan Gould as Luke Dunphy, Ariel Winter as Alex Dunphy and Rico Rodriguez as Manny Delgado.
Guest cast include Fred Willard as Phil's dad, Brian T. Finney as Scott and Jeremy Scott Johnson as Andrew.
[Source: tv over mind]