The NY Post has an interview with Eric Stonestreet, Cam from Modern Family. In the interview he talks about the women of NY city, admiring what he calls their "directness" and "honesty.", and stating:
"I'm single and I'm available," he announces.
"Maybe The Post could find me the lady of my dreams. I'd be happy to be bicoastal. That's bi-coastal, not bisexual!"
He also talked about his partner on the show, Ferguson:
"He's gay and I'm straight and we have fun with that," Stonestreet says. "After I got the part, we decided to meet for coffee and get to know each other. In the middle of it, we realized it was Valentine's Day and we were surrounded by lovers! That was a funny way to start off."
Read the full interview here.
Wednesday, February 10th, on a Valentine's Day-themed episode of Modern Family, "My Funky Valentine"", …
Claire and Phil go on a date;
Jay takes Gloria to see his favorite stand-up comic;
Cameron and Mitchell help Manny with his love life.
The Modern Family episode features guest star comedian David Brenner.
Preview of the episode can be found as part of our Modern Family Valentine's Quiz.
Source: TV Fanatic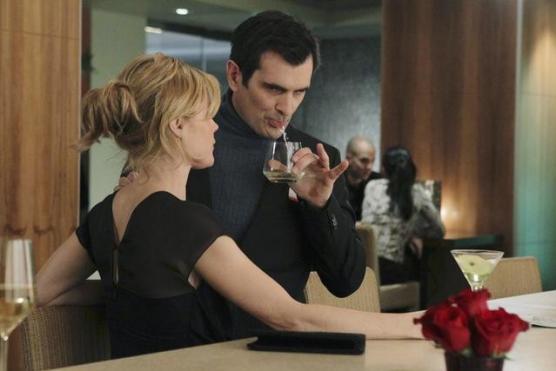 Jesse Tyler Ferguson from Modern Family tells Jimmy about his unusual encounter with Hilary Swank
This week's Valentine's Day episode of 'Modern Family' is sure to be amazing — star Julie Bowen gives The Show Girl a little tease.
The funniest new sitcom of the season will then take a week off and return on December 9 with a new installment. On that episode, "Modern Family" episode 10, Fred Willard comes aboard as Phil's dad, as the Dunphy kids face the possibility of no Christmas this year.
TV Fanatic uncovered a photo of Willard in the role: