Checkout the new extended scene "No One Believes Manny"
Episode Synopsis: MODERN FAMILY "Regrets Only" Season 2 Episode 16 – Phil and Claire had a huge fight and Phil hasn't a clue as to what it was over, so Gloria steps in to counsel Phil and Jay takes Claire. Meanwhile, Jay may have some regret in buying Gloria a karaoke machine, and Cameron is in full prep mode for a huge fundraising event and enlists help from Mitchell and Luke — which might not be the best choices — on "Modern Family," WEDNESDAY, FEBRUARY 23 (9:00-9:31 p.m., ET), on the ABC Television Network.
Source: Daemons TV
Remember how Claire crashed and burned with Phil's Valentine's Day gift (ahem, free coupons for hugs, ahem)? Well, it's time to pull out the bells and whistles for his birthday, and this time she's determined to score him the latest in technology. We're guessing this somehow goes awry.
Source: E-Online
Hulu Movers & Shakers report for the week of February 15th through February 21st shows "Modern Family"'s episode "My Funky Valentie" as number 20, guess you can't wait for a new episode…
Source: TV by the Numbers
The NY Post has an interview with Eric Stonestreet, Cam from Modern Family. In the interview he talks about the women of NY city, admiring what he calls their "directness" and "honesty.", and stating:
"I'm single and I'm available," he announces.
"Maybe The Post could find me the lady of my dreams. I'd be happy to be bicoastal. That's bi-coastal, not bisexual!"
He also talked about his partner on the show, Ferguson:
"He's gay and I'm straight and we have fun with that," Stonestreet says. "After I got the part, we decided to meet for coffee and get to know each other. In the middle of it, we realized it was Valentine's Day and we were surrounded by lovers! That was a funny way to start off."
Read the full interview here.
EW compiled the 15 picks for the show's funniest lines — so far.
Here are our favorites:

"I'm sort of like Costco — I'm big, I'm not fancy, and I dare you to not like me." — Cameron (episode 3)

"Our son is not weird. What's weird is that her kid wears aftershave and dresses like a count." — Claire, about Manny (episode 5)

"That was hardly porn; it was a topless woman on a tractor. You know what they call that in Europe? A cereal commercial." — Phil (episode 12)

"I have to get old…. You don't have to get fat." —Phil to Gloria, on Valentine's Day (episode 15)
What is your favorite quote of the season?
Wednesday, February 10th, on a Valentine's Day-themed episode of Modern Family, "My Funky Valentine"", …
Claire and Phil go on a date;
Jay takes Gloria to see his favorite stand-up comic;
Cameron and Mitchell help Manny with his love life.
The Modern Family episode features guest star comedian David Brenner.
Preview of the episode can be found as part of our Modern Family Valentine's Quiz.
Source: TV Fanatic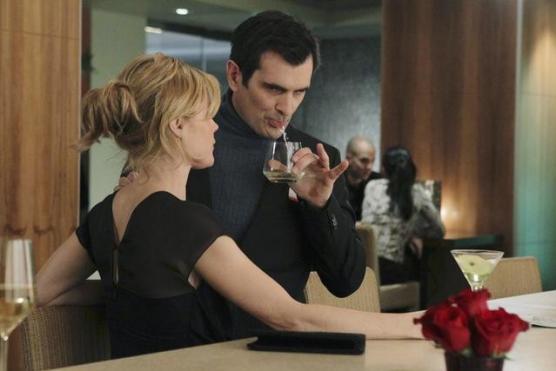 This week's Valentine's Day episode of 'Modern Family' is sure to be amazing — star Julie Bowen gives The Show Girl a little tease.