How's the new Lily fitting in around set?
"She's very sweet," Ferguson told E! at Audi and David Yurman's Pre-Emmy party at Cecconi's in West Hollywood. "It's definitely going from 0 to 100 because our last little girls, Ella and Jaden, the adorable Hiller twins, were a bit catatonic, which is kind of what made them charming. And Aubrey is the exact opposite. She's a talker. She jumps into anyone's arms…I think people will really fall in love with her and she'll be quite the scene stealer."
Read more: on E!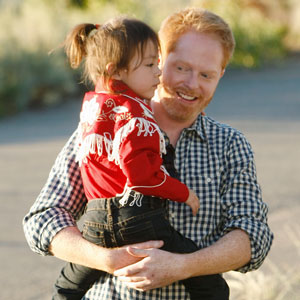 As TV kids grow up, they sometimes need to be replaced. That's the case with the role of Lily, the pint-size daughter in the ABC hit series "Modern Family," as it begins its third season. Welcome the new Lily: Aubrey Anderson-Emmons, 4, who replaces the original twins who played the child as a baby and toddler.
Read about Aubrey's family in the Star Tribune
Related articles
Can't wait for the Modern Family to come back to your living room? well the families will be back on Wed., September 21 9-10PM with a special one-hour premiere.
In the meantime enjoy the summer and the keep check our Modern Family fansite.
According to Sofia Vergara, she uses her mother as inspiration for her role as Gloria on 'Modern Family.'Channeling her mom helps ensure the role is authentic in terms of how a Colombian woman would react to such situations, Vergara said on 'Good Morning America'(weekdays, 7AM ET on ABC).
Source: TV Squad
Related articles
"Modern Family" star Sarah Hyland is looking forward to Wednesday's (Nov. 3) episode "Chirp," when her character Haley spends quality time with her mom Claire (Julie Bowen) when they both fall sick and stay home.
"That's really cute. Me and Julie in bed all day," Hyland tells Zap2it. "It was awesome. Just laying down in bed together, which is my boyfriend's dream. Who doesn't like Julie Bowen? She's the sexiest mom alive."
Read the rest of the story on Zap2It
Related articles
On television, Julie is known as Claire Dunphy – a mom of three very different kids on "Modern Family." In real life, Julie also plays the important role of mom to three children of her own!
Kids are great but moms deserve a break once in a while and on Wednesday, October 13th, Julie will be hosting an "It's All About Me" party on Nickelodeon's ParentsConnect.com. From 10 am – 11:59 pm EST parents can join Julie throughout the day for some "me time" and take part in kick-your-feet-up fun, games and the chance to win a ton of prizes!
For more details, you can check out this link: Parents Connect
On 'Modern Family,' the Dunphy grandfather — first shown on Skype talking to his son Phil's family — is played by Fred Willard, a veteran actor with a career spanning five decades. TV Squad has an interview with Fred, and here are the highlights:
They haven't shown Phil's mom yet. Who would you want to play your TV wife?
[laughs] Let me come on down the line. I'm kind of a cynical actor. I had a feeling they just used me, they'll use Phil's dad and see if he doesn't work out, then we'll bring in Phil's mom and see if that works. They seem to like my character because they had me in twice and then they asked for a photo they could hang in the hallways so I'd be part of the family. I think if it goes well, maybe they'll bring me in for a storyline with Phil's mom. I thought maybe Jennifer Coolidge would be great. Catherine O'Hara. And something I also thought would be a great plot point if I separated from my wife, maybe I'd get together with Shelley Long, who made a great appearance on the show. I know Shelley. We've been friends for a long time and I think she's just great and it'd be great if we met and sparked a little romance. I'd take her away in my camper.
O'Neill, who plays Mitchell and Claire's father, Jay, addressed the controversy in an interview with PopEater. Calling from his Los Angeles home, he said he finds the complaint "half amusing, half annoying." He noted that we haven't seen Jay and his sexy young wife, Gloria (Sofia Vergara) kiss either. And, after 20 years of appearances in controversial comedies, O'Neill said that he sees such protests as just another form of show business, not to be taken seriously.
What do you think of the protests over Cameron and Mitchell's muted displays of affection?
Oh, that's so stupid. Who cares? When I hear that, it's half amusing, half annoying. First of all, they're the most conservative family of the three. Mitchell is a lawyer, and Cameron is a stay-at-home mom with a baby.
Sky1′s critically lauded US sitcom import Modern Family had its best ratings yet yesterday, Thursday 27 May, attracting almost 500,000 viewers.
Modern Family had 460,000 viewers, a 2.2% audience share, from 8pm. This more than doubled Sky1′s average share in the slot over the past three months, the best performing multichannel show yesterday by this comparison.
Source: Guardian
Actress Julie Bowen had her hands full of children last Friday at The Coop in Studio City, Calif, where she threw a birthday bash for 1-year-old twins Johnny and Gus.
The party was organized to raise money and supplies for Baby2Baby, a charity founded in 2006 by Marnie Owens, Lee Michel and Karis Jagger (Mick Jagger's daughter) that donates gently used baby items to families in need.
Bowen, 39, has been involved with Baby2Baby since the birth of her oldest son, Oliver, 3.
"Honestly, [the twins] have more than enough stuff and there are so many families in Los Angeles that don't even have the bare necessities," the Modern Family star tells UsMagazine.com. "So if I can take two over-privileged kids' birthdays and use it as an opportunity to get other kids the stuff they need, I'm overjoyed to do that."
Source: US magazine