Sofia Vergara won TV Guide's Winter Games in the category: Comic Actress You Think of As Your Secret Crush, Knowing She's Everyone Else's, Too.
Sounds right to us.
A young man arrived at Ty Burrell's hotel room to stock the minibar and immediately recognized the co-star of the ABC comedy "Modern Family."
He loved the show.
Thanks, Burrell replied. The man went on to quietly describe how his family gathered each week to watch "Modern Family" together, and because of those group viewings, he was getting to know his younger siblings better.
"I know we're not curing cancer," said Burrell, who portrays the earnest goofball dad Phil Dunphy, "but it feels nice to see people affected by the show."
"Modern Family" is the most critically acclaimed and popular new comedy of the TV season, the centerpiece of ABC's Wednesday lineup and already renewed for a second season. Not only does it fulfill a comedy's central mission — provide genuine laughs — it nudges preconceptions and isn't afraid to show some heart amid a sea of snark and irony on television.
More than heart was on display one recent evening when "Modern Family" commandeered a Los Angeles hotel lobby to shoot some scenes. Hoots and hollers from crew members alerted those whose heads were turned the wrong way that they had missed actress Julie Bowen streaking across a room clad only in a bodysuit.
Bowen, who portrays Claire Dunphy, was about to film a scene in which she's supposed to be naked underneath a trench coat. You'll just have to watch the episode that airs Wednesday at 9 p.m. EST to find out why.
Read the full story on WWLTV
The reruns of Modern Family had a hard competition with the form of the Superbowl, but some people did decide to watch it instead of the Saints.
Here are the ratings:
CBS was first at 8 p.m. with a 34.9 for the Super Bowl, with Fox second with a 1.2 for repeats of "The Simpsons" and "The Cleveland Show." Univision was third with a 0.9 for the end of its movie, ABC fourth with a 0.7 for "Modern Family" and "The Middle" reruns, and NBC fifth with a 0.4 for more "Loser."
At 9 p.m. CBS was first again with a 33.5 for the Super Bowl, followed again by Fox with a 1.3 for repeats of "Family Guy" and "American Dad." Univision was third with a 1.0 for the first hour of the movie "Sor Tequila," ABC fourth with a 0.9 for repeats of "Modern Family" and "Cougar Town" and NBC fifth with a 0.5 for still more "Loser."
CBS was first again at 10 p.m. with a 15.6 for the end of its Super Bowl coverage and the start of "Undercover Boss," with ABC second with a 1.3 for more "Modern Family" reruns. Univision was third with a 0.8 for the end of its movie and NBC fourth with a 0.7 for yet another hour of "Loser."
Not surprisingly, CBS led the night among households with a 35.0 average overnight rating and a 54 share. ABC was second at 2.0/3, Fox third at 1.4/2, NBC fourth at 1.2/2 and Univision fifth at 1.0/2.
Source: Media Life Magazine
Wednesday, February 10th, on a Valentine's Day-themed episode of Modern Family, "My Funky Valentine"", …
Claire and Phil go on a date;
Jay takes Gloria to see his favorite stand-up comic;
Cameron and Mitchell help Manny with his love life.
The Modern Family episode features guest star comedian David Brenner.
Preview of the episode can be found as part of our Modern Family Valentine's Quiz.
Source: TV Fanatic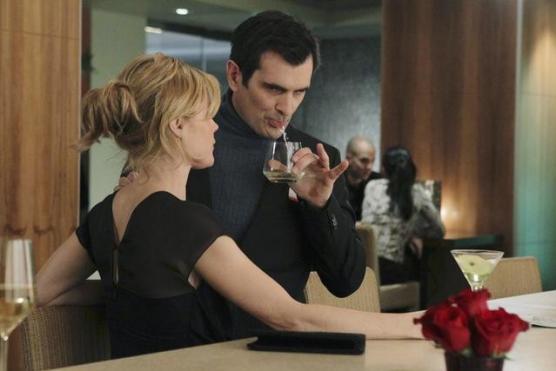 Love is in the air in Modern Family, so for the upcoming Valentine episode, here is our Modern Family Love Quiz:
Jesse Tyler Ferguson from Modern Family tells Jimmy about his unusual encounter with Hilary Swank
This week's Valentine's Day episode of 'Modern Family' is sure to be amazing — star Julie Bowen gives The Show Girl a little tease.
Luckily, Haley ended up not breaking with Dylan – so to celebrate, here is Dylan's song again.
You can find the words to "In The Moonlight" here.
"MODERN FAMILY" BUILDS SHARPLY ON ITS PREVIOUS AIRING AGAINST "IDOL"
Released by ABC
Quick Take for Wednesday, February 3, 2010 (Fast Affiliate Live + Same Day Ratings)
Posting its Best-Ever Repeat Numbers, ABC's Replay "Modern Family" Ties Fox's Original "Human Target" and Dominates NBC's "Mercy" at 8pm
Achieving a Series High in Adults 18-49, at 8:30pm "The Middle" Beats Fox's "Human Target" Slot Premiere by 8% and NBC's "Mercy" by 69%
Wednesday's No. 1 Scripted TV Show in Adults 18-49 for its 2nd Straight Telecast, "Modern Family" Builds Sharply on its Previous Airing Against "Idol"
Facing "Idol" for the First Time, "Cougar Town" is the No. 2 Scripted Show at 9:30pm and Grows from its Season Averages Despite the Increased Competition
"Modern Family R" (8:00-8:30 p.m.)

ABC's repeat airing of "Modern Family" placed as the No. 1 series telecast at 8:00 p.m. in Adults 18-49 (2.4/7), tying Fox's original time-period premiere of "Human Target" (2.4/7) and beating NBC's original "Mercy" by 50% (1.6/5).
In Total Viewers (6.8 million) and Adults 18-49 (2.4/7), "Modern Family" posted its best-ever repeat numbers.
"Modern Family" (9:00-9:30 p.m.)

Surging from its lead-in by 44% at 9:00 p.m. against "American Idol," ABC's "Modern Family" (3.9/10) ranked as the No. 1 scripted show in its half-hour among Adults 18-49 and as Wednesday's No. 1 scripted TV program for the 2nd telecast in a row, ahead of CBS' "Criminal Minds" (3.8/10).
"Modern Family" was up nicely from its previous airing against "American Idol" (on 1/13/10), growing by 1.3 million viewers (9.1 million vs. 7.8 million) and by 18% in Adults 18-49 (3.9/10 vs. 3.3/8). In addition, although airing against "Idol," the ABC comedy marked a series high with Women 18-34 (4.4/12) for the 2nd consecutive telecast.
Source: The Futon Critic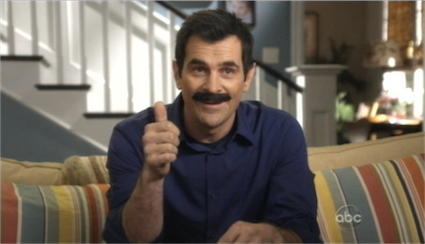 "Do people want their real estate advice from someone who leads, or someone who follows? I'm bettin' these babies (points to mustache) are coming back in a big way. Buy low, sell high. People are going to see this and say, 'That guy's high.'" – Phil
We had a great night last night, and here are some of the highlights from reviews of 'Modern Family' – 'Moon Landing':
From TVsquad:
Sometimes I wonder if I could just write up a review of 'Modern Family' by listing all of the great quotes that come out of this show. Line for line, this has to be one of the cleverest series on television today. Even the episode title, 'Moon Landing,' recalls a great moment.
From EW:
Could last night's episode of Modern Family been any funnier? I mean, I may as well have transcribed the entire episode, because every line had me practically running to my own Porta-Potty.
Highlights from CliqueClack:
Luke imaging the cool school made of recycled bottles.
"I can't imagine you working." – Luke, to his mom
"Luke, that is very offensive to women. Your mom works very hard. It's just now she works for us." – Phil
"I don't take kindly when someone Tom Selleck's my park bench." – Phil
"What's Jägermiester?"- Alex
"Well, um, you know when in a fairy tale there's always a potion that makes the princess fall asleep and then the guys start kissing her? This is like that, except you don't wake up in a castle, you wake up in a frat house with a bad reputation." – Phil
Say Anything, Dylan. And please, stop talking. You're making the generation gap even more embarrassing for Phil.