Modern Family stars Sarah Hyland and Ariel Winter have insisted that there is no feud between them and the cast of Glee.
Winter dismissed rumors of a feud, saying: "I have so many friends on Glee. They're so amazing – they have a great show."
Yesterday, Modern Family beat Glee to win 'Outstanding Performance By An Ensemble In A Comedy Series' at the Screen Actors Guild Awards.
Source: Digital Spy
Related articles
The cast of "Modern Family" walked through the backstage corridors of the Shrine with the breezy, loose-limbed cheer of an ensemble that truly enjoys one another's company.
Source: LA Times
The cast of Modern Family hit the press room after grabbing the SAG award for outstanding performance by an ensemble. They talked about the different reactions they've gotten from families who watch the show, and joked about their gorgeous costar Sofia Vergara.
Stonestreet, on being overwhelmed by costar Vergara's assets: "We passed that in week two. We got all the lurid comments out of the way, at least I did. I just can barely not stare at her. Am I looking now?"
Read the full story on PopSugar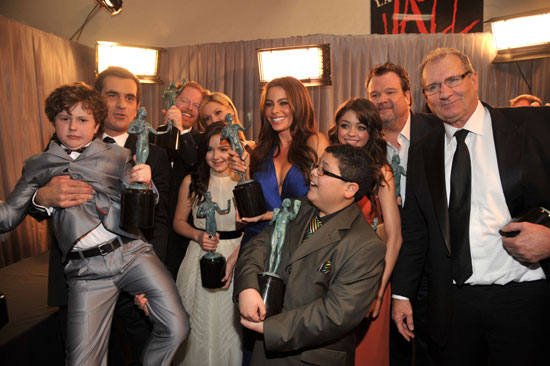 Related articles
Jesse Tyler Ferguson, the openly gay star of Modern Family, made his first public appearance with boyfriend Justin Mikita.
"So @justinmikita and I are at the Elle Women in TV party," Ferguson tweeted, adding a photo of their nameplates. Mikita also shared a photo of the couple posing together at the event.
Source: TV Guide.
TV veteran Craig T. Nelson admits passing on the role of Jay, played by Ed O'Neill, in ABC's hit show Modern Family.
"I'm old enough to say it, I guess. That was it. I really wanted to do Modern Family and I really liked the script and I liked the people. I just said, 'You know what? I've been doing this too long.' We're in the middle of a cutback here, ladies and gentlemen, in Hollywood and salaries have gone way, way down. I just felt disrespected to tell you the truth."
Source: Perez Hilton
"Modern Family" star Sarah Hyland spoke with Ellen DeGeneres on her show, The Ellen Show, recently.
Source: Disnology
Related articles
Nathan Lane is set to reprise his role as Pepper Saltzman in an upcoming episode this spring.
Lane made magic opposite Eric Stonestreet (Cam) and Jesse Tyler Ferguson (Mitch) last fall as their thrower-of-flamboyant-parties friend.
Source: Diszine
Tune in!! SARAH HYLAND ("Modern Family") on "The Ellen DeGeneres Show", Monday, January 24th 2011. Check your local listings or visit www.ellentv.com for time and channel.
Six ABC shows are getting early renewals for next season. And no surprise here: Top-rated hit  Modern Family is coming back next fall.
Great start for the new year!
Source: EW