We have one Modern Family, Nice Mustache T-Shirt
to give to one reader of our fansite — all you have to do is to post a comment telling us what was your favorite moment of the season on Modern Family. One lucky reader will win the Modern Family, Nice Mustache T-Shirt
(sorry we only have one in L size) on May 31st.
Please help us spread the word about our Modern Family Fansite by posting links to us on Facebook or tweeting:
" It was a great Modern Family season – checkout the Fansite at http://http://modern-family-tv.com/ "
After months of near hysteria in the blather-o-sphere in re will ABC let "Modern Family's" gay couple Mitchell and Cameron kiss or not:
* The group Let Cam & Mitchell Kiss on "Modern Family"! Already has nearly 9,000 members and is trying to push to get the gay couple to share "even a brief kiss." — Celebuzz
* Facebook's new cause: "Modern Family's" gay kiss — Salon
* "Modern Family's" Gay Kiss… and Was Planned All Along – E!Online
* "Modern Family's" Gay Liplock has been shot! — Movieline
* Will "Modern Family's" gay kiss hurt its ratings?" — Fancast
The Kiss finally happened attracting about 12 million viewers.
Source: Washington Post.
Related articles by Zemanta
When Modern Family returns for its new season this fall, gay couple – and parents to the adorable Lily – Cameron (Eric Stonestreet, left) and Mitchell (Jesse Tyler Ferguson, right) will finally smooch, much to the relief of some fans.
"We've had an episode planned for a long time that dealt with that subject of (their being affectionate)," Levitan tells E!.
Source: USA Today
Related articles by Zemanta
It's just been announced that the Gay, Lesbian and Straight Education Network (GLSEN) will honor ABC's Modern Family at the Respect Awards in Los Angeles on Oct. 8.
The breakout comedy recently received 15 Emmy nominations and is being recognized for portraying positive images and storylines that reflect a diverse America – including the depiction of a family headed by a gay couple.
Source: Hollywood News
Related articles by Zemanta
A "Let Cam & Mitchell kiss on Modern Family!" Facebook group was launched over the weekend, created as a response to the fact that the breakout ABC comedy's gay couple (played by Jesse Tyler Ferguson and Eric Stonesteet) has never locked lips, while heterosexual couple Phil (Ty Burrell) and Claire (Julie Bowen) have done so a number of times.
Let Cam & Mitchell kiss on Modern Family!
Source: NY Mag
Eric Stonestreet, who plays Cameron, the melodramatic half of the gay couple on ABC's "Modern Family," isn't worried about being typecast.
While he was shooting the first episode of "Modern Family" he was also playing a convicted rapist and murderer on "Nip/Tuck."
"I played Oliver Platt's legal intern on 'The West Wing,' on 'CSI,' I was the handwriting documents technician. I've killed a bunch of people on TV. People ask if my parents have a problem with me playing a gay man on TV, I say they were more upset with me killing people. They say, 'Why do they see you as a killer?' "
Read the full story on Buffalo News
Zap2It has an interview with Jesse Tyler Ferguson who reveals that he has a very high-profile celebrity crush! "Evan Lysacek, yes. I'm not hiding it. I hear he lives in L.A. too, so it's just a matter of time before we meet. Although I don't know if he's gay," he says. "He's probably too young for me. I need to get out of the 20-year-old age bracket. Like, I have crushes on all of the Jonas Brothers. I assume that's OK?"
Pop Eater has an article on TV's best couple Cam and Mitch. Here is some of what they have to say:
In fact, we're willing to argue that the lovable gay duo, played by Eric Stonestreet and Jesse Tyler Ferguson, is the very best on the small screen right now.
Like all good couples, Cameron and Mitchell love and support one another. They may not make sense on paper — Cameron is flamboyant and outrageous, while Mitchell is more of a straight man (no pun intended) — but they've found a working balance between one another that gets them through even the most dire and embarrassing situations — like, you know, when Cameron decides that he wants to dress up like a clown, or when Mitchell wants to quit his job. As shown in the clip below, it all evens out eventually.
So, here's to Cameron and Mitchell, the best — not to mention funniest — couple on television, who every Wednesday night make us more than happy to be part of their family.
CNN has an article about gay characters on prime time TV, and of course they talked to our favorite gay couple from Modern Family. Here are some of the things Jesse Tyler Ferguson and Eric Stonestreet had to say:
"The opportunity to play not only a well developed gay character, but a dad, a son and brother was really appealing to me. … I chose to play him very close to myself and I think that truthfulness was appealing to the creators," Ferguson told CNN.
"As a gay man and as someone who is an advocate for equality, truthfulness and fairness, I want to see more gay roles go to gay actors," Ferguson said in an e-mail. "But then on the flip side, as an actor, I want to still be given the opportunity to play roles that are straight."
"Jesse and I … get so many compliments from gay couples and lesbian couples that want to introduce us to their kids and thank us for representing them on TV for the first time," Stonestreet told Behar, from CNN.
But still, "Modern Family" isn't hitting viewers over the head with Cameron and Mitchell's physical intimacy.
"We're the perfect show to just build it in naturally, not draw a bunch of attention to it," Stonestreet said.
For Ferguson, it's a non-issue.
"I want the viewers to know Mitchell and Cameron's sex and love life is just fine," Ferguson wrote. "They also have regular bowel movements, but that is something you don't see either."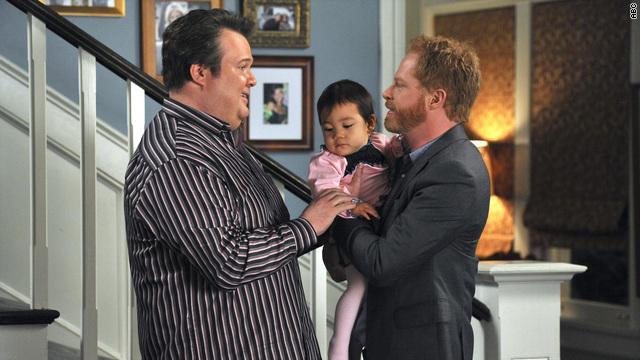 USA Today has an interview with Eric Stonestreet, 38, the flashy and affectionate Lion King-loving Cameron Tucker, who moonlights as Fizbo the clown and Jesse Tyler Ferguson, 34, his longtime partner, the tightly wound and Fizbo-loathing lawyer Mitchell Pritchett.
Here are some of the highlights from the interview with the one of the most high-profile gay couples on prime time:
Ferguson: "He has this very Southern personality. He's always very chatty with people, and he gets very emotional. It's very sweet. I call him Pollyanna, basically."
Stonestreet: "You do make fun of me, but it's OK. Jesse is constantly using the bathroom in his trailer and telling everyone about it. Always announcing to the set and to the crew (when he has finished). I never once go to the bathroom in the trailer! It's the worst place in the world to go to the bathroom."
"Jesse and I are going to be friends forever. This show has put us together," Stonestreet says.
Stonestreet is straight, and also single, in real life. Being on one of prime time's hits hasn't exactly been a boon to his dating life.
"To meet from the ground up a girl is difficult. Being introduced by friends is a little easier," he says. "I never want to seem embarrassed or ashamed that I'm playing a gay person. So I would never want to be like, 'Hey, I'm not gay.' "
Ironically, Ferguson says, "we were finding when we were going out, especially at the beginning of the show, that a lot of men were hitting on Eric and a lot of women were approaching me."