How's the new Lily fitting in around set?
"She's very sweet," Ferguson told E! at Audi and David Yurman's Pre-Emmy party at Cecconi's in West Hollywood. "It's definitely going from 0 to 100 because our last little girls, Ella and Jaden, the adorable Hiller twins, were a bit catatonic, which is kind of what made them charming. And Aubrey is the exact opposite. She's a talker. She jumps into anyone's arms…I think people will really fall in love with her and she'll be quite the scene stealer."
Read more: on E!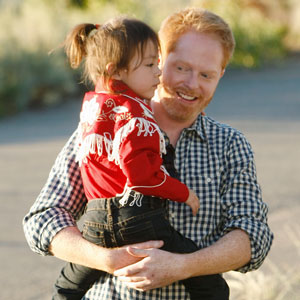 After months of near hysteria in the blather-o-sphere in re will ABC let "Modern Family's" gay couple Mitchell and Cameron kiss or not:
* The group Let Cam & Mitchell Kiss on "Modern Family"! Already has nearly 9,000 members and is trying to push to get the gay couple to share "even a brief kiss." — Celebuzz
* Facebook's new cause: "Modern Family's" gay kiss — Salon
* "Modern Family's" Gay Kiss… and Was Planned All Along – E!Online
* "Modern Family's" Gay Liplock has been shot! — Movieline
* Will "Modern Family's" gay kiss hurt its ratings?" — Fancast
The Kiss finally happened attracting about 12 million viewers.
Source: Washington Post.
Related articles by Zemanta