Paste magazine selected the 10 best sitcoms on TV right now , and of course one of them is Modern Family. Here is what Paste had to say about the show:
The funniest debut season of a sitcom in a long while belongs to Modern Family on ABC. The story of three inter-related families works because its characters seem familiar to life but fresh to the screen. Not that the show is above archetypes: There's the rebellious teen seduced by popularity, the beautiful Colombian second wife, the trying-too-hard-to-be-cool dad, the patriarch who doesn't like to show affection, the flamboyantly gay boyfriend. But it's not taken long for TV veterans Christopher Lloyd and Steven Levitan to let each character's uniqueness flourish through the myriad relationships within the family.
It's these relationships that make even a completely messed-up family a valuable thing. No matter how bad things get in this Modern Family, it always beats the alternative of not having each other. They're flawed individuals, offering only broken bits of love to one another, but that's more than enough to cling to. As Dylan, the boyfriend of Claire's oldest daughter so sweetly an wisely said—before breaking into a song about Haley with the lyrics, "I just want to do you, do you" in front of the family—"You're reaching out, trying to hold on to something awesome… Haley's got the kind of confidence that you get from having a family like this that's passionate and accepting of hot foreigners and gay dudes and nutty people—you know, family that actually loves each other."
In Style Magazine has an article about the house of Julie Bowen from 'Modern Family':
The Modern Family actress lives in a midcentury ranch-style house, close to a canyon where she goes on her morning runs. Julie and her husband, software developer Scott Phillips, spent more than a year gutting and remodeling the house, creating an open floor plan with a light-filled living room where everything happens: playdates, story time with the children, and cocktail parties with friends.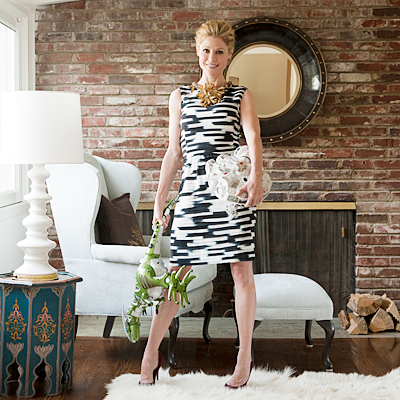 Ty Burrell ("Modern Family") is in final negotiations to star in the Weinstein Co.'s comedy "Butter" opposite Jennifer Garner.
Burrell will portray the butter-carving champion for the past 15 years who is pressured to step down. His wife, portrayed by Garner, can't stand the idea of not being in the limelight so she starts training to be the new champion.
Read the full story on Variety
Warning: spoiler alert, the clip and the post contain information about tonight's episode.
Modern Family, was all about the iPad tonight, just days before the big release. The main character, Phil Dunphy, is thrilled at the prospect of receiving an iPad for his birthday, which coincides with the device's release. After singing the happy birthday song, Phil blew out the "candles" atop an animated cake on the iPad's screen.
Source: TUAW
Remember how Claire crashed and burned with Phil's Valentine's Day gift (ahem, free coupons for hugs, ahem)? Well, it's time to pull out the bells and whistles for his birthday, and this time she's determined to score him the latest in technology. We're guessing this somehow goes awry.
Source: E-Online
The Modern Family star and his wife, Holly, have adopted a baby girl, his rep has confirmed.
Ty Burrell said: "I guess if Phil can raise kids, so can I!"
Read more: E-Online
If Jesse Tyler Ferguson has his way, Gabourey Sidibe will be headed to the Pritchett/Tucker household. In a new interview with NYPost.com's PopWrap, the "Modern Family" star reveals that he's actively approached the Oscar nominee about playing Lily's nanny in an upcoming episode!
"The one person I actually have gone after — because she'd be so brilliant — is Gabourey Sidibe. I think she would be fantastic as a nanny we hire. She's just so bubbly and sweet and a fan of the show. I think this would be a seamless fit for her," Jesse tells PopWrap.
And that's not all Jesse spilled — from Fred Williard's return to an upcoming bird attack plotline — spoilers were abundant!
Read the story at
NY Post
EW compiled the 15 picks for the show's funniest lines — so far.
Here are our favorites:

"I'm sort of like Costco — I'm big, I'm not fancy, and I dare you to not like me." — Cameron (episode 3)

"Our son is not weird. What's weird is that her kid wears aftershave and dresses like a count." — Claire, about Manny (episode 5)

"That was hardly porn; it was a topless woman on a tractor. You know what they call that in Europe? A cereal commercial." — Phil (episode 12)

"I have to get old…. You don't have to get fat." —Phil to Gloria, on Valentine's Day (episode 15)
What is your favorite quote of the season?
'Modern Family' co-stars Ed O'Neill, Julie Bowen, Ty Burrell, Eric Stonestreet, Jesse Tyler Ferguson and Sofia Vergara stop by Outside the Box to trade parenting styles, secrets to successful shows and why no one sees Sofia as "motherly."
Source: Sohood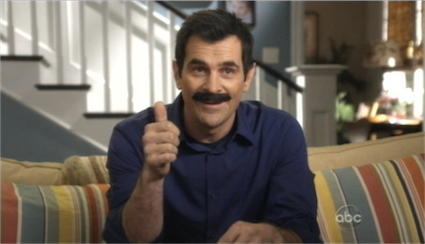 "Do people want their real estate advice from someone who leads, or someone who follows? I'm bettin' these babies (points to mustache) are coming back in a big way. Buy low, sell high. People are going to see this and say, 'That guy's high.'" – Phil
We had a great night last night, and here are some of the highlights from reviews of 'Modern Family' – 'Moon Landing':
From TVsquad:
Sometimes I wonder if I could just write up a review of 'Modern Family' by listing all of the great quotes that come out of this show. Line for line, this has to be one of the cleverest series on television today. Even the episode title, 'Moon Landing,' recalls a great moment.
From EW:
Could last night's episode of Modern Family been any funnier? I mean, I may as well have transcribed the entire episode, because every line had me practically running to my own Porta-Potty.
Highlights from CliqueClack:
Luke imaging the cool school made of recycled bottles.
"I can't imagine you working." – Luke, to his mom
"Luke, that is very offensive to women. Your mom works very hard. It's just now she works for us." – Phil
"I don't take kindly when someone Tom Selleck's my park bench." – Phil
"What's Jägermiester?"- Alex
"Well, um, you know when in a fairy tale there's always a potion that makes the princess fall asleep and then the guys start kissing her? This is like that, except you don't wake up in a castle, you wake up in a frat house with a bad reputation." – Phil
Say Anything, Dylan. And please, stop talking. You're making the generation gap even more embarrassing for Phil.