Lily Pritchett-Tucker, 'Modern Family'
Lucky Lily has two doting daddies, couple Cameron and Mitchell, who adopted her from Vietnam in the series pilot. They sometimes argue over how best to raise her — Cam, for example, has a tough time letting her cry in the night, as the Ferber method of baby-raising suggests, and likes to watch 'Scarface' with her (the colors of the movie calm her, he says — but they both love and care for Lily (Ella and Jaden Hiller), as does the rest of the Pritchett/Tucker/Dunphy clan.
Read the rest of the story on TV Squad
Related articles
On 'Modern Family,' the Dunphy grandfather — first shown on Skype talking to his son Phil's family — is played by Fred Willard, a veteran actor with a career spanning five decades. TV Squad has an interview with Fred, and here are the highlights:
They haven't shown Phil's mom yet. Who would you want to play your TV wife?
[laughs] Let me come on down the line. I'm kind of a cynical actor. I had a feeling they just used me, they'll use Phil's dad and see if he doesn't work out, then we'll bring in Phil's mom and see if that works. They seem to like my character because they had me in twice and then they asked for a photo they could hang in the hallways so I'd be part of the family. I think if it goes well, maybe they'll bring me in for a storyline with Phil's mom. I thought maybe Jennifer Coolidge would be great. Catherine O'Hara. And something I also thought would be a great plot point if I separated from my wife, maybe I'd get together with Shelley Long, who made a great appearance on the show. I know Shelley. We've been friends for a long time and I think she's just great and it'd be great if we met and sparked a little romance. I'd take her away in my camper.
Maureen Ryan has her mid-season review of the TV shows, and this is what she has to say about 'Modern Family':
"Modern Family," 7 p.m. Central Wednesday, ABC: This sterling comedy is still the season's best new show. Sure, not every episode is as gut-busting and perfectly crafted as "Modern Family's" best outings, but then, very few comedies on the air now can match "Modern Family" at its best. This show unites sharp-eyed observations about family life with characters who still seem believable (and believably flawed, not sitcom-fake). The best part? I can't pick my favorite character. Some weeks it's the dorky Phil (Ty Burrell), other weeks, I'm in stitches thanks to guest stars such as Shelley Long (Edward Norton and Fred Willard are among the upcoming guest stars). But it must be said that the delightful Cameron (Eric Stonestreet, pictured at left) steals every single scene he's in. (My original review of "Modern Family" is here.)
Will I stick with it? Absolutely
Grade: A
Eric has two interviews about "Modern Family" and Cam, the first is on BuzzSugar and the second on LA Times. Here are some highlights of the interviews:
You've said before that you base Cameron off of your own mother; what's your fondest memory of her where you think, "That's a Cameron moment?"
There's a single moment in the pilot episode where it was this inspiration. When I walk in and see the mural that's panted (in Lily's featuring Mitchell and Cameron as Michaelangelo-esque naked angels with carefully placed drapery). The script said, "Cameron gasps" but all I could hear was my mom. I can't tell you how many times I've heard my mother say, "Ohhh, my God." I told my mom you're gonna be happy to know that I got the part, and that I based it off you and there was that "Ohhh, my God!!" It's not as much based on her, it's just an anchor in something that's familiar. Lots of actors do that with characters. She was the easiest and most forward thing in my mind, her mannerisms and her body language.
Soon we get to see Cameron show his skills as a clown, which I understand taps into your background.
I wanted to be a clown as a kid. That's very well documented, you'll even see some old pictures of me. By 5 I was wearing clown shoes and makeup. My birthday is in September, and Ringling Bros. and Barnum & Bailey always came to town. I was always fascinated by clowns. When it was explained to me that they were people in makeup, it made perfect sense to me. That's what I wanted to do.
There has already been an impressive stable of guest stars with Shelley Long, Edward Norton (appearing with Elizabeth Banks in tonight's episode) and now Minnie Driver. Who's on your wish list?
If I could pick one person to play Cameron's mom, my dream would be Kathy Bates. Her as my mom from the farm and being the loving supporting mom would be incredible. I have no idea if TV is on Kathy Bates' radar. They are so good to get great people. But I hope they keep finding great unknown people. I can sympathize with them. Going out for roles and not getting them in favor of someone more famous. That was me eight months ago.
On whether he expected the show to be so successful: No. I had a very, very good idea that based on the writers' history and their very extensive careers that we had a really, really good shot at being something great. Anybody that tells you in this business they knew it was going to be this well-received is crazy. Actually, being this well-received makes you a little nervous.
On what's next for Cameron, Mitchell, and baby Lily: We have an episode coming up where we're Ferberizing the baby when she won't go to sleep, and Mitchell is very much committed to letting her cry it out, and Cameron of course can't for the life of him imagine why you would let a baby cry it out like that, so there's drama there. It's what's great about the show — yeah, they're a couple of guys raising a baby, but the focus really on that relationship is the challenges of a relationship, the challenges of parenthood, and just trying to find the happy medium of keeping up a relationship while raising a kid.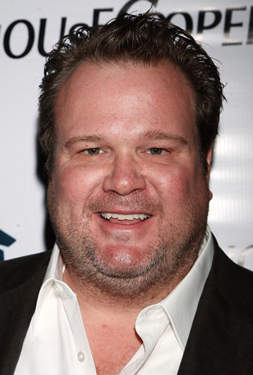 [image source: Getty]
AOL TV blog has an interview with Ty Burrell, who plays Phil Dunphy the "cool dad" on ABC's breakout comedy 'Modern Family'. Here are some parts of the interview:
This is the third show you've done with Christopher Lloyd. What do you think is working this time?
I think that there's something — if I must be so pretentious to use this word — something in the zeitgeist of this style of show. I just don't think we've seen a family comedy sprung this way. Chris and Steve [are] getting to write jokes that don't have quite as much pressure on the punchline. But I also think … that they built this incredible machine — a structure to the show of the three families. It's so open-ended and so infinite as far as having possibilities for storylines without exhausting them or having the well run dry. Each storyline ends of being five or six minutes apiece per show, and it's a perfect construct in the age of the Internet and five-minute videos. For [Chris and Steve], the funny part isn't the issue. The real stroke of genius, and I just bow down to their ability, is how they built the vehicle of the show. These folks love each other even though they're constantly messing up or stepping on each other or hurting each other's feelings. It's not so snarky that it keeps you at arm's length.
The mockumentary format is popular these days with shows like 'The Office' and 'Parks and Recreation.' What about this style has been hardest for you as an actor?
I would say you have to pace yourself in a way. ['Modern Family'] is a very drawn-out process. The preparation at night has been really learning how to get your sleep, how to get my rest and prepare properly so that you're basically ready every day. The cool thing about the form, if you have some ideas, you can throw it on the wall and see if it sticks. I don't want to lose that spirit and I think that's one of those things that's made me want to come in prepared every day so I have the energy to want to add things and not just getting into a place where you're punching a clock. Luckily, I'm playing a guy who is so well intended and such a positive force while he's wreaking havoc.
Shelley Long was fantastic.
Yeah, she was amazing. We have an episode with Elizabeth Banks and Edward Norton and they're both hilarious in it.
How was that plane flying into your nose simulated?
[laughs]. Well it was me out there hamming it up with nothing, and then they brought in the plane and flew it into a green-screen head. So, believe it or not, it was a blast. I'd stayed up the night before practicing my falls on my bed like an eight-year-old boy. It's the pure essence of why this job is so good — a 48-year-old man bouncing on my bed at one in the morning.
New video coming to us from TVGuide – Enjoy!
If you remember in last week's episode 4 of Modern Family we saw Dede Pritchett (Shelley Long) offensive toast at the wedding of her ex-husband, Jay, to his young new bride, Gloria. And we want to hear from you what was the worst wedding moment in a wedding that you have been at.
Well, the winner of the giveaway is Jamie, and here is her story:
My worst wedding moment was pretty simple and minor. We had a small wedding and in order to walk down the isle, my dad and I had to walk outside first. We heard the music start and went to enter, but found that the door was locked. The song played a few times before someone realized I didn't have cold feet, I just couldn't get in!
Jamie will win her choice from either Married with Children – The Complete First Season
or The Office – Season One
An honorable mention goes to our runner-up charlottewinters:
My husband and I went to get our marriage license and be married at City Hall. The clerk took information and typed up the appropriate forms. Then she got to the field that asked for my last name. My soon to be husband announced loudly Charlotte What's your last name again??? We had been together for 2 years…I wanted to die!
Maybe Modern Family writers will "steal" one of these situations and put them in the show?
This giveaway was sponsored by SimchaBucks — want to know how much money to spend on a wedding gift? Try Simchabucks' wedding gift calculator.
Related articles by Zemanta
DVR Play Ground gave 3 out of their 5 weekly "Emmy" to Modern Family:
MODERN FAMILY's Ed O'Neill, for Outstanding Actor in a Comedy Series. Now that William Shatner is no longer eligible for his annual Emmy nod, voters are going to need another rich old white guy they can shower with praise. Enter Ed O'Neill, who in MODERN FAMILY's fourth outing of the season continued to set the perfect tone for the craziness that goes down in the Dunphey-Pritchett abode. With bonus points for his faux outrage towards son Mitchell upon 'discovering' that ex-wife Dede was a surprise Sunday-night dinner guest.
MODERN FAMILY's Shelley Long, for Outstanding Guest Actress in a Comedy Series. And speaking of ex-wife Dede. Shelley Long's performance as Jay's sexually-frustrated uber-critical ex-wife who has yet to move on from the mortifying 'incident' that had her creating quite the scene at Jay and Gloria's wedding not only had us howling with laughter ("I knew they were perfect for each other when I saw his wallet and her boobs!"), but had us checking Amazon for CHEERS DVDs. Seriously, we had no idea Shelley Long was that funny, or that she was capable of such a bang-on Gloria impersonation!
MODERN FAMILY's "Do Me," for Outstanding Music and Lyrics. Come'on admit it, you too haven't stopped singing Dylan's opus to girlfriend Haley. Find the song here.

In this week's episode 4 of Modern Family we will see Dede Pritchett (Shelley Long) offensive toast at the wedding of her ex-husband, Jay, to his young new bride, Gloria. And we want to hear from you what was the worst wedding moment in a wedding that you have been at (or at your wedding).
Giveaway rules:
Submit your "worst wedding moment story" by posting a comment to this post.
200 words or less.
Spelling and grammer counts.
One entry per person; if you submit more than one entry, you will be disqualified.
Provide an email address in the "Email" field (not in the post itself).
Giveaway is open to US residents only.
Giveaway rules are subject to change without any notice.
Prize:
Deadline:
Submit your story by 12PM PST Friday 10.16.09
This giveaway is sponsored by SimchaBucks — want to know how much money to spend on a wedding gift? Try Simchabucks' wedding gift calculator.
Update: giveaway closed — winner will be announced soon!
In this week's episode 4 of Modern Family we will meet Dede Pritchett (Shelley Long) Claire and Michell's mom. Via flashback, we will see Dede's offensive toast at the wedding of her ex-husband, Jay (Ed O'Neill), to his young new bride, Gloria (Sofía Vergara). This should be great!