JAY AND CLAIRE ARE EACH THROWN OFF THEIR GAME BY SOME UNEXPECTED ENCOUNTERS, ON ABC'S "MODERN FAMILY"
Guest Starring Oscar-nominated Minnie Driver ("Good Will Hunting," "The Riches") as Valerie.
"Moon Landing" – Claire feels slightly inadequate when her old friend, Valerie (guest star Minnie Driver), visits and is nothing like Claire remembered. Meanwhile Jay has an unsettling locker room moment when he and Cameron go play racquetball, and Mitchell tries to help Gloria with some legal problems, on "Modern Family," WEDNESDAY, JANUARY 27 (9:00-9:30 p.m., ET), on the ABC Television Network.
"Modern Family" stars Ed O'Neill as Jay Pritchett, Julie Bowen as Claire Dunphy, Ty Burrell as Phil Dunphy, Sof'a Vergara as Gloria Delgado-Pritchett, Jesse Tyler Ferguson as Mitchell Pritchett, Eric Stonestreet as Cameron, Sarah Hyland as Haley Dunphy, Nolan Gould as Luke Dunphy, Ariel Winter as Alex Dunphy and Rico Rodriguez as Manny Delgado.
Guest cast include Minnie Driver as Sue, Reid Ewing as Dylan, Brian Oerly as gym member, Blake Gibbons as construction worker and Andrew Harlander as creepy diner.
Source: TV Over Mind
Kevin Bacon is coming to Modern Family, at least according to E! :
"Kevin Bacon just agreed to come on our show!" Modern Family star Jesse Ferguson (Mitchell) told E! at last night's Golden Globes. "I just met him and I said, 'Come on our show," and he said, 'I'm comin!' So I'm personally casting him as a guest star. We're going to have Judy Greer, Minnie Driver and then Kevin Bacon."
Of course, Modern boss Steven Levitan and the ABC mucky-mucks will have to sign off on the whole thing, but really, minor detail, right? And Julie Bowen has already plotted out the whole hot and heavy storyline…
"Are you kidding me?!" Julie (Claire) gasped when E! mentioned her costar's possible Kevin Bacon casting coup. "There will have to be flashbacks to Claire's past. He can be her ex-boyfriend and we can make out. I want the flashback to where we really get hot and heavy and dance to Footloose. I remember the dance in the warehouse. I remember every minute of that movie."
here is a sneak peek to next week's Modern Family Episode 9:
We hope you enjoyed last night's episode 8 of Modern Family; here are some clips for you:

Eric Stonestreet has been busy giving interviews. In the one in Fancast Stonestreet shared how he felt about portraying the very special character, how he'd like to rid the world of reality programming, and what he might say to the more conservative audiences who are concerned about seeing gay fathers on TV.
Here are some highlights from the interview:
Do you feel you're opening people's minds about gay parenting?
It's a really cool thing about doing what we do. By Jesse and I playing gay characters on TV – I'm not really looking to change people's worlds and belief systems, all we want to do is make a comedy that's funny and true and honest. But if, while doing that we can open people's minds to the idea that just because two guys are raising a baby, it's not the end of the world, that's an awesome opportunity, to help people change their minds.
What do you say to the conservative folks who may have concerns about seeing this on their TV?
I always say to conservative people who are worried about two gay guys raising a baby on TV is they should continue watching people get raped and murdered on other shows. Like on CSI the other day they had a scene where someone took a person's eyeballs out. I mean, how many ways can a person get murdered?
You have such amazing guest stars coming up.
This week we have Edward Norton (tonight). We have Minnie Driver. When these people are excited to do the show, that's really cool. I didn't work with [Ed]  specifically, my story has to do with Elizabeth Banks.
What was it like working with her?
She's hilarious. Her energy level is amazing. It's easy to see why she's the star she is. I love everything about her. She plays mine and Mitchell's good friend.
Eric has two interviews about "Modern Family" and Cam, the first is on BuzzSugar and the second on LA Times. Here are some highlights of the interviews:
You've said before that you base Cameron off of your own mother; what's your fondest memory of her where you think, "That's a Cameron moment?"
There's a single moment in the pilot episode where it was this inspiration. When I walk in and see the mural that's panted (in Lily's featuring Mitchell and Cameron as Michaelangelo-esque naked angels with carefully placed drapery). The script said, "Cameron gasps" but all I could hear was my mom. I can't tell you how many times I've heard my mother say, "Ohhh, my God." I told my mom you're gonna be happy to know that I got the part, and that I based it off you and there was that "Ohhh, my God!!" It's not as much based on her, it's just an anchor in something that's familiar. Lots of actors do that with characters. She was the easiest and most forward thing in my mind, her mannerisms and her body language.
Soon we get to see Cameron show his skills as a clown, which I understand taps into your background.
I wanted to be a clown as a kid. That's very well documented, you'll even see some old pictures of me. By 5 I was wearing clown shoes and makeup. My birthday is in September, and Ringling Bros. and Barnum & Bailey always came to town. I was always fascinated by clowns. When it was explained to me that they were people in makeup, it made perfect sense to me. That's what I wanted to do.
There has already been an impressive stable of guest stars with Shelley Long, Edward Norton (appearing with Elizabeth Banks in tonight's episode) and now Minnie Driver. Who's on your wish list?
If I could pick one person to play Cameron's mom, my dream would be Kathy Bates. Her as my mom from the farm and being the loving supporting mom would be incredible. I have no idea if TV is on Kathy Bates' radar. They are so good to get great people. But I hope they keep finding great unknown people. I can sympathize with them. Going out for roles and not getting them in favor of someone more famous. That was me eight months ago.
On whether he expected the show to be so successful: No. I had a very, very good idea that based on the writers' history and their very extensive careers that we had a really, really good shot at being something great. Anybody that tells you in this business they knew it was going to be this well-received is crazy. Actually, being this well-received makes you a little nervous.
On what's next for Cameron, Mitchell, and baby Lily: We have an episode coming up where we're Ferberizing the baby when she won't go to sleep, and Mitchell is very much committed to letting her cry it out, and Cameron of course can't for the life of him imagine why you would let a baby cry it out like that, so there's drama there. It's what's great about the show — yeah, they're a couple of guys raising a baby, but the focus really on that relationship is the challenges of a relationship, the challenges of parenthood, and just trying to find the happy medium of keeping up a relationship while raising a kid.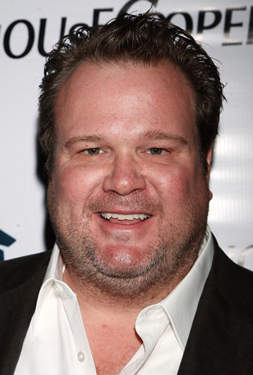 [image source: Getty]