Jay and Gloria's House from "Modern Family"
I am not a stalker found Jay and Gloria's house filming location. Here is some information that they found:
Jay and Gloria's ultra-unique home is MUCH bigger in person than it appears to be on Modern Family. For some reason, the establishing shots shown on the series only feature one angle of the residence. In reality, though, the home has a whole other half which has never appeared on TV. The house is so massive, in fact, that I couldn't get all of if to fit in my camera lens, but you can sort of get an idea of its true size in the above photograph. According to Zillow, the residence boasts five bedrooms, six bathrooms, and a whopping 6,359 square feet!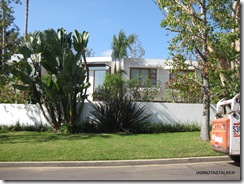 Comments