The NY Post has an interview with Eric Stonestreet, Cam from Modern Family. In the interview he talks about the women of NY city, admiring what he calls their "directness" and "honesty.", and stating:
"I'm single and I'm available," he announces.
"Maybe The Post could find me the lady of my dreams. I'd be happy to be bicoastal. That's bi-coastal, not bisexual!"
He also talked about his partner on the show, Ferguson:
"He's gay and I'm straight and we have fun with that," Stonestreet says. "After I got the part, we decided to meet for coffee and get to know each other. In the middle of it, we realized it was Valentine's Day and we were surrounded by lovers! That was a funny way to start off."
Read the full interview here.
EW compiled the 15 picks for the show's funniest lines — so far.
Here are our favorites:

"I'm sort of like Costco — I'm big, I'm not fancy, and I dare you to not like me." — Cameron (episode 3)

"Our son is not weird. What's weird is that her kid wears aftershave and dresses like a count." — Claire, about Manny (episode 5)

"That was hardly porn; it was a topless woman on a tractor. You know what they call that in Europe? A cereal commercial." — Phil (episode 12)

"I have to get old…. You don't have to get fat." —Phil to Gloria, on Valentine's Day (episode 15)
What is your favorite quote of the season?
Wednesday, February 10th, on a Valentine's Day-themed episode of Modern Family, "My Funky Valentine"", …
Claire and Phil go on a date;
Jay takes Gloria to see his favorite stand-up comic;
Cameron and Mitchell help Manny with his love life.
The Modern Family episode features guest star comedian David Brenner.
Preview of the episode can be found as part of our Modern Family Valentine's Quiz.
Source: TV Fanatic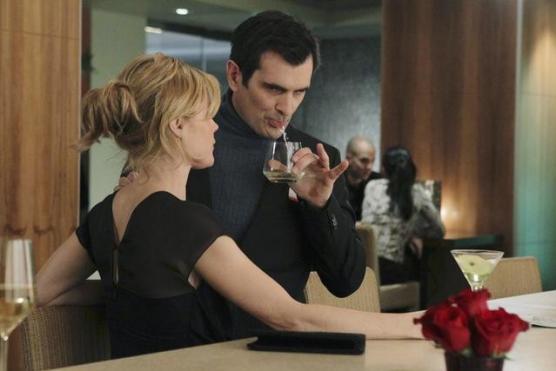 Love is in the air in Modern Family, so for the upcoming Valentine episode, here is our Modern Family Love Quiz:
This week's Valentine's Day episode of 'Modern Family' is sure to be amazing — star Julie Bowen gives The Show Girl a little tease.
In the spirit of the holidays, we want to hear about your family's best holiday tradition.
Giveaway rules:
Submit your "best holiday tradition" by posting a comment to this post.
200 words or less.
Spelling and grammer counts.
One entry per person; if you submit more than one entry, you will be disqualified.
Provide an email address in the "Email" field (not in the post itself).
Giveaway is open to U.S. residents only.
Giveaway rules are subject to change without any notice.
This is a family-friendly site; please, no profanities or other inappropriate contributions.
Prize:
Deadline:
Submit your story by 12PM PST Sunday 1.3.01
This giveaway is sponsored by SimchaBucks. Want to know how much money to spend on a wedding gift? Try Simchabucks' wedding gift calculator.
Episode recap:
When Phil and Claire discover a burn mark on the sofa, they try to get a confession out of their children. When no one confesses, Phil dramatically declares Christmas is canceled.
Jay attempts to revive the Christmas tradition with Manny, but fails to consider their different backgrounds. Manny and Gloria do not celebrate Christmas in the same manner, in fact, Manny does not believe in Santa Claus.
Cameron and Mitchell wait in line for Santa at the mall. With their daughter in tow, they demand the fat Santa instead of the skinny one and promptly gets the man fired. Meanwhile, Cameron is furious after seeing his caroling group perform after they kicked him out. Sympathetic for the man, Mitchell and Cameron invite the Santa over.
See the full recap here.
Some reviews come from:
TV Squad:
This holiday episode was lighter on the funny moments than most episodes of Modern Family, which isn't to say that it wasn't plenty funny. It substituted those with more heartfelt moments. Homeless Santa was able to forgive Cameron and Mitchell for getting him fired with their complaints that he didn't look enough like St. Nick. They didn't even have to admit they'd done it; he forgave them after seeing the kindness in their hearts — which may have had a healthy dash of guilt thrown into the mix.

I love it, though, when he punched out Cam's rival in the chorus. Even after usurping control last year and getting Cam kicked out, he still had to go to his house to rub it in his face, and then when Cameron sucked it up to be the bigger man and show true Christmas spirit, he had to keep on being a jerk. He deserved a good hit.

The best moment of the entire episode came when Jay arrived at his house toward the end of the episode and put down the law that no Colombian traditions were allowed in the house. The looks on Gloria and Manny's faces were so raw and real, it was painful to see. But when Jay popped back out with "Innocente!" embracing the Colombian tradition of pranks at Christmas, it was simply beautiful. He even had fireworks!
and AV Club:
Fred Willard? Perfect choice for Phil's dad. Great little technology joke with only the top half of his head showing up in the video chat.
Cameron, chastising Mitchell for complaining about the long Santa line, then catching sight of the New Greensleevers: "Somebody needs to get in the holiday sonofabitch!"
Phil: "I can forgive the smoking, but I can't forgive the lie." Catching Claire's eye: "Or smoking."
Scott the Homeless Santa has too many good lines to quote, but I'll try: In reference to living in his car, "It's pretty roomy since the wife moved out." Responding to the dinner invitation, "Can I bring anything? Ketchup, soy sauce, straws?" And of course, the new gay Christmas tradition of a shirtless Santa: "Who wants to try the swing?"
"Burrito, burr-eye-to."
"What happened?" "Doesn't matter! Wreath, stockings, tree, presents, go!"
Happy birthday Luke!

Nolan Gould gives us an inside look on the fliming of Luke's upcoming birthday party.