Jim Halterman has an interview with MODERN FAMILY's Eric Stonestreet. Here are some of the questions he asked:
Jim Halterman: How are you getting used to all the attention that the show is getting and, more importantly, that you're getting?
Eric Stonestreet: The one thing I was taken by surprise by was how fast it was. We were on one week and it went from people looking at me and thinking they saw me somewhere or I went to school with them to now people definitely quickly know me as Cameron from Modern Family, which is amazing and I was pretty blown away by how fast it works.
JH: Are people assuming you are Cameron?
ES: [laughs] When you meet me I think it's pretty clear that I'm pretty different from Cameron but we've had conversations about that. I don't care if people think I'm gay. People ask me all the time 'Aren't you worried about people thinking you're gay?' If I was worried about that I wouldn't be doing the character. There are actors that may not want to do this character for that reason but I don't happen to be one of them. I joke around and say that I was more worried that people would think I was a killer because I killed three people on TV last year. [laughs]

TV.com is running the "Best of 2009" election.
Show your support and vote for Modern Family as the "best new fall show".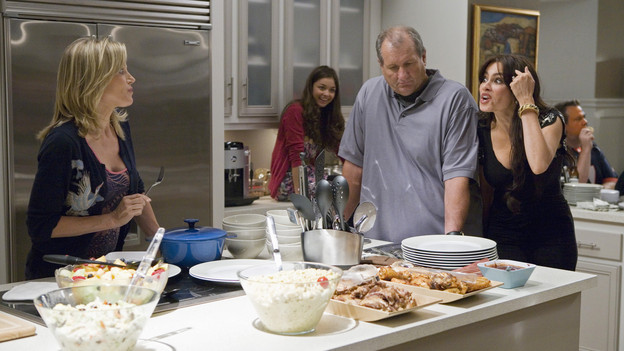 Nolan Gould gives us an inside look on the fliming of Luke's upcoming birthday party.
Another great episode for Modern Family (well every episode till now was great…). Here are some quotes for you:
Mitchell: "Why is our daughter dressed like Donna Summer?"
Cameron: "She is not Donna Summer, clearly she is Diana Ross from the RCA years. How is Daddy not seeing that?"
Mitchell: "I am fun! Remember breakfast for dinner last week? My idea."
Gloria: "Batman doesn't get picked on and he wears a cape. A poncho is just a cape that goes all the way around."
Jay: "Batman doesn't get picked on because he's a muscular genius. Manny can't make it to the top bunk."
What was your favorite quote?