Another interview with Eric Stonestreet, from Modern Family, this time from Parade. Here are some of the Q&A:
Stretching his improv chops.
"We always get a couple passes where we just get to play and have fun. Inevitably some of those things make it into the shows. And then we always get to improvise a bit during the interviews with the camera. But, for the most part, it is 100% the words of our brilliant writers."
Nothing but funny business.
"The most important thing for me as an actor playing a character is to make you laugh. That's my No. 1 goal. I wouldn't be in this business and doing what I do if I didn't have the deep, deep need to make people laugh, which is what I enjoy the most."
Making a gay couple "modern."
"It's an opportunity to give people a take on what they think of as gay parents and make them understand that the love and support of a child is the first thing, and it really doesn't matter if it's two moms or two dads. Bringing up a child in a loving relationship is the most important thing. I think it's great that people are getting exposed to that and just to see the focus isn't on the fact that Mitchell and Cameron are gay, the focus is on the fact that it's hard raising a baby. It's tiresome, it's challenging and these two people happen to be funny people that will see things on the lighter side and have a good time doing it."

The funniest new sitcom of the season will then take a week off and return on December 9 with a new installment. On that episode, "Modern Family" episode 10, Fred Willard comes aboard as Phil's dad, as the Dunphy kids face the possibility of no Christmas this year.
TV Fanatic uncovered a photo of Willard in the role: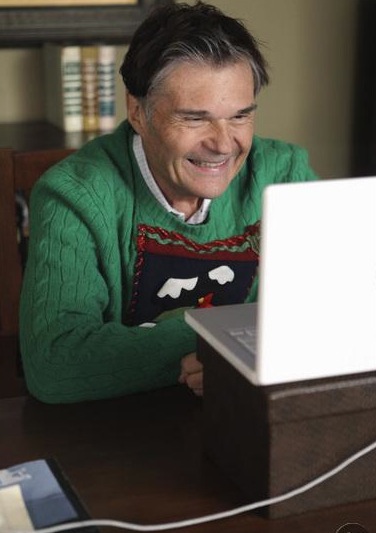 CHRISTMAS CHEER IS A LITTLE MIXED AS EACH HOUSEHOLD GETS READY FOR THE HOLIDAYS, ON ABC'S "MODERN FAMILY"
Guest starring Fred Willard ("Best in Show," "Waiting for Guffman") as Phil's dad.
"Undeck the Halls" – Christmas is in full swing at the Dunphy house until the kids get in some trouble and Phil and Claire threaten to take away Christmas until one of them fesses up. Meanwhile, Jay struggles with wanting to stick to his holiday traditions while Gloria and Manny want to incorporate some of their Colombian practices, and Mitchell and Cameron take Lily to the mall for her first picture with Santa — but end up with a disgruntled mall Santa on their hands — on "Modern Family," WEDNESDAY, DECEMBER 9 (9:00-9:30 p.m., ET), on the ABC Television Network.
"Modern Family" stars Ed O'Neill as Jay Pritchett, Julie Bowen as Claire Dunphy, Ty Burrell as Phil Dunphy, Sofía Vergara as Gloria Delgado-Pritchett, Jesse Tyler Ferguson as Mitchell Pritchett, Eric Stonestreet as Cameron, Sarah Hyland as Haley Dunphy, Nolan Gould as Luke Dunphy, Ariel Winter as Alex Dunphy and Rico Rodriguez as Manny Delgado.
Guest cast include Fred Willard as Phil's dad, Brian T. Finney as Scott and Jeremy Scott Johnson as Andrew.
[Source: tv over mind]
TV.com has both Community and Modern Family has the best new comedies of the season, but they are trying to decide which one of them is the best. Here are some of their thoughts:
Cast: This critical category is a tight one. Community boasts Chevy Chase, the man who once played Fletch, and Joel McHale, the man who could play him today. Add fall's freshest faces—Danny Pudi and Donald Glover—and you're looking at TV's most surprising new motley crew of a cast. But Modern Family has Ed O'Neill, who is looking like an Emmy candidate right now, and adding Ty Burrell, Jesse Tyler Ferguson, Eric Stonestreet, Sofia Vergara, and a bushel of funny child actors only seals the deal. Point: Modern Family.
Guests/Recurring Actors: Like sexually frustrated couples, comedies need to throw others into the mix to spice things up. Shelley Long in ModFam's "The Incident" was hilarious. It was nice to see Diane Chambers get absolutely lubed on booze and destroy a wedding. Unfortunately, Ed Norton's appearance as Spandau Ballet's bass player was a disaster, despite the "Fandau" gag. Elizabeth Banks was so-so, but just reminded us how much we'd rather watch Cam and Mitchell instead. On Community, John Oliver's portrayal as Jeff's nemesis/friend (frienemesis?) is hysterical, and I don't care what anyone says, Ken Jeong as Senor Chang is muy awesomo. Fred Willard's upcoming role as Phil's dad in Modern Family could change our minds, but for now, it's Point: Community.
The Winner: Just a second as I count the votes… it's Modern Family by the official score of three to two! But let's face it, we're all winners here! Except for Community, which is slightly less of a winner. But in this race, there's no shame in second place. Let's just be happy we actually have "best new comedy" candidates this season. Modern Family, stop by the TV.com offices anytime to pick up your trophy.
Sofia Vergara, who made news this week for joking that she'd been raped at 13 on The View, seemed to have recovered from her embarrassment by the time she hit Sunday night's American Music Awards red carpet. She looked beautiful in her peach asymmetrical Emilio Pucci gown.

[Soruce: zimbio]
Related articles by Zemanta
Shakira is no actress, but maybe it's time for her to become one.
She and her hips are wanted over at ABC's new hit comedy Modern Family.
"I'm trying to convince her to act," M.F. star and resident MILF Sofia Vergara told me at the American Music Awards. "Hopefully, she'll say yes."
Vergara liked our suggestion that…
Maybe Shakira should play Vergara's sister on the show.
"Why not!" Vergara said. "We'll write a character especially for her if she wants to do it."
Meanwhile, Vergara and her costars are the ones wanted by another primetime star…
"I'm obsessed with Modern Family," V's Morena Baccarin said. "It's my new, latest guilty pleasure. I would love all of those characters and our characters to interchange and do each other's shows. I don't know if it would be good, but…"
Aliens dropping in on Modern Family may not be so far-fetched—at least according to Baccarin.
"I do believe there's something more out there," she said. "We can't possibly be the only living people in the universe."
[Source: E!]
We're trying to avoid the Sofía Vergara and Julie Bowen's feud story, but you can read the details here. We hope that they can fix thing between them…
Jim Halterman has an interview with MODERN FAMILY's Eric Stonestreet. Here are some of the questions he asked:
Jim Halterman: How are you getting used to all the attention that the show is getting and, more importantly, that you're getting?
Eric Stonestreet: The one thing I was taken by surprise by was how fast it was. We were on one week and it went from people looking at me and thinking they saw me somewhere or I went to school with them to now people definitely quickly know me as Cameron from Modern Family, which is amazing and I was pretty blown away by how fast it works.
JH: Are people assuming you are Cameron?
ES: [laughs] When you meet me I think it's pretty clear that I'm pretty different from Cameron but we've had conversations about that. I don't care if people think I'm gay. People ask me all the time 'Aren't you worried about people thinking you're gay?' If I was worried about that I wouldn't be doing the character. There are actors that may not want to do this character for that reason but I don't happen to be one of them. I joke around and say that I was more worried that people would think I was a killer because I killed three people on TV last year. [laughs]

ABC is arranging a virtual birthday party for Luke on Facebook:
Wednesday November 25th Luke is getting the ULTIMATE birthday party on ABC and you're invited! Phil's calling it Lukeapalooza!. He wants you to know that it's going to be "off the chain" with a rock climbing wall, zipline, a Sno Cone machine, some seriously dangerous animals, a new belt, Claire's arts and crafts table, a crossbow…I'm missing something. OH! Cam.
Cam has known that he wanted to be a clown ever since he found out that clowns were just people with makeup. Much to Mitch's disdain, Cam is a classically trained "Auguste" clown which are known to be the most comical of the 4 types of clowns. Meet Fizbo the Clown in the sneak peek below…
Here are some more sneak peeks into Modern Family Episode 9 , courtesy of TV Over Mind:
LUKE GETS THE ULTIMATE BIRTHDAY PARTY AND EVERYONE HAS A SAY EXCEPT FOR MAYBE LUKE, ON ABC'S "MODERN FAMILY"

"Fizbo" – Nothing is too big when Phil and Claire decide to throw Luke the biggest and best birthday party a boy could ever want. But when Cameron shows up as Fizbo, the Clown, it sets of a chain of events that ends with someone in the hospital, on "Modern Family," WEDNESDAY, NOVEMBER 25 (9:00-9:30 p.m., ET), on the ABC Television Network.

"Modern Family" stars Ed O'Neill as Jay Pritchett, Julie Bowen as Claire Dunphy, Ty Burrell as Phil Dunphy, Sof'a Vergara as Gloria Delgado-Pritchett, Jesse Tyler Ferguson as Mitchell Pritchett, Eric Stonestreet as Cameron, Sarah Hyland as Haley Dunphy, Nolan Gould as Luke Dunphy, Ariel Winter as Alex Dunphy and Rico Rodriguez as Manny Delgado.

Guest cast include Reid Ewing as Dylan, Margo Harshman as Tanya and Kaitlyn Dever as Bianca.