Modern Family actors were some of the 18 actors who truly stand out in 2009 according to the SF Gate:
Ty Burrell, Jesse Tyler Ferguson and Eric Stonestreet, "Modern Family," ABC. Don't look now, Alec Baldwin, but your Emmy streak is in danger. On this season's best new sitcom, there are at least five people who may get nominated for their work, but these three are absolute, must-have nominees. Burrell's clueless dad/friend plus Ferguson and Stonestreet as the gay couple are comic gold from episode to episode.
We agree with The Guardian which said:
We were thrilled to see Modern Family get recognized in the Best Comedy category:It's the funniest new show of the season, but the ABC sitcom didn't get any love in the acting categories. Ignoring Eric Stonestreet is particularly egregious; he has mastered the delivery of lines such as, "I've wanted to be a clown ever since I found out clowns are just people wearing makeup."
What do you think?
"Modern Family" is one of the most acclaimed half-hour comedies to debut on a broadcast network in quite some time. Plus, actual viewers are watching it, judging by the very solid ratings.
The love for "MF" doesn't extend to the grumpy folks at the LA Times Calendar section. The grinches at the paper apparently got annoyed at the virtually universal love for the show and decided to knock it down a few pegs in Sunday's paper.
The Times included "MF" in the "Overrated" section of its weekly "Underrated/Overrated" column, suggesting the Steve Levitan/Christopher Lloyd series just isn't as good as the classic comedies of the past.
Because, really, if you're not as good as "All in the Family" or "Seinfeld," really, why even bother?
Here's what the paper said, in full:
Having been raised on classic sitcoms, we're always curious when a show earns talk for upholding the tradition. But this ABC newcomer still needs improvement. As much as we love seeing Ed O'Neill at his cranky best as the show's patriarch, many jokes for his young Latin spouse and his daughter's clueless husband feel tired. And can we give the faux-documentary style a rest, please?
Read the full story at The Wrap.
MSNBC says "Modern Family" is one of the year's best TV shows:
Three households, all unconventional, are blended into this fall's freshest family comedy. Ed O'Neill and Julie Bowen are among the stars perched on this sitcom family tree.
See the rest of the top shows here.
Boston.com has a great review of ABC's Modern Family, here is part of it:
Maybe it was when 10-year-old Manny put down his newspaper to get another cup of espresso, like a little executive Buddha, or maybe it was when he insisted on wearing his traditional Colombian poncho to grade school, that it came to me: "Modern Family'' is an instantly lived-in and fleshed-out sitcom. The ABC comedy arrived in September fully formed, filled with the rich inner life that usually only exists on a TV series over time. The characters are already indelible.
And that's a rare thing, especially for a sitcom. Good half-hour comedies usually take many months to find themselves, to define their individuality (see: "Seinfeld''). ABC's "Better Off Ted'' and NBC's "Parks and Recreation'' – both series with promise – are currently following that more familiar route, trying to discover their distinctive mojo while they're on the air, hoping not to become just more brokedown sitcom chassis by the side of the road.
Each a member of the sitcom class of 2009 and each a single-camera show, "Modern Family,'' "Better Off Ted,'' and "Parks and Recreation'' actually stand a chance of joining the likes of "Scrubs'' and "Extras'' in the canon. "Better Off Ted,'' which returns for season 2 on Dec. 8, is a solid setup crying out for tweaks; "Parks and Recreation,'' now in season 2, has just been nicely tweaked; and "Modern Family'' is in need of no tweaks whatsoever. It is just right. They represent three marks on the map to sitcom excellence, with "Modern Family'' already having reached the destination point.
Created by Steven Levitan ("Just Shoot Me'') and Christopher Lloyd ("Frasier''), "Modern Family'' is a rare pleasure. The family dynamic among the large collection of characters feels thoroughly established, as if their histories are genuinely interwoven. Ed O'Neill's Jay is the father – of Claire, who's married to Phil and has three kids, and of Mitchell, who's living with Cameron and has an infant daughter. Jay has a second family, too, with a much-younger wife, Gloria, from Colombia and a stepson, the inimitable Manny. When the three families interact, you can see all the casual intimacy, resentment, stubbornness, and forgiveness of an extended family in play.
Within the group chemistry, each character is finely etched. Among the most vivid are Cameron (Eric Stonestreet), a queeny gay man who once played football, and Gloria (Sofia Vergara), who unwittingly torments her husband with stories of her early sex life. And, of course, there's Manny (Rico Rodriguez), the little guy who swoons over older girls and fences like a royal prince. These characters are already beautifully established, and yet you can detect the actors' pleasure as they discover more and more about their roles with each episode.
Read the rest of the review at Boston.com
The funniest new sitcom of the season will then take a week off and return on December 9 with a new installment. On that episode, "Modern Family" episode 10, Fred Willard comes aboard as Phil's dad, as the Dunphy kids face the possibility of no Christmas this year.
TV Fanatic uncovered a photo of Willard in the role: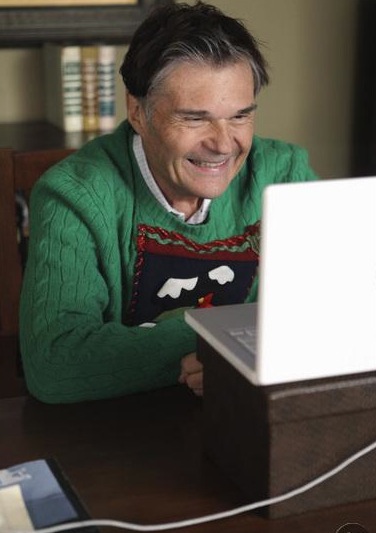 Jim Halterman has an interview with MODERN FAMILY's Eric Stonestreet. Here are some of the questions he asked:
Jim Halterman: How are you getting used to all the attention that the show is getting and, more importantly, that you're getting?
Eric Stonestreet: The one thing I was taken by surprise by was how fast it was. We were on one week and it went from people looking at me and thinking they saw me somewhere or I went to school with them to now people definitely quickly know me as Cameron from Modern Family, which is amazing and I was pretty blown away by how fast it works.
JH: Are people assuming you are Cameron?
ES: [laughs] When you meet me I think it's pretty clear that I'm pretty different from Cameron but we've had conversations about that. I don't care if people think I'm gay. People ask me all the time 'Aren't you worried about people thinking you're gay?' If I was worried about that I wouldn't be doing the character. There are actors that may not want to do this character for that reason but I don't happen to be one of them. I joke around and say that I was more worried that people would think I was a killer because I killed three people on TV last year. [laughs]

here is a sneak peek to next week's Modern Family Episode 9:
We hope you enjoyed last night's episode 8 of Modern Family; here are some clips for you:

Ed O'Neill, beefy star of ABC sitcom "Modern Family," says there's nothing wrong with being overweight.
"I think you're worse off being too thin," says O'Neill, 63, who has a black belt in Brazilian-style jujitsu. "To be overweight is not that unhealthy. You see those Midwestern waitresses, strong as bulls, they live until they're in their 90s. Hollywood is so obsessed with thin that it is a sickness."
O'Neill, whose most famous TV role was the uncouth Al Bundy on "Married With Children," is not into low-cal treats. "Health food ice cream?" he asks. "Why even eat it?"
His idea of health food? "I like wine," he says proudly.

Related articles by Zemanta