'Modern Family' makes Sofia Vergara famous after 20 years

The NY Post has an interview with Sofia Vergara; Here are some of the highlights:
'Modern Family" star Sofia Vergara grew up hating her first name.
"The only person I knew who had that name was my great aunt — and she was old," said Vergara.
"So, for me, my name was like an old lady."
Now, plenty of young people are named Sofia in her home country, Colombia, and evidently the 37-year-old beauty had something to do with that.
"Yeah, I became very popular," she said. "I've been working for 20 years!" she adds, like that explains everything.
As the devoted mom to precocious Manny (Rico Rodgriguez) and the trophy wife of Jay (Ed O'Neill of "Married with Children"), she makes Gloria sexy, smart, funny and sweet — no easy job in a medium used to turning Spanish-speaking women into one-dimensional Charos.
She is shocked it all worked.
"I didn't think people were going to like her because she looks like a gold digger," she said.
"It's this young woman with an older guy. I thought, 'They're going to hate her!' But then I started understanding more of the character, and I love her."
…
But Vergara's sharp ear failed her spectacularly during a recent appearance on "The View."
On the show, she was asked about being a young-looking mom. (In real life, she's the divorced mother of a 17-year-old son, Manolo.)
Vergara joked, "I was 13. I was raped."
The line sparked criticism, even outrage, online.
"With this accent I'm trying to do jokes on live TV? I mean, of course something's going to come out wrong," she said, sighing.
I am not a stalker found Jay and Gloria's house filming location. Here is some information that they found:
Jay and Gloria's ultra-unique home is MUCH bigger in person than it appears to be on Modern Family. For some reason, the establishing shots shown on the series only feature one angle of the residence. In reality, though, the home has a whole other half which has never appeared on TV. The house is so massive, in fact, that I couldn't get all of if to fit in my camera lens, but you can sort of get an idea of its true size in the above photograph. According to Zillow, the residence boasts five bedrooms, six bathrooms, and a whopping 6,359 square feet!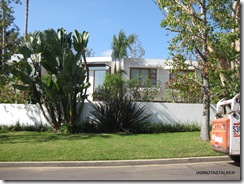 E! finally admits what we already know – "Modern Family" is the best show on today.
Here are some things they found about Modern Family:
Jesse Tyler Ferguson and Eric Stonestreet, who play Lily's proud gay papas Mitchell and Cameron, tell us why you won't be seeing much of their darling adopted baby in upcoming episodes:
Jesse: We have been writing around Lily a little bit because she is a child that cries a lot. We have to remind the writers that we do have a baby. And we have to remember that.
Eric: Yeah, we've each gotten emails from people, viewers watching, going—
Jesse: "Where was Lily when you jumped in the pool?"
Eric: "Where was Lily when you went to Costco?"
Jesse: The answer is always, "She's always napping. She's very, very sleepy."
Eric: Yeah. Our baby is the most rested child on TV. Like, our kid is going to really take her young toddler years by storm.
Jesse: I think in seven years when we have the toddler of Lily, she's just going to be the character who's just like–[fake falls asleep, snores]. What? She's narcoleptic.
Eric: She likes to sleep a lot.
The transcription of this interaction might not really do it justice, but suffice to say this cast is just as funny in real life as they are on the series.
Take, for example, Julie Bowen (Claire) talking about the hotness of her "mother" Sofia Vergara(Gloria): "She's a modern marvel of architecture."
And what about Julie's hubby, Phil? He certainly has a wandering eye. Will he cheat? "You get married," Julie says. "You don't die. You can still see other people. Anybody that sees Sofia and doesn't acknowledge she's attractive is just lying. It's just a line between whether or not you're going to do anything about it. I think Phil (Ty Burrell) establishes himself as a very loyal, good guy. I think Phil would never cheat. He wears his schoolboy impulses right on his sleeve. You see it all."
As for the money question that anyone who's even just seen a poster for the show asks: Why in the world is Sofia Vergara with Ed O'Neill (Jay)? Sophia tells us: "Gloria's attraction to Ed is that she's in this time of her life that this is perfectly what she needs. You know, a stable guy, that he's responsible, he's there for her and the kid, he's already stable. He has wisdom and she's an immigrant in this country and her husband before was this crazy playboy…Javier. It's perfect for her to be with Ed."
When asked what Gloria sees in Jay, Ed puts it a little more succinctly: "Money."

Modern Family Episode 6 "Run for Your Wife" – It's the first day back at school for the kids and, at the Dunphy house, Phil oversteps when he misreads how Claire is coping with an empty nest. Over at Jay's, he and Gloria are in disagreement over Manny's interesting choice of outfit for his first day of class, and Mitchell and Cameron freak out after Lily gets her first bump on the head.

[Source: Daemons TV]
Episode Synopsis: MODERN FAMILY "Coal Digger" Episode 5 – The whole family is invited to Jay and Gloria's for some barbeque and football. However an earlier incident at school between Manny and Luke makes things very awkward for Gloria and Claire, and then things escalate when a not-so-flattering label is uttered.