Back Stage visited Stonestreet on set, where he was filming an episode, and spoke with him about landing the job of a lifetime. Here are some of the highlights of their visit:
Stonestreet reveals that he originally read the pilot for "Modern Family" when a friend asked for help running lines.
"He had an audition for Cameron, and as I read with him, I was really bummed I wasn't getting to go in for it," Stonestreet recalls. "It just hadn't come my direction as far as the physical type yet." Although he hadn't seen a description of the character's appearance, he knew that Ferguson was already cast as Mitchell and the network was looking for someone who matched him. "You just never know," Stonestreet says. "I've been a character actor and a big guy my whole career, and my goal has always been to change people's mind and do justice to the part so that they look past what I look like and see just an actor, rather than a 'big' or a 'heavyset' actor."
Stonestreet's representation persisted, and the show still couldn't find a Cameron. The search began to widen, and eventually Stonestreet was allowed to audition. "I don't remember the exact breakdown, but it was something like 'Passionate, the more dramatic of the two, flamboyant but grounded,'" the actor says. "It was a tricky character to audition for, because you read the script and there's that 'Lion King' moment. So you have to build a character who's not too flamboyant — yet, on Page 27, he's capable of this."
Though Stonestreet is straight, he had no qualms about accepting the role, and he takes it as a compliment that many viewers find him so convincing that they assume he's gay in real life. "I love it!" he says. "I love the fans that I have. They're so cool. I'm a guy who's been working as an actor for a long time, and my main goal was always to get a job. Not to get a job on a great show, not to get a job on a great show with a great character, but just to get a job. So for me to be on this show with this cast and this audience support is more than I could have ever imagined. I will take my fans in any shape, size, gender, sexual orientation they come in. I'm just happy to have fans!"
As for his family's reaction, Stonestreet points to the year before he landed "Modern Family," when he played murderers on "The Mentalist," "Pushing Daisies," and "NCIS," as well as an inmate on death row for raping and murdering a girl on a recent episode of "Nip/Tuck." "People will ask me, 'Are your parents okay with you playing a gay character on TV?' And I'm like, 'My mom was more upset that I killed three people on TV last year!'"
CNN has an article about gay characters on prime time TV, and of course they talked to our favorite gay couple from Modern Family. Here are some of the things Jesse Tyler Ferguson and Eric Stonestreet had to say:
"The opportunity to play not only a well developed gay character, but a dad, a son and brother was really appealing to me. … I chose to play him very close to myself and I think that truthfulness was appealing to the creators," Ferguson told CNN.
"As a gay man and as someone who is an advocate for equality, truthfulness and fairness, I want to see more gay roles go to gay actors," Ferguson said in an e-mail. "But then on the flip side, as an actor, I want to still be given the opportunity to play roles that are straight."
"Jesse and I … get so many compliments from gay couples and lesbian couples that want to introduce us to their kids and thank us for representing them on TV for the first time," Stonestreet told Behar, from CNN.
But still, "Modern Family" isn't hitting viewers over the head with Cameron and Mitchell's physical intimacy.
"We're the perfect show to just build it in naturally, not draw a bunch of attention to it," Stonestreet said.
For Ferguson, it's a non-issue.
"I want the viewers to know Mitchell and Cameron's sex and love life is just fine," Ferguson wrote. "They also have regular bowel movements, but that is something you don't see either."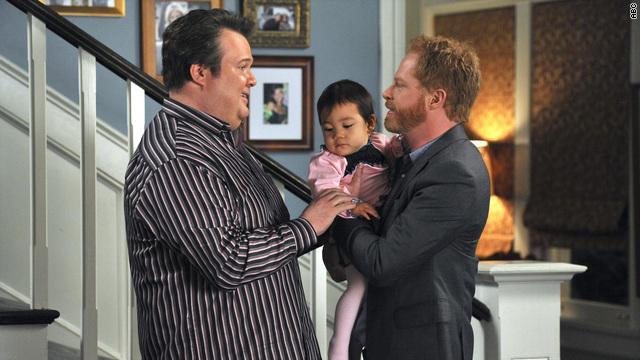 Challenging Emmy question for "Modern Family" – who will be submitted as a lead actor and who will compete for supporting:
With the April 30 deadline approaching, sources say four separate scenarios are being mulled: either all six adult regulars (Julie Bowen, Ty Burrell, Jesse Tyler Ferguson, Ed O'Neill, Sofia Vergara and Eric Stonestreet) will compete as leads; all will go supporting; everyone will go supporting except O'Neill, who, as the only major pre-"Family" star, could separate himself as lead; or Ty Burrell and Julie Bowen, as the show's "traditional" parents, will go lead and the rest supporting.
What would you do?
Source: Yahoo! News.
TV Squad asked Sofia Vergara who should play her character's mom, and she chose legendary Italian actress Sophia Loren.
The 75-year-old Loren does bear some physical resemblance to Vergara, and she does have comic chops (Vergara cites Loren's work in Marcello Mastroianni films). She also has recent experience playing a mother – her own mother, at that, in an Italian television biopic based her sister's book, according to the Times of India.
What do you think about this casting?
TV Squad has an interview with Ed O'Neill. Here are some of the highlights:

Was that what attracted you to the role of Jay, because it was so different from Al Bundy, and so different from the dramatic roles you've played?
Not so much different from Al, because everything is. But I liked the ensemble nature of the show. That attracted me right away. That the show, there's a lot of go-to people on the show. So it takes a lot of pressure off, you know? And also it becomes, for me, less boring. You know, you see that person all the time. Especially when you're doing it every week. It just gets old fast. But this show seemed to have more comedic potential because of the three separate but interconnected families.
So how has Jay kind of changed and shifted since the start?
Well, they're making him more of a prick. And the thing I look at…
Levitan: Why are we inspired to do that? Where is that coming from? I'm not sure…
(laughing) You know what he's saying. I think that there's always a change when the actual actors begin to work with each other on a regular basis and you become friendly… hopefully…you start to like one another. In between takes, you start to share stories and such.
And then there's this sort of a melding, which I love that process, because that's like the honeymoon, really. And then things begin to become a little warmer, a little more comfortable. You can do things with a little look instead of, you know what I mean? It becomes more real. That's how it changes.


First of all, how interesting is it that a lot of the cast of 'Married… With Children' are all sprinkled through the primetime schedule? Christina (Applegate) had her own show for a couple years, and now Katey (Sagal) is on 'Sons of Anarchy.'
Yes, yes. I like it because it kind of shows that there was some talent in that cast, you know, and some staying power.
Alright, just how is it working with Sofia Vergara in most of your scenes?
I love playing with her. I really love working with her. I think she's extraordinarily funny. Of course, she's not hard to look at. I love the idea that the different culture, and it's hard enough to understand a woman, you know, in a marriage, in the same culture. And you take a Colombian woman, beautiful, young, and so there's always the surprises for Jay, things he didn't quite bargain on, I would imagine, when he married her. Obviously, she was beautiful, and that was thrilling. And now that he's married, there are puzzling aspects.
Jesse Tyler Ferguson was mentioned on freep.com favorite redheads list:
Jesse Tyler Ferguson: The actor is earning kudos for his portrayal of Mitchell Pritchett, attorney and new parent, on ABC's witty comedy, "Modern Family," at 9 p.m. Wednesdays.
There's a rumor buzzing around the Internet that Delta Burke will guest on 'Modern Family' as Cameron's mother. TV Guide had something in the print edition, but the real culprit behind the tale is actor Eric Stonestreet who plays Cam. He said he would love Delta Burke to play his mama … and it's a great idea.
Would you want to see Delta Burke as Cam's mother or do you have better suggestions?
Source: TV Squad
Related articles by Zemanta
Sarah Hyland from ABC's hit TV show "Modern Family", walks hand in hand with her boyfriend, High School Musical actor, Matt Prokop, on a beach in Hawaii. The cast and crew of the show are currently in Hawaii, filming scenes for the show.
Source: Zimbio
Eric Stonestreet is not going to be the only one on movies this year: Colombian actress and model Sofia Vergara, from "Modern Family", will be working alongside big-screen superstar Robin Williams in a follow-up to Warner Brothers animated penguin movie Happy Feet. She is going to be the voice of the wife of a tap-dancing penguin in the animated film Happy Feet 2. As well as funny-man Williams, Vergara will also be working alongside big names such as Elijah Wood and Hank Azaria.
The film is set to be released in November 2011.
Source: Colombia Reports
Some news about upcoming Modern Family episodes come to us from IGN:
Stonestreet noted that they were actually shooting the season finale already, out of order from the rest of the season, while among the episodes already shot, "There's a story where I join Dylan's rock band, because their drummer goes missing. I play the drums, so I sit in for a night."
Sofia Vergara ("Gloria Delgado-Pritchett") mentioned one storyline in which, "[Cameron] takes me out to dinner to make up for something that he says." Stonestreet elaborated, "I try to make up to her something kind of offensive that I accidentally said in front of her, so I take her out for an evening on the town, which goes horribly, horribly wrong."
Ferguson also revealed some more specifics on upcoming episodes. "I get stuck in the apartment with a stray pigeon that I'm terrified of," said the actor, adding, "There's that! Hilarity ensues with a broom. My dad teaches me karate and accidentally knocks me out. That's pretty funny. The writers are amazing. I couldn't even begin to name all the hilarious moments that you have yet to see."