In a first look at an upcoming episode, the show's loveable gay dads, Mitchell (Jesse Tyler Ferguson) and Cameron (Eric Stonestreet), are terrified when they see a stranger in their hot tub one night – but they suddenly calm down when it turns out to be a hunky gentleman played by James Marsden.
Source: People.com
EW has the scoop on Claire's ex:
Modern Family is about to demonstrate that Claire Dunphy has always had excellent taste in men. EW has learned exclusively that Matt Dillon (Crash) will play the ex-boyfriend of Julie Bowen's character in an upcoming episode of the ABC comedy.
Norman Lloyd has signed up to guest star in Modern Family.
TV Guide reports that the 95-year-old actor, who starred in St. Elsewhere, will join the comedy for one episode.
Cameron (Eric Stonestreet) is said to meet Lloyd's character in a shopping mall and become friends with him.
Source: Digital Spy
For anyone going through 24 withdrawal, here's some good news: Mary Lynn Rrajskub (Chloe) is going to guest star on MODERN FAMILY.
TV Guide reports Rajskub will play Mitchell's (Jesse Tyler Ferguson) high school girlfriend, presumably the one mentioned in "The Kiss" episode–the one he never kissed in public because he's gay. Awkward. I can't wait to see Cameron's (Eric Stonestreet) reaction. Will he be jealous or invite her for brunch?
Source: Daemons TV
ABC's Modern Family has found a down-home country mama for Cameron (Emmy winner Eric Stonestreet). Beating out Delta Burke, Dianne Wiest, Kathy Bates and several others is character actress
Celia Weston, who has made a mark in films and on television ever since she debuted as trucker/waitress Jolene Hunnicutt on the CBS sitcom Alice back in the early '80s.
Source: Fox News
EW talked to Fred Willard about his upcoming role in Modern Family. Here are some of the highlights:
You're reprising your role of Phil's father, Frank, on Modern Family. Frank shows up in an RV with a little four-legged friend?
Yes, yes, it's his dog that his wife is allergic to, so he's driven across country to give it to his son. So there's some touching moments in that as well.
You worked with the creators of Modern Family and Ty Burrell on Fox's Back to You. That's what made them think of you? It's such great casting.
I never think I'm old enough to play someone's dad, even though I have a daughter of my own and a grandson. But yeah, Steve Levitan and Chris Lloyd did Back to You and thought of me. And I guess Ty Burrell kept saying, "Gee, we should get Fred Willard on."
The first time we saw Frank, it was just on a web camera. What will we learn about him now that's actually visiting in-person?
He's just kind of a silly character who loves corny jokes, but also has a serious side, a sentimental side.
Do you have scenes with Ed O'Neill this time?
I do. I did Married… With Children years ago with him, and he's just the most marvelous guy you'd ever want to be with, just a regular blue-collar guy…. There's a musical scene that's done in a real club that's just really wonderful, where Cam bulls his way into playing the drums [for Dylan's band]. We're part of the group watching and amazed at the, we'll call it the drum solo. [Laughs] It's a hysterical scene.
Any plans to return for future episodes?
The problem is, my character lives in Florida. When I left, I said, "I see the whole family going to Disney World in Florida." "Hey! That's a great idea!" As with most great ideas, I haven't heard much more about that. But they did request a photo of me to put in the hallway [of Phil and Claire's home]. So I haven't been eliminated from the inner circle. They said, "You're one of the family now, so we need a photograph." I don't know if you get paid for that, but there's my picture.
There's a rumor buzzing around the Internet that Delta Burke will guest on 'Modern Family' as Cameron's mother. TV Guide had something in the print edition, but the real culprit behind the tale is actor Eric Stonestreet who plays Cam. He said he would love Delta Burke to play his mama … and it's a great idea.
Would you want to see Delta Burke as Cam's mother or do you have better suggestions?
Source: TV Squad
Related articles by Zemanta
I guess the rumors about Justin Kirk were true – see the pic from @jessetyler tweet
As we know, Judy Greer is going to guest star on Modern Family, but now TV Fanatic brings us a first look of the actress on the scene. She'll pop up on the funniest show on television next month as an ex-girlfriend of Phil's. These two reconnect via Facebook and, well, you can imagine how well that goes.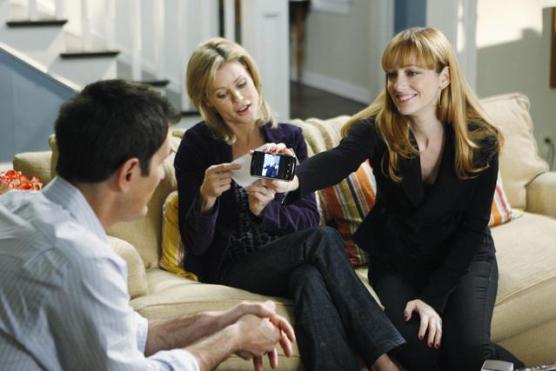 Another guest star that will visit the show is Justin Kirk, who is best known for his hilarious turn on Weeds as Nancy Botwin's brother-in-law, Andy. Kirk will play the owner of a clothing line on the ABC sitcom. He'll interact with Mitchell, who quits his law firm and comes aboard Kirk's company as its legal council.