I guess the rumors about Justin Kirk were true – see the pic from @jessetyler tweet
As we know, Judy Greer is going to guest star on Modern Family, but now TV Fanatic brings us a first look of the actress on the scene. She'll pop up on the funniest show on television next month as an ex-girlfriend of Phil's. These two reconnect via Facebook and, well, you can imagine how well that goes.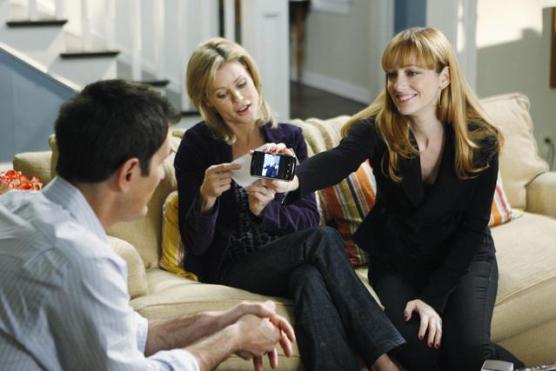 Another guest star that will visit the show is Justin Kirk, who is best known for his hilarious turn on Weeds as Nancy Botwin's brother-in-law, Andy. Kirk will play the owner of a clothing line on the ABC sitcom. He'll interact with Mitchell, who quits his law firm and comes aboard Kirk's company as its legal council.
Chicago Tribune has an interview with Julie Bowen, the "Modern Family" actress, on which she plays the mother of three.
Bowen brings the same extra-sparkly girl-next-door quality to her new show that she has been displaying on TV since starring opposite Tom Cavanagh in 2000 on "Ed."
From that series, she went on to "Boston Legal" while appearing in recurring roles on such shows as "ER," "Weeds" and "Lost."
Read the interview here.