ABC Modern Family 1.15 "My Funky Valentine"
Modern Family is airing a Valentine's Day episode on February 10.
VALENTINE'S DAY GETS CELEBRATED IN UNCONVENTIONAL WAYS, ON ABC'S "MODERN FAMILY"
Comedian David Brenner Makes a Cameo Appearance as Himself
"My Funky Valentine" – Phil and Claire break from their traditional Valentine's Day dinner date and plan a little "role play" excursion. Meanwhile, Jay and Gloria's ideas of romance clash when he takes her to a comedy show, and Mitchell and Cameron play cupid for Manny, on "Modern Family," WEDNESDAY, FBERUARY 10 (9:00-9:30 p.m., ET), on the ABC Television Network.
"Modern Family" stars Ed O'Neill as Jay Pritchett, Julie Bowen as Claire Dunphy, Ty Burrell as Phil Dunphy, Sof'a Vergara as Gloria Delgado-Pritchett, Jesse Tyler Ferguson as Mitchell Pritchett, Eric Stonestreet as Cameron, Sarah Hyland as Haley Dunphy, Nolan Gould as Luke Dunphy, Ariel Winter as Alex Dunphy and Rico Rodriguez as Manny Delgado.
Guest cast include David Brenner as himself, Reid Ewing as Dylan, Andrew Borba as Principal Balaban, Ariane Price as Pamela, Bruno Oliver as Tom Mickleson, Mieko Hillman as waitress, Rylee Fansler as Fiona and Jackson Odell as Ted Durkas.
Source: TV Over Mind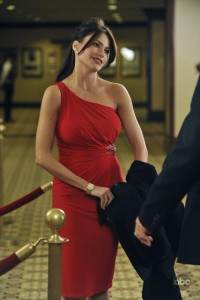 Comments