Modern Family 1.22 "Airport 2010″ – May 5th
THERE'S NO GREATER TEST THAN TRAVELING WITH YOUR FAMILY ON ABC'S "MODERN FAMILY"
"Airport 2010″ – For Jay's birthday, Gloria gives him the best surprise — a romantic birthday getaway to Hawaii — the only kicker is she invited the whole entire family to come along. Everyone arrives at the airport, and it's a maddening scene with forgotten I.D.'s, security breaches and flying phobias, on "Modern Family," WEDNESDAY, MAY 5 (9:00-9:30 p.m., ET), on the ABC Television Network.
"Modern Family" stars Ed O'Neill as Jay Pritchett, Julie Bowen as Claire Dunphy, Ty Burrell as Phil Dunphy, Sof'a Vergara as Gloria Delgado-Pritchett, Jesse Tyler Ferguson as Mitchell Pritchett, Eric Stonestreet as Cameron, Sarah Hyland as Haley Dunphy, Nolan Gould as Luke Dunphy, Ariel Winter as Alex Dunphy and Rico Rodriguez as Manny Delgado.
Guest starring are Reid Ewing as Dylan, Tom Wright as Pete, Patrick Stafford as Jeff, Andrew Heffernan as Gate Attendant and Kelly Michaels as Daryl.
Source: TV over Mind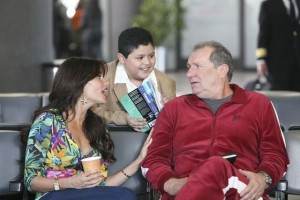 Comments